Posted: 5/8/2023 | May 8th, 2023
With its snow-capped mountains, ancient glaciers, rolling verdant hills, incredibly friendly locals, and abundant world-class wine, New Zealand is as wonderful as you've heard. In fact, take what you've heard and times it by ten. New Zealand will simply blow your mind when you visit.
People think because it's a small country, you can do it all in two weeks. That's not true. There's a lot to do here. From the north island to the south island, you need a lot of time here to do it all. You can fill months with activities. New Zealand may be small but it punches above its weight with things to do.
But what if you don't have months? What do you do then? What route do you take? What island should you start with? Where do you go?
Or what if you do? Then what? Where do you begin planning that kind of trip?
I get these questions in my inbox all the time. Having traveled all over the country multiple times, I know the complexities of trying to figure out how to get to those remote towns and out-of-the-way parks and glaciers.
While buses and trains can take you most places, the best way to see the country is by taking a road trip. With your own set of wheels, you'll be able to get deep into the natural landscapes that make this country so famous. New Zealand is a road trip country. It's the best way to explore.
Below are my suggested itineraries that can help you plan your New Zealand road trip for maximum efficiency. Whether you have two weeks, one month, or even longer, these will ensure that you see the highlights and get off the beaten path.
Note: Two weeks is the minimum recommended time for a New Zealand road trip. There's so much to see and do here, yet you still don't want to be rushed or spend all your time in the car. If you only have two weeks, focus on one island.
If you want to learn more about Maori culture, see the Waitomo glow worms, spend time in New Zealand's main cities, and enjoy relaxing activities like lying on the beach and sitting in hot springs, road trip the North Island.
If you want to spend your time hiking glaciers, doing adventure activities, and soaking up the epic landscapes of New Zealand, head to the South Island for your road trip.
With one month, you can combine the following two-week itineraries to really be able to enjoy all that both islands have to offer. More than a month? There's nothing you can't do!
Choosing the Right Vehicle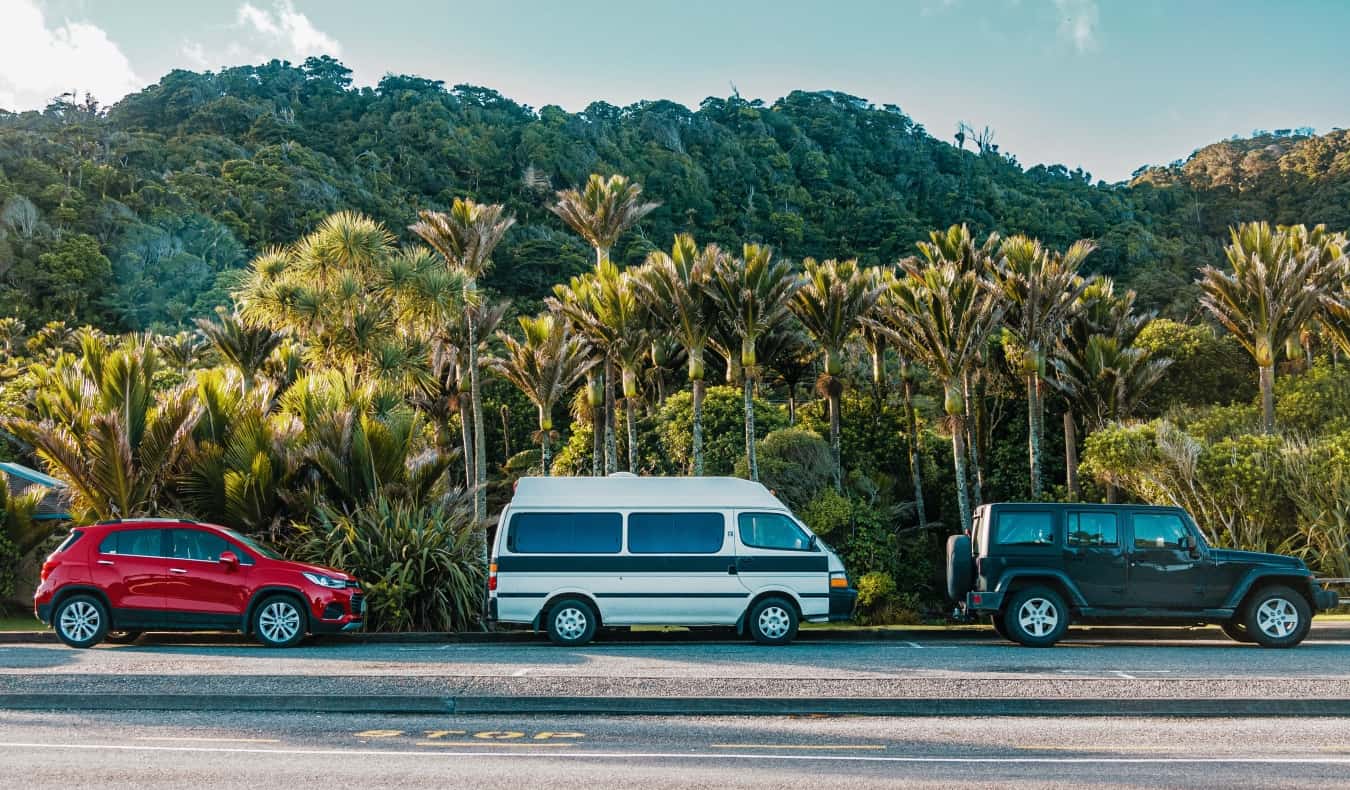 Before you even plan your route, you need a way to get around. Road-tripping New Zealand by campervan is very popular, especially among the more budget-conscious traveler, as they serve as both accommodation and transportation. There are five main rental agencies:
Prices vary a lot. Your daily rate will change depending on where you pick up the vehicle if you are dropping it off at a different place, how long you are renting it for, how far in advance you book, and when you book (in the high season, prices seem to double!).
If living out of a van for a few weeks doesn't sound like your idea of a fun time, simply rent a normal car and book accommodation along the way. To book a car, check out Discover Cars, which searches rental agencies big and small to find the best deals.
 
New Zealand Road Trip Itinerary: A Two-Week North Island Route
Days 1–2: Auckland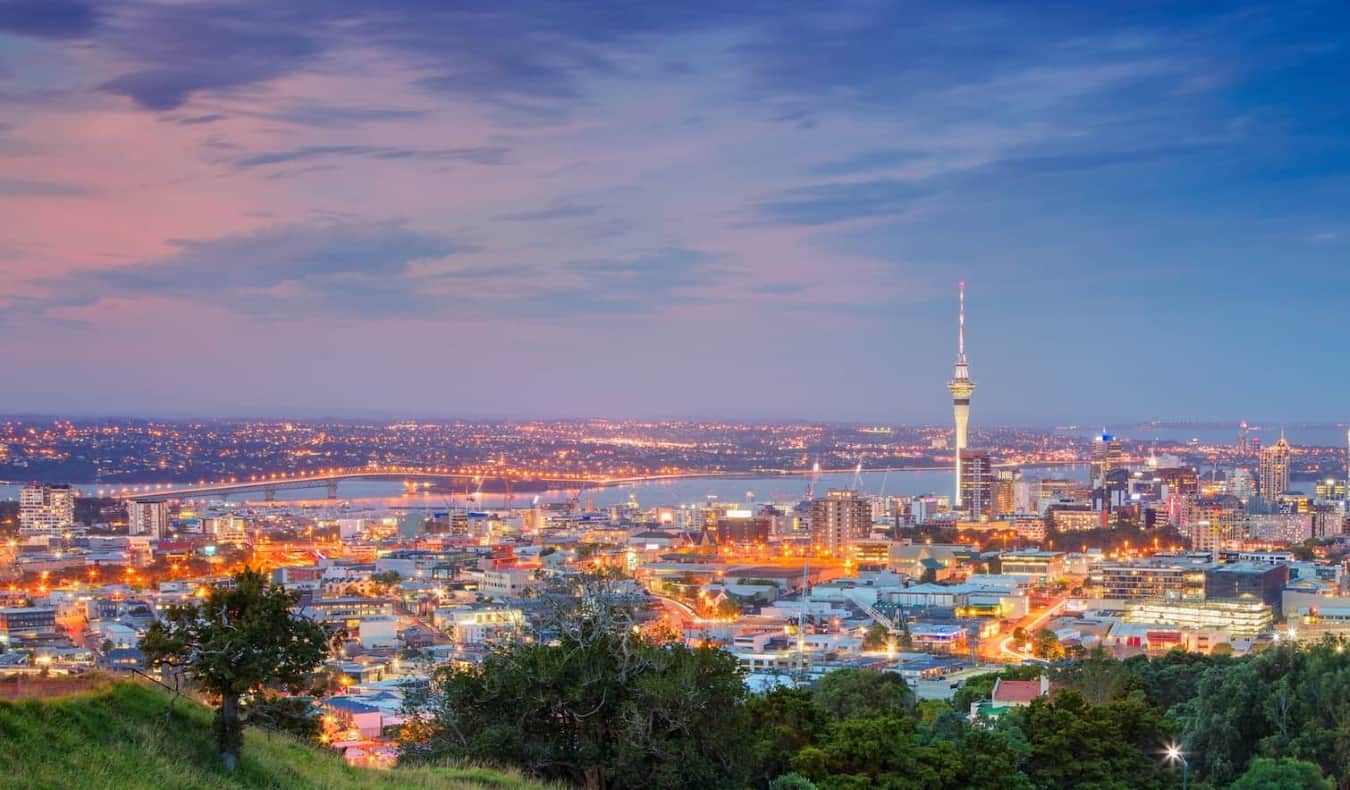 Auckland is the largest and most populous city in New Zealand and, contrary to popular belief, it is not the capital (that's Wellington). Since most flights land here, spend a couple of days recovering from your (likely) long journey.
Spend some time hanging out on the Auckland Domain, go snorkel on Goat Island, and if you love wine like I do, take a wine tour on Waiheke Island.
For a list of more things to do in Auckland, check out my guide to the city!
Where to Stay: The Albion – This historic accommodation began as a "pub hotel" in the 19th century. Today there's still a nice old tavern in the hotel. The rooms are comfortable and the place is quiet.
Days 3-4: Bay of Islands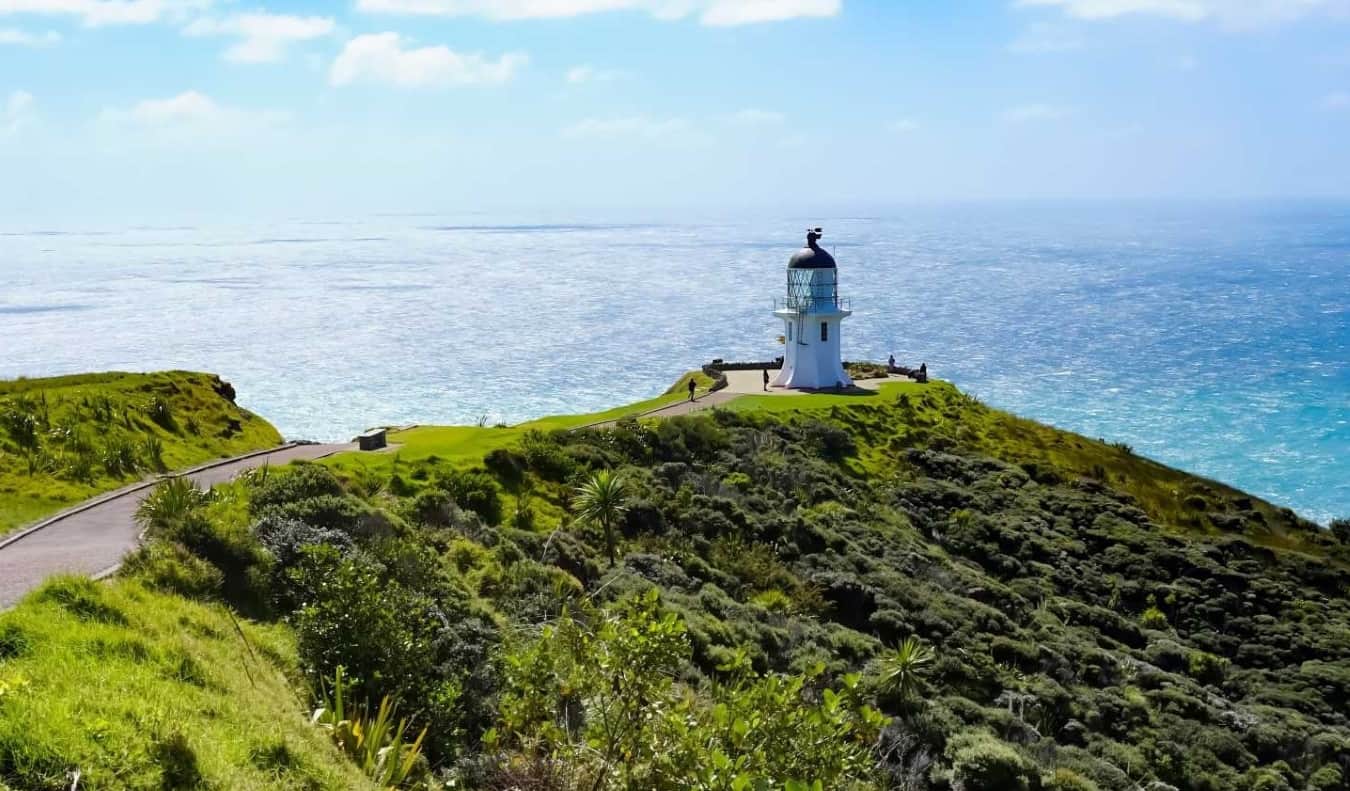 Head to the Bay of Islands on the northern tip of the North Island for a few days. With mile after mile of beach and rocky coastline surrounding the bay (which contains 144 islands), this area has some of the best opportunities for dolphin and whale watching, kayaking, swimming, and boating. The Bay of Islands is also home to what I think are some of the best beaches in the country.
While you're here you can visit the Waitangi Treaty Grounds (one of the most important historical sites in the country), explore Cape Reinga (the northernmost point of New Zealand), and see wild dolphins on a boat tour.
For a list of more things to do in Bay of Islands, check out my complete guide!
Where to Stay: Haka Lodge – Located in Paihia, Haka Lodge has a lot of common spaces, a large kitchen, and great views over the harbor. Everything is super clean and the beds are comfortable. It's a good place to meet people.
Day 5: Hobbiton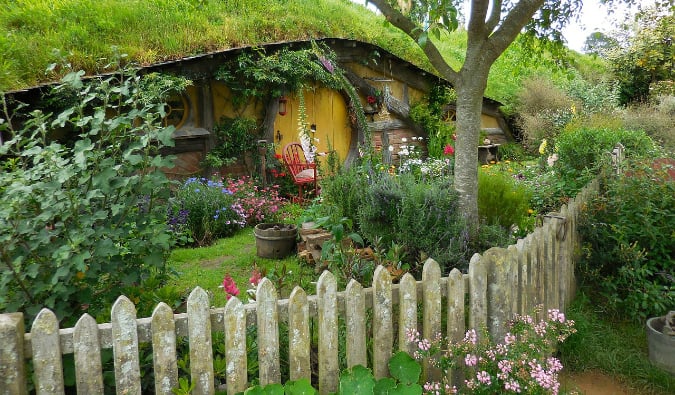 Visiting the Hobbiton movie set featured in The Lord of the Rings and The Hobbit movies is easily one of New Zealand's most famous activities and a must for fans of the films and books. Even if you're not a superfan, it's interesting to see the movie magic and go behind the scenes in this unique setting.
To see Hobbiton, you'll have to take a tour that starts with a drive through the owner's 505-hectare (1,250-acre) sheep farm, offering epic views over the Kaimai Range. From here, you can explore Bag End, wander around the hobbit holes, and visit the Green Dragon Inn. Tours start at 89 NZD.
Where to Stay: Cosy Country Stay B&B – This is a cute bed-and-breakfast located in Matamata just a few miles from Hobbiton. The hosts are fantastic, there's complimentary breakfast, and the property is quiet and tranquil, with roaming cats and goats for added atmosphere.
Days 6–7: Rotorua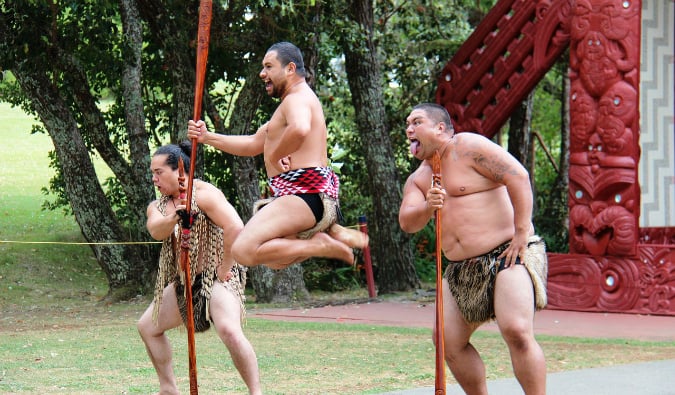 It's just one hour from Hobbiton to Rotorua, one of the most popular tourist destinations on the North Island. The name comes from the original Maori "Te Rotorua-nui-a-Kahumatamomoe," meaning "second lake," as it was the second lake that Maori chief Ihenga discovered in the area.
The Maori were the original inhabitants of New Zealand, having arrived from Polynesia between 1320 and 1350. This is the best area to learn about Maori history and culture. Don't miss seeing a Maori cultural show while you're here (the Te Pa Tu Maori Cultural Experience is the one I attended).
The region is also known for its geothermal activity, and the dynamic landscape makes for exciting nature walks, trips to smelly sulfuric geysers, and soaks in luxury spas with water from the hot springs.
Where to Stay: Rock Solid Backpackers – This is a centrally located hostel with an expansive array of facilities, including a cinema, a bar, a communal kitchen, and even a rock-climbing wall.
Day 8: Waitomo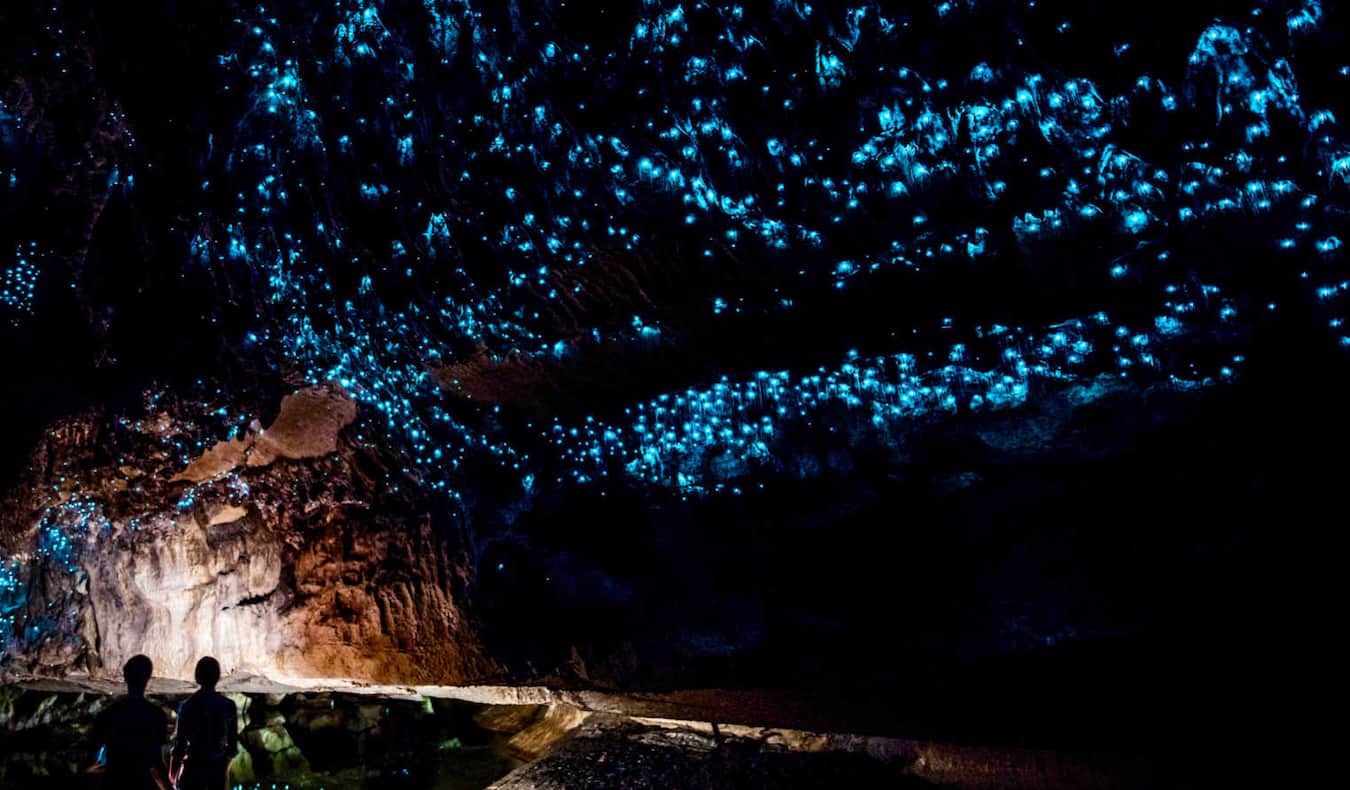 Waitomo is known for its worms — glowworms, that is (spoiler alert: they are actually fly larvae that emit a bioluminescent glow). Definitely one of the coolest places I visited in New Zealand, the Waitomo glowworm cave may be very touristy but it's simply breathtaking and unlike anything you've ever seen.
For a complete list of things to do in Waitomo, check out my guide on the town.
Where to Stay: Juno Hall – Close to the glowworm caves, Juno Hall has a swimming pool and tennis court on-site. There's a large kitchen as well as an outdoor grill for barbecuing.
Days 9-10: Taupo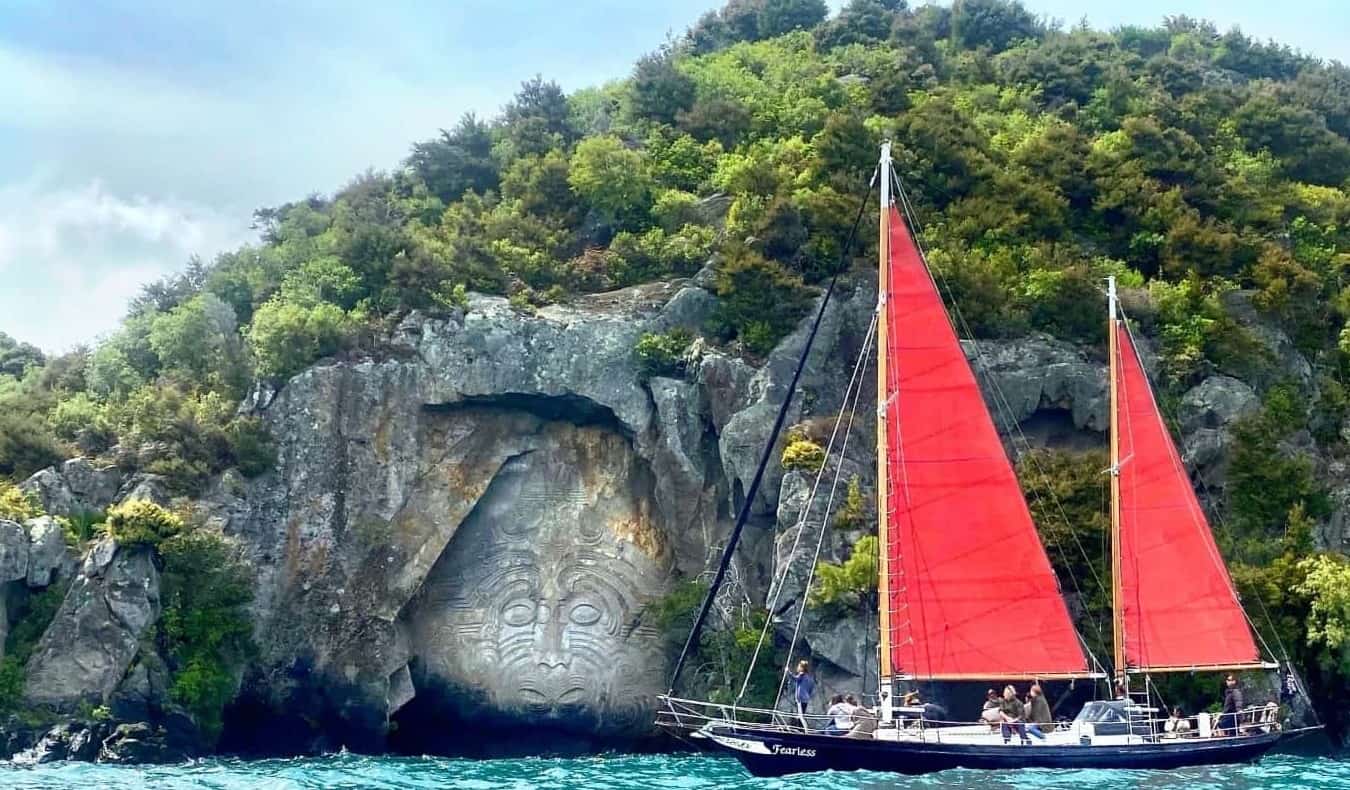 Taupo sits on the shores of Lake Taupo and is part of the Taupo Volcanic Zone, an area that has had high volcanic activity for the past two million years. Taupo has tons of incredible hikes, lots of boating excursions, charming local markets, and stunning nature. Think of it like a quieter version of Queenstown (the South Island's adventure capita)l.
It's also one of the best places to go skydiving in New Zealand thanks to the views and clear skies (though I didn't do this while I was there).
I loved the small-town feel of Taupo, sitting by the lake, and being able to do so many hikes. I could have stayed here for weeks.
For a list of more things to do in Taupo, check out my guide!
Where to Stay: Finlay Jack's has a huge kitchen, a big common room, a spacious patio with BBQs, fun and welcoming staff, bike rentals, and a super friendly hostel dog. Everything in the hostel is updated, with new, modern pod-style beds so you can get a great night's sleep. In short, everything a backpacker or budget traveler would want from a hostel.
Day 11: Tongariro Alpine Crossing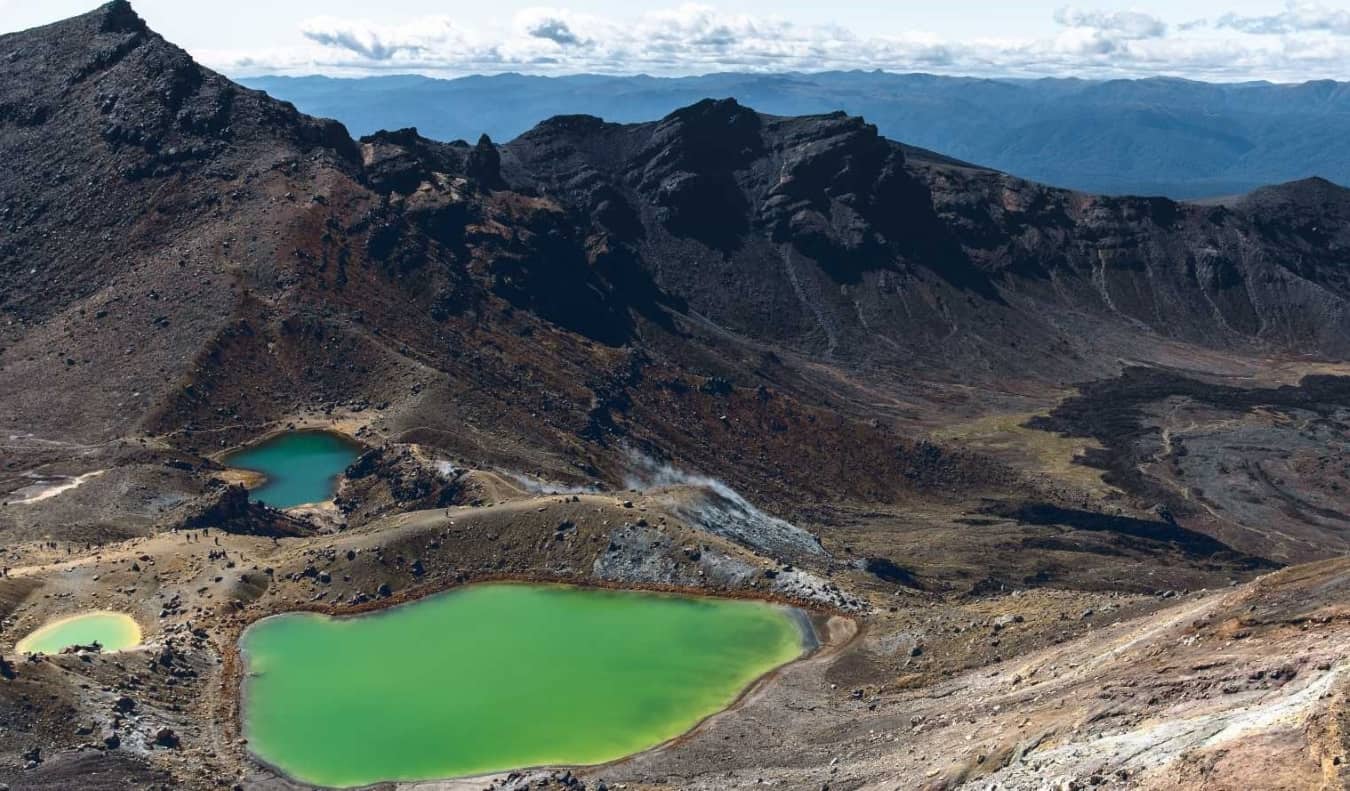 Trekking through this otherworldly, red-colored environment of volcanoes and sulfur was one of the highlights of my time in New Zealand. One of the Great Walks of New Zealand and often considered one of the best day hikes in the world, this is an epic 19-kilometer (12-mile) trek that takes a full day to complete (most people take 6-9 hours, depending on your fitness level).
As you wind your way through Tongariro National Park, you'll walk through volcanic terrain (including where Mordor in Lord of the Rings was filmed), past high peaks and sulfur lakes, and end the day in a dense forest. It's easy in parts (the beginning and end) and steep in others (especially the portion after "Mount Doom"), so you'll get a good mix of difficulty levels.
Be sure to bring water, sunscreen, a hat, toilet paper, and a sweater or jacket (the weather can change rapidly). Expect to pay around 40 NZD per person for a round-trip shuttle to and from the trail or 280 NZD for a full-day guided hike.
Where to Stay: National Park Alpine Lodge – Located in National Park Village (the best place to stay if doing the trek), this lodge features budget-friendly private rooms, a communal kitchen and common area (with a cozy fireplace for cold nights!), and a helpful staff.
Otherwise, you can stay in Taupo, which is where people usually base themselves when they do this trek.
Days 12–14: Wellington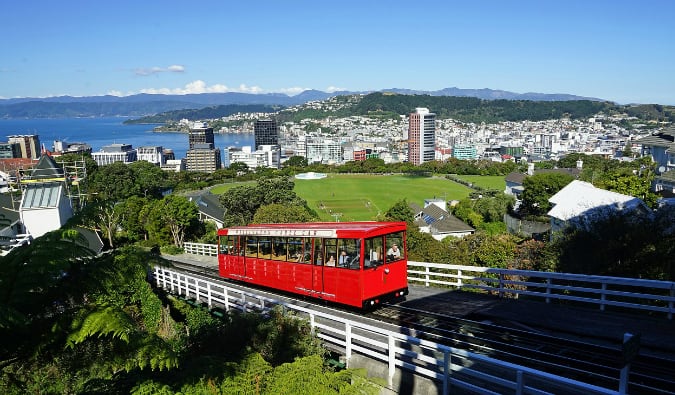 Wellington is my favorite city in the entire country. It's an artsy, eclectic place, boasting tons of cultural activities, an incredible nightlife, some of the best food in the country, tons of murals, world-class art exhibits, insightful museums, and a beautiful harbor (which is best seen from Mount Victoria, which overlooks the entire city).
Be sure to visit Te Papa (New Zealand's national museum), ride the cable car to the Cable Car Museum, and tour Weta Workshop (an Academy Award–winning props and special effects studio).
For a list of more things to do in Wellington, check out my detailed guide to the city.
Where to Stay: The Dwellington – More than half the Dwellington is common space, with a games room, a cinema room (with cushy seats!), living rooms, outdoor patios, and even tennis and squash courts. The staff also really goes out of their way to make sure you feel welcome.
If you've only got two weeks and are ending your road trip in Wellington, you can fly out of the airport here to wherever you need to go next. If you have more time, you'll take the car ferry (around 3.5 hours) to Picton on the South Island to continue your trip (in which case, follow the following two-week South Island itinerary, but in reverse).
 
New Zealand Road Trip Itinerary: A Two-Week South Island Route
If you choose the South Island for your two-week road trip, start in Queenstown. Even if your international flight lands in Auckland on the North Island, you can easily get a cheap flight to Queenstown. Queenstown also has direct flights to many major cities in Australia if your trip to New Zealand is part of a larger adventure in Oceania.
Days 1-3: Queenstown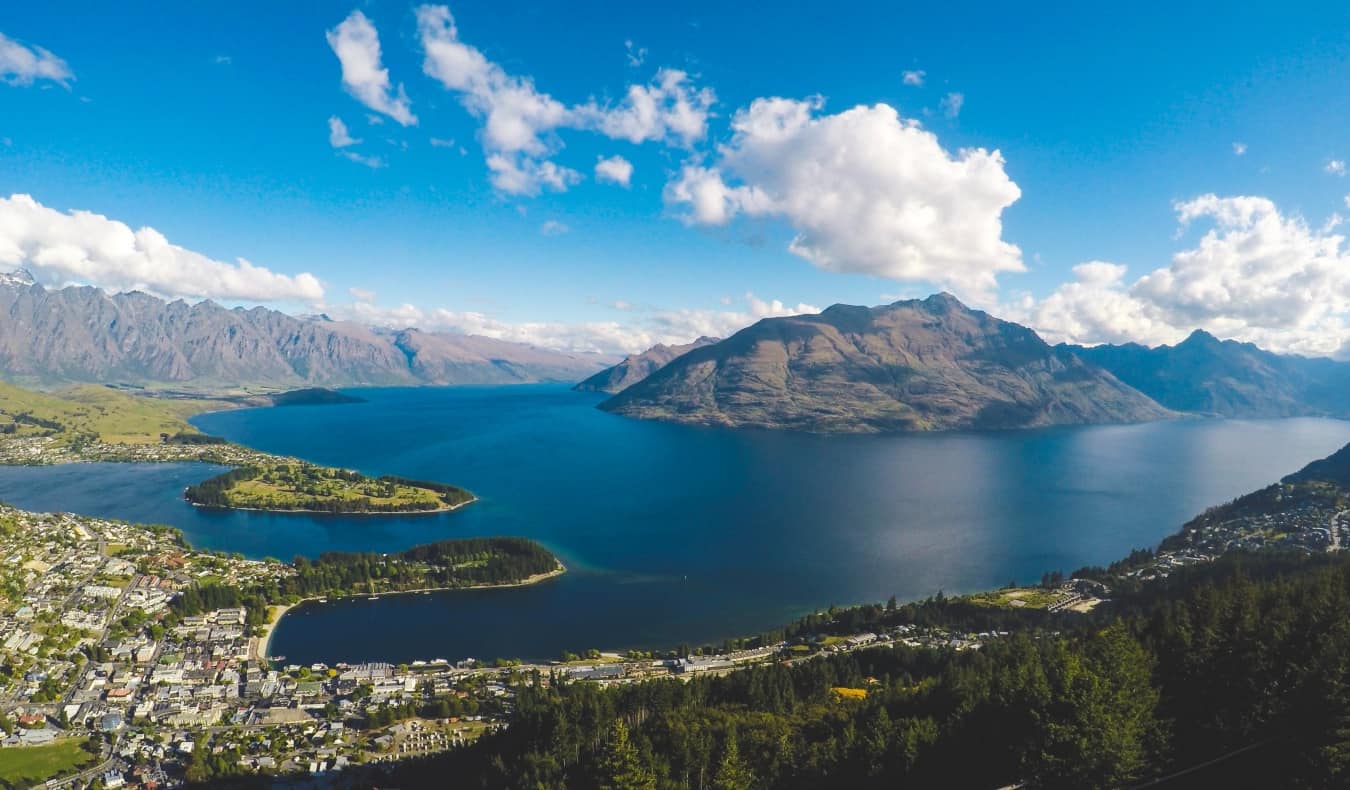 Queenstown is a small, picturesque town overlooking Lake Wakatipu and surrounded by the beautiful peaks of the Remarkables mountain range. It has a feisty and outdoorsy energy to it, with narrow streets and pedestrian lanes filled with shops and restaurants.
Known as "the adventure capital of New Zealand" (it's the launching pad for every sort of adventure activity you can think of), Queenstown lives up to the hype. Even though it has become hugely popular, I cannot express my love of Queenstown enough. I love sitting by the lake, watching the sunset with a bottle of wine, and hiking the nearby trails.
Explore nearby vineyards, enjoy the waters of Lake Wakatipu, bungy jump, zipline, rafting, or skydiving. There's a lot to do here.
For a list of more things to do in Queenstown, check out my detailed city guide.
Where to Stay: Nomads Queenstown – Most rooms have balconies, the showers have prodigious water pressure, and the pillows are thick. There are activities every night and a free dinner and quiz night on Sunday. Overall, this is a great place to stay.
Days 4-6: Fiordland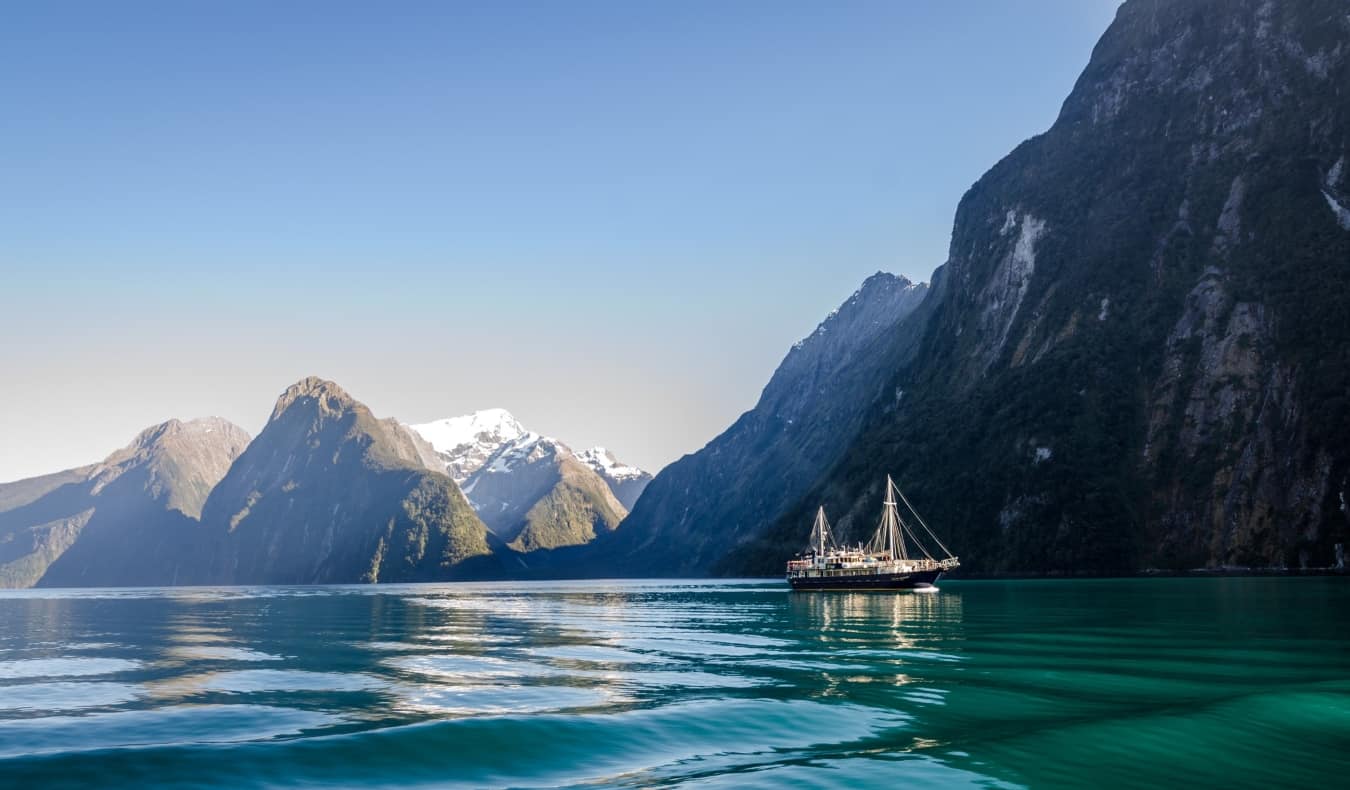 The Fiordland region is one of the country's most scenic and remote (and as such, also home to numerous Lord of the Rings film locations). Given its gigantic mountains, deep lakes, swelling rivers, untamed forests, and resplendent fjords (long, narrow inlets banked by steep cliffs, created by glaciers), the government has largely made the land off-limits to protect these natural resources.
Milford Sound is an amazing fjord that's best known for the towering Mitre Peak and its surrounding rainforest. You can walk the wooded trail along the sandy shore for perfect views of the peak, or take the Chasm Walk on the Cleddau River to get close to powerful waterfalls.
The fjord itself is home to seal and penguin colonies. You can often see pods of dolphins frolicking in the waters too. Explore by boat and check out the Milford Discovery Centre and Underwater Observatory to see rare black coral and other underwater life. Southern Discoveries is the only company doing cruises that include the Underwater Observatory. Cruises start from 129 NZD.
While less well-known than Milford, Doubtful Sound is the deepest and second-largest fjord in the country. You can only get to Doubtful via boat. A wilderness cruise of Doubtful Sound costs 199 NZD.
Where to Stay: Milford Sound Lodge – This is quite literally the only place to stay within about 50 kilometers (31 miles). It's not cheap, but the views are unmatched, the complimentary breakfast is delicious, and the contemporary rooms are cozy yet modern. Otherwise, if you have a car, you can stay in the closest town, Te Anau where you'll find cheaper accommodation.
Days 7-8: Wanaka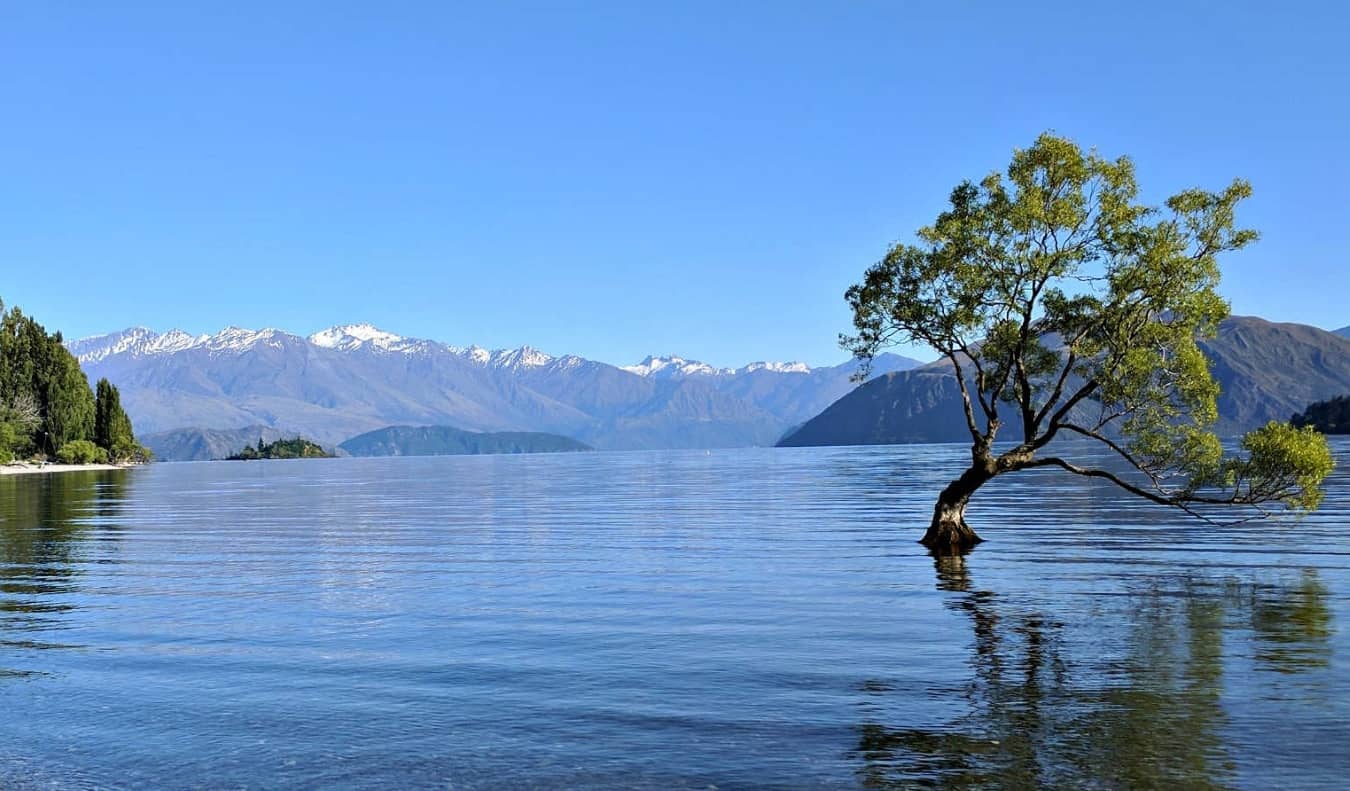 Wanaka is a ski and summer resort town framed by snowcapped mountains. As nearby Queenstown has become overcrowded in recent years, travel to Wanaka has exploded and this sleepy but really cool little town has become popular with backpackers and outdoor enthusiasts, especially skiers and boaters. There's not a ton to do here beyond enjoying the outdoors. Most people come here for a few nights to hike, relax, and move on.
For a list of more things to do in Wanaka, check out my detailed city guide.
Where to Stay: Mountain View Backpackers – This hostel has a huge outdoor space with a grill, space to lie in the sun, and a big table to congregate around (there were many enjoyable nights spent drinking wine outdoors).
Day 9: Franz Josef Glacier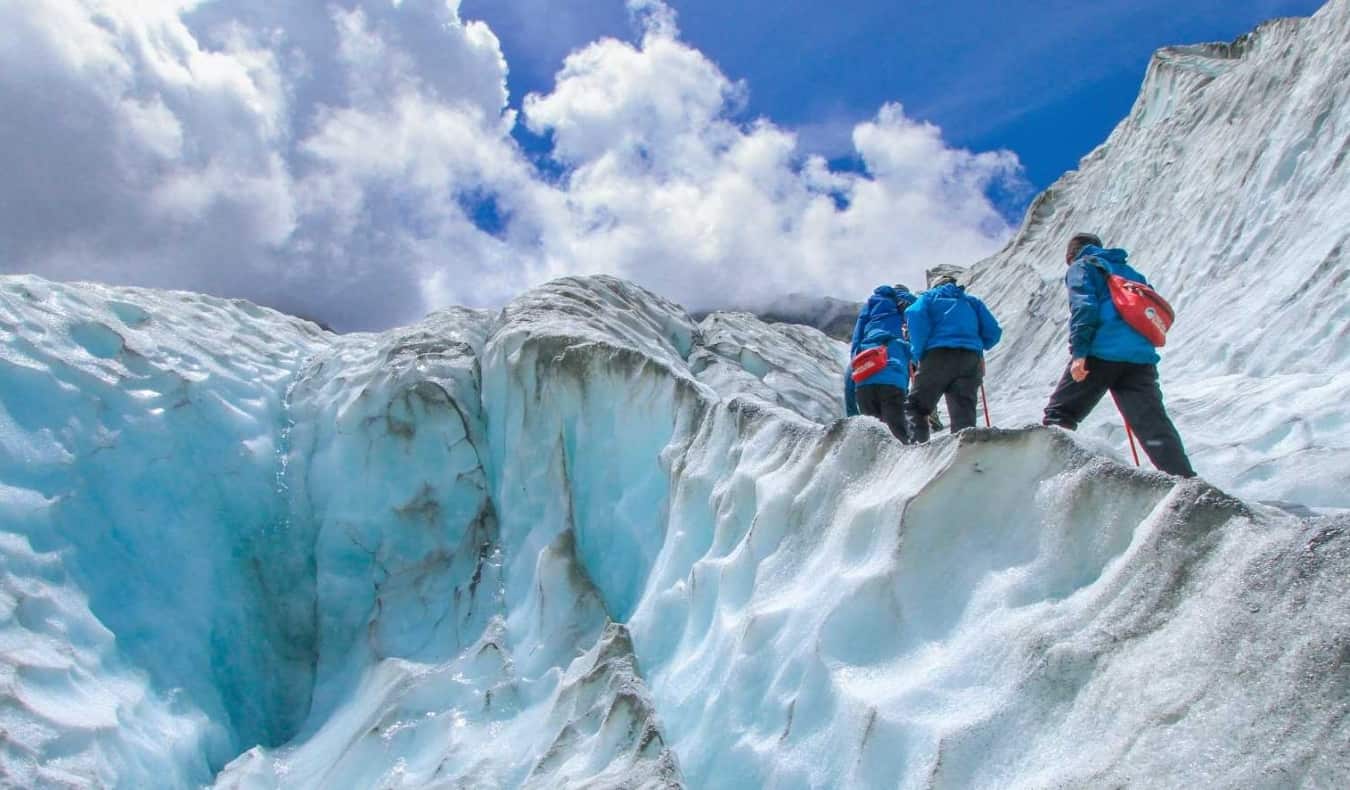 Franz Josef is a tiny town that's mainly used as a jumping-off point for seeing the Franz Josef Glacier and the Fox Glacier.
Hiking the glaciers here is an unforgettable experience. Sadly, because they have receded and are melting quickly due to climate change, the caves and walks have been shut down. Now, the only way to trek on the glaciers is via heli-hike (an epic half-day or full-day helicopter/hiking experience). These are expensive (500 NZD), but the helicopter ride, trekking, and experience as a whole are worth the price in my opinion.
Conversely, you can just hike to the glacier face and take photos from a distance. There are tons of viewing points (and you'll see photos of just how far the glaciers have receded in over the years).
Where to Stay: Chateau Backpacker & Motels – Just a ten-minute drive from the glacier, this lodging offers free homemade soup every night, free breakfast (homemade waffles and pancakes!), two communal kitchens, and a hot tub.
Days 10–11: Abel Tasman National Park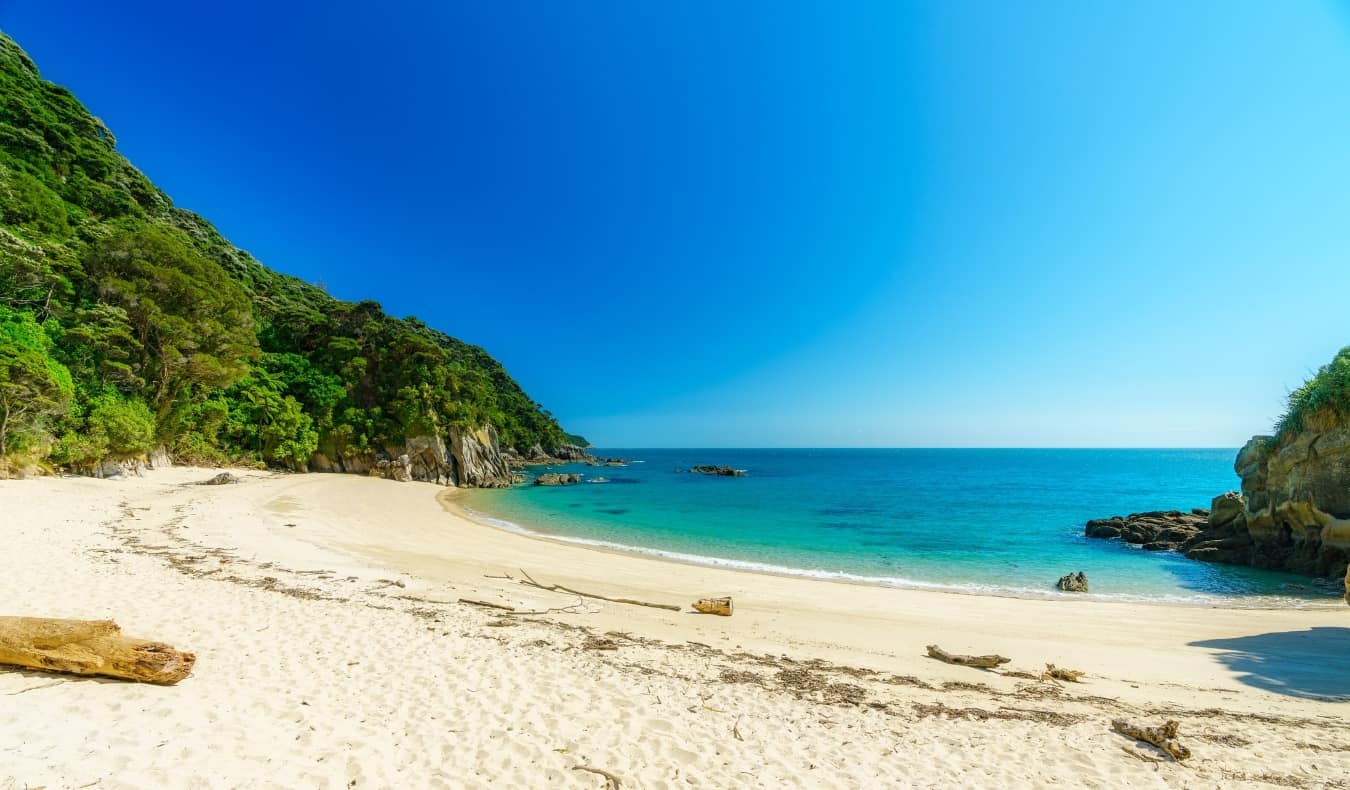 Drive just six hours north of glacial Franz Josef and you'll be in beachy Abel Tasman National Park. With its turquoise water, dense jungles, and warm temperatures, this park makes you feel like you're in the tropics rather than New Zealand. It covers over 23,876 hectares (59,000 acres), meaning there are a lot of single and multi-day hikes (including the 3-5-day Abel Tasman Coast Track, one of the Great Walks of New Zealand).
The best way to see the park is by kayak, so you can explore the little coves and beaches that really make the area special. Full-day rentals start at around 85 NZD, or you can join a guided kayaking tour starting at 130 NZD. You can also take a scenic cruise around the park for 79 NZD.
Where to Stay: Marahau Beach Camp – Offers both dormitories and small private cottages, a communal kitchen, and a seasonal restaurant. There are also tent and campervan sites if you want to save money.
From here, pick your last stop: either drive onwards to Christchurch and end there or take the ferry over the Wellington (an adventure in and of itself!) and end there. Either way, you'll be able to catch a cheap and quick flight back to Auckland for your international flight home.
If you're heading to Christchurch, keep reading. If you'd like to visit Wellington, scroll back up and follow the tips in the North Island itinerary section.
Days 12-14: Christchurch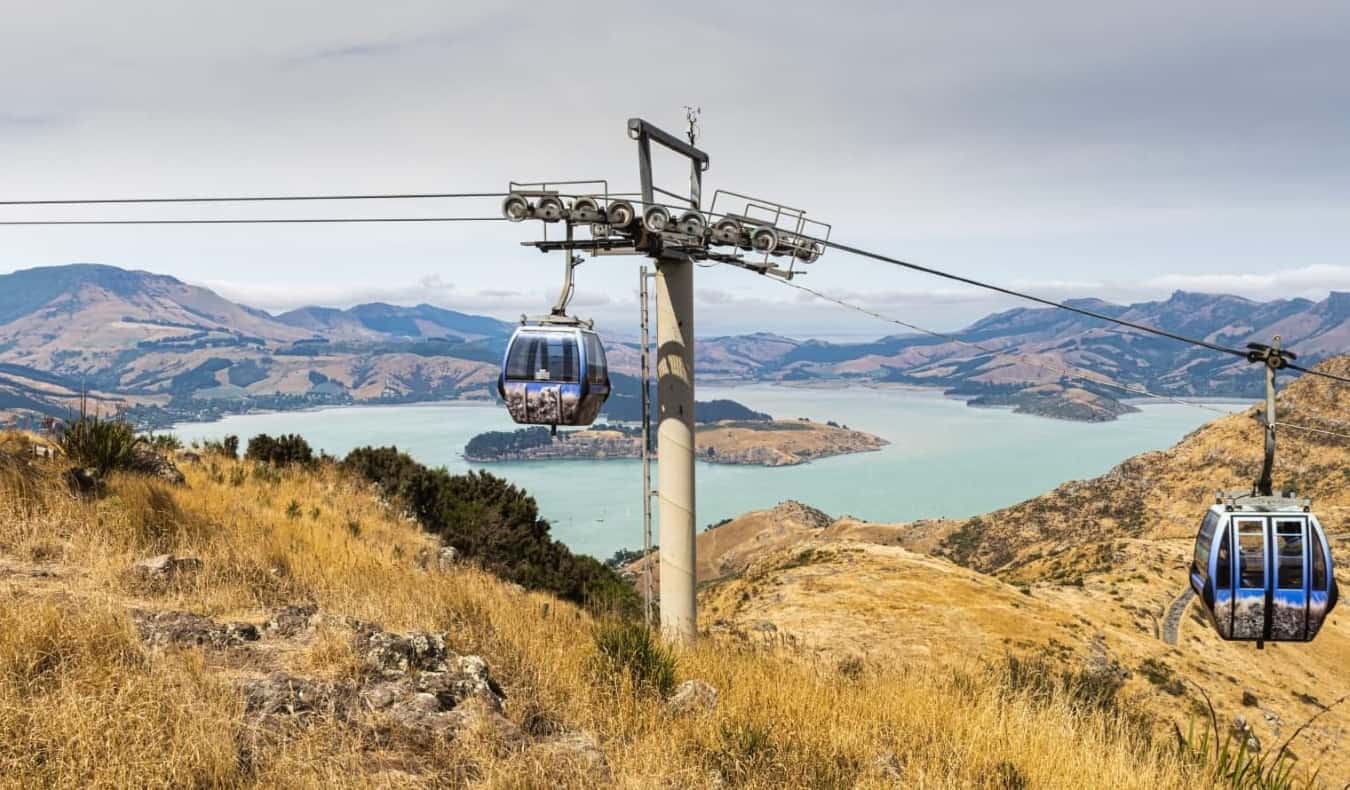 Though severely damaged by earthquakes in 2010 and 2011 (over 185 people were killed and 3,000 buildings were damaged), Christchurch has rebounded and evolved into a brand-new city. This revival has instilled a newfound sense of hope and vibrancy, and led to more funky bars and markets, and new restaurants, shops, and exhibits. The locals have worked hard to rebuild, and there is a community spirit here that really shines. I love where Christchurch is going.
While there's not a lot "to do" per se, the vibe here is really relaxed, and it's worth not rushing through if you aren't short on time. Be sure to ride the gondola, visit the Canterbury Museum, and tour Quake City (a unique and interactive museum that recounts personal stories from the 2010 and 2011 earthquakes).
For a list of more things to do in Christchurch, check out my city guide.
Where to Stay: Urbanz – This is an awesome hostel located in downtown Christchurch with friendly staff and a huge kitchen. There's also a hostel bar, a pool table, fast Wi-Fi, laundry, movies, and comfy couches, as well as a parking lot.
If you need to get back to Queenstown, it's a 6 hour drive from here. Alternatively, you can fly to Auckland. The flight is just over an hour and tickets can be found for as low as 65 NZD if you book in advance.
 
New Zealand Road Trip Itinerary: One Month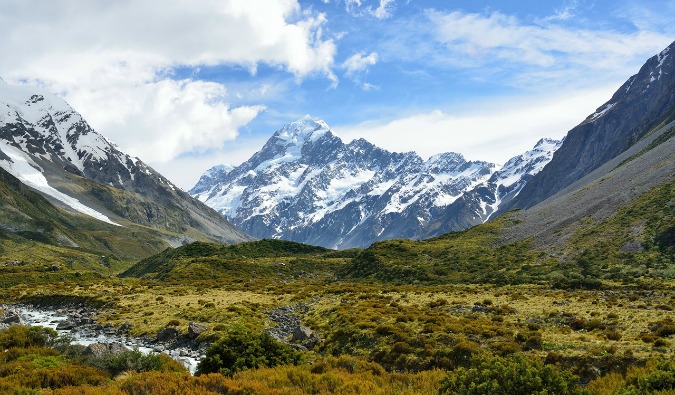 You've got longer to explore New Zealand, great! You'll likely fly into Auckland, and make your way south through the North and then South Island following the above itineraries. You can take your time, linger longer, visit more places, and shift your plans if you feel pulled in a certain direction.
Again, these are just recommended itineraries — I encourage you to adapt as needed!
 
Things to Remember When Road-Tripping New Zealand
To help you make the most of your road trip, please remember the following rules:
Traffic flows on the left here (not the right, like in the US or Canada).
You must always park your car in the direction that traffic is going (or risk a fine).
There are plenty of pull-off points for taking photos — use them instead of stopping at a random spot along the side of the road, which can be quite dangerous given how tight the roads are here.
Roads here are winding, so remember that it might take longer than you expect to cover a particular distance.
As long as your current and valid driver's license is in English, you don't need an International Driver's Permit.
If you're traveling by campervan, use the CamperMate app to find nearby campsites, gas stations, and dump stations.
***
New Zealand is an unforgettable country, loaded with epic landscapes, friendly Kiwis, and a rich culture. Due to its remote location, visiting is usually a once-in-a-lifetime trip for most travelers. Taking a road trip is the best way to make the most of your time here, tailoring your itinerary to your own preferences and New Zealand bucket list.
Need a rental car for your epic adventure? use the widget below to find the best deals!
Book Your Trip to New Zealand: Logistical Tips and Tricks
Book Your Flight
Use Skyscanner to find a cheap flight. They are my favorite search engine because they search websites and airlines around the globe so you always know no stone is left unturned!
Book Your Accommodation
You can book your hostel with Hostelworld as they have the biggest inventory and best deals. If you want to stay somewhere other than a hostel, use Booking.com as they consistently return the cheapest rates for guesthouses and cheap hotels.
If you're looking for specific places to stay, here is a complete list of my favorite hostels in New Zealand.
Don't Forget Travel Insurance
Travel insurance will protect you against illness, injury, theft, and cancellations. It's comprehensive protection in case anything goes wrong. I never go on a trip without it as I've had to use it many times in the past. My favorite companies that offer the best service and value are:
Looking for the Best Companies to Save Money With?
Check out my resource page for the best companies to use when you travel. I list all the ones I use to save money when I'm on the road. They will save you money when you travel too.
Want More Information on New Zealand?
Be sure to visit our robust destination guide on New Zealand for even more planning tips!