"Boracay again!?"
Before you close the tab, hear us out! It's easy to dismiss Boracay as a tiny island. Well, it is tiny, especially compared to other tourism juggernauts in the country like Cebu or Palawan. In postcards and photographs, it is often represented by a singular place — the world-famous White Beach. And understandably so. It's hard to find another beach that could rival its powdery white sand and turquoise waters.
But White Beach isn't the be-all and end-all of Boracay. There's a reason countless travelers come back over and over again, and — spoiler alert — it's not just to lie on the ivory grains filling its shores. Boracay may be small, but it is bursting with attractions and activities that cater to travelers of all types and ages. Its coast is naturally carved into smaller, quieter coves. Its streets are lined with restaurants that have become tourist spots in themselves. And its waters are constantly scribbled with slipstreams. You can even learn to dive and swim like a mermaid!
In this article, we'll enumerate 30+ attractions that are in store for you in Boracay.
Note: Opening hours and package rates may change without prior notice, especially since the COVID-19 pandemic is still ongoing. Please check the official websites or Facebook pages of these attractions before visiting.
---
We have a lot to unpack in this post, but if you only have just a few days, it's impossible to see all the attractions. So here are some of the top activities. We've also included Klook links to make it easy for you to book and see updated rates.
Without further ado, here's our more detailed list of the places to visit and things to do in Boracay.
---
WHAT'S COVERED IN THIS GUIDE?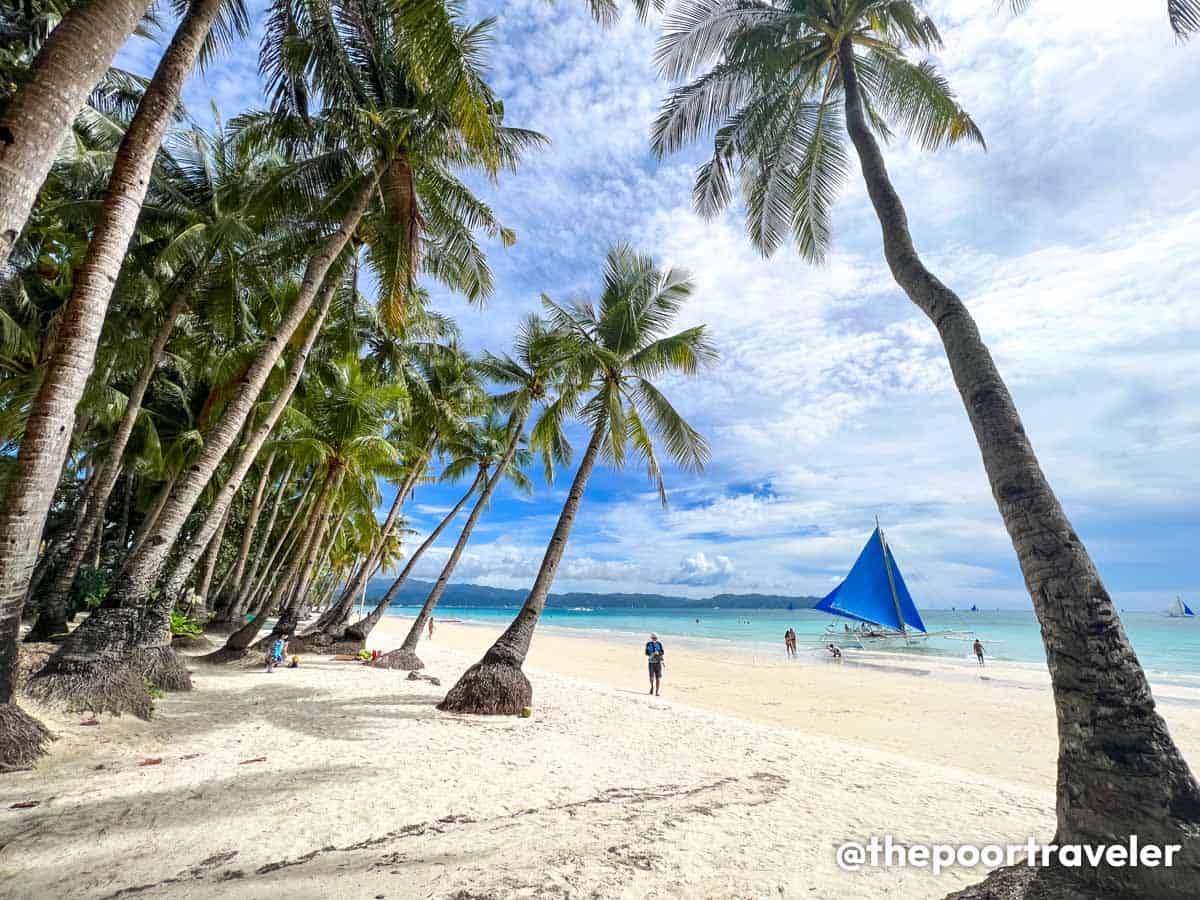 White Beach is inarguably the most famous beach in Boracay and the most highlighted asset of Philippine tourism. The long stretch of fine white sand has captured the hearts of many travelers worldwide. It has repeatedly earned a place on numerous lists compiled by various international travel organizations and magazines.
White Beach dominates two-thirds of the western coast of Boracay. It is divided into three stations: Station 1 and 2 in Balabag and Station 3 in Manoc-Manoc. As the island's most developed and popular area, business establishments such as accommodations, restaurants, bars, cafés, and souvenir shops line the coast. Station 1 mostly hosts luxury resorts, while Station 3 features budget lodgings. Most restaurants and shops are located in Station 2, making it the base for most tourists.
White Beach has quite the roster of activities for eager beachgoers — sunbathing, swimming, sunset watching, and water sports activities. It is also the main jump-off point for island-hopping tours and diving trips.
Location: White Beach, Barangay Balabag/Barangay Manoc-Manoc, Boracay Island, Malay, Aklan
---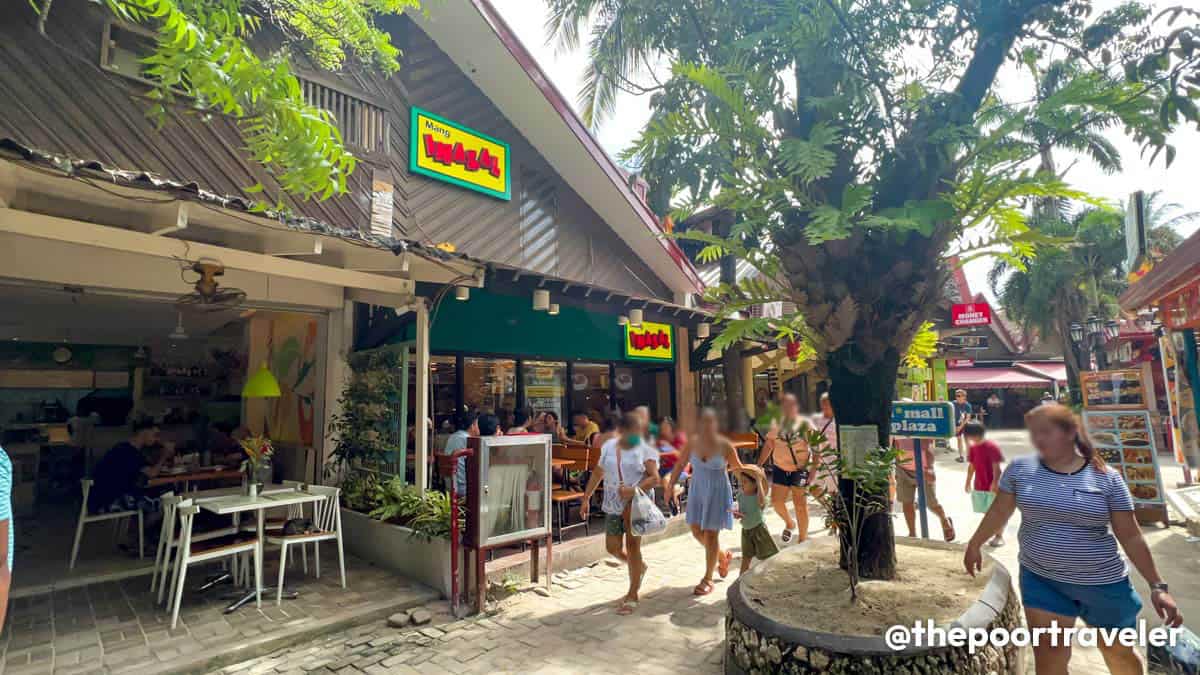 The island's tourism hub.
D'Mall is an open-air community mall harboring numerous shops selling souvenirs, clothes, footwear, and whatnot. Local and international cuisines? Restaurants and snack bars? Cafés? Watering holes? Let your feet lead you around the expansive hub. If you are looking for money changers, ATMs, and mobile network/internet providers, you can find them here.
D'Mall has become the heart of the action in the island. It is a common pick-up/drop-off point for tours. Numerous establishments flaunt their proximity to it. And tourists use this as reference point to measure the accessibility of attractions.
Location: D'Mall, Station 2, Barangay Balabag, Boracay, Malay, Aklan
Opening Hours: Usually, the retail shops open at 10:00 AM and close at 9:00 PM, while the restaurants start operating around 7:00 AM and end past midnight hours.
---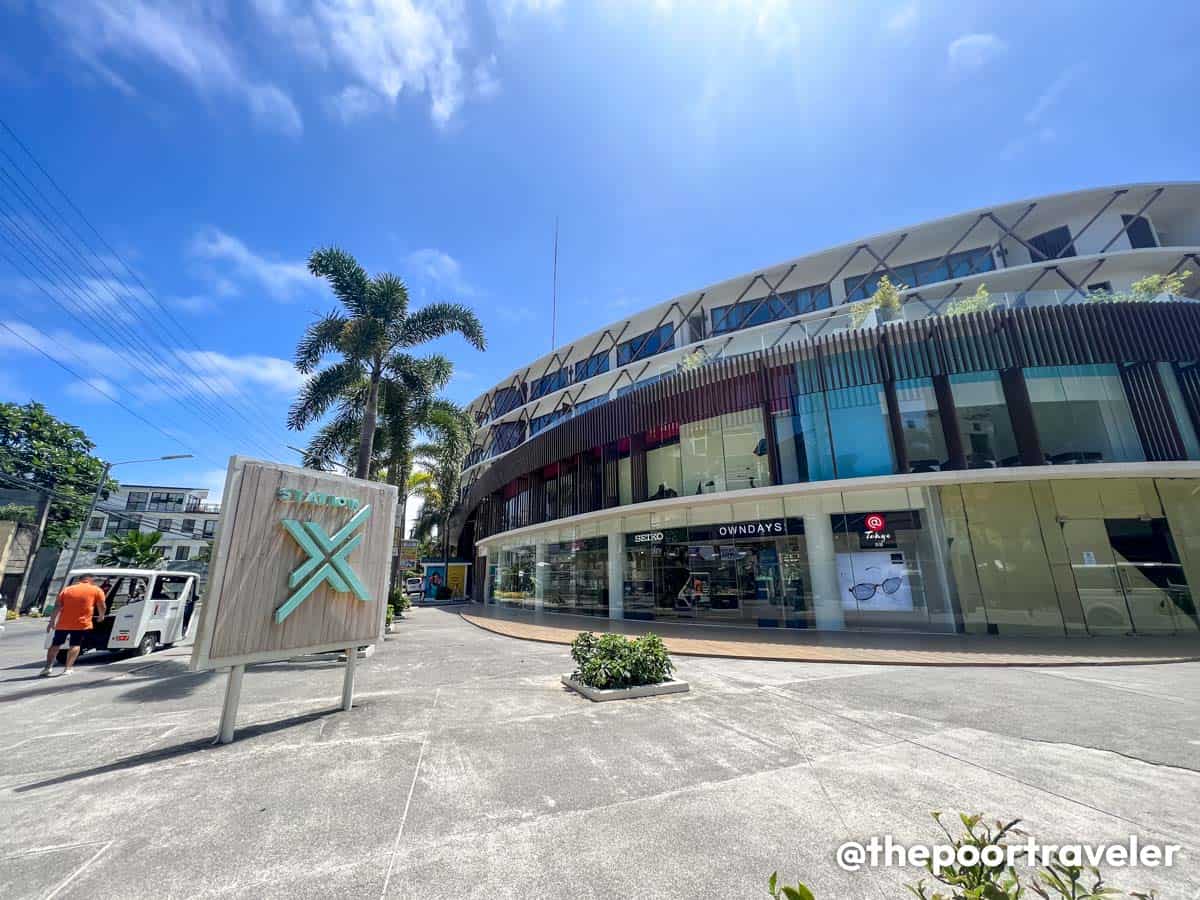 Station X is a pocket of contemporary life and entertainment on the island. Opened to the public in October 2017, this Instagrammable hub houses several stores, restaurants, and bars. It also hosts events, celebrations, and activities. Although this is part of Hue Hotels and Resorts, it welcomes non-hotel guests to live, laugh, and love in their community spaces.
Entry to this establishment is FREE, so you can shop, dine, and hang without spending money on admission. But if you want to use the hotel's pool and daybed, you'll need to pay up a little. You can book online through Klook. The Dip and Dine Package includes the following:
Pool use with towel
Free use of Station X games: foosball, tic-tac-toe, chess, darts, billiards, table tennis, and foot billiards
Choice of 2 Prisma drinks and 1 pica-pica good for 2 persons
Food (choice of 1)
Drinks (choice of 2): mocktail and cocktail options are available
Free use of WiFi
✅ BOOK DIP & DINE PACKAGE HERE!
Location: Hue Hotels and Resorts Boracay, Station 2, White Beach Main Road, Boracay Island, Malay, Aklan
Opening Hours: Daily, 10:00 AM – 9:00 PM. The schedule may change, so it's best to check the updated opening hours before going.
---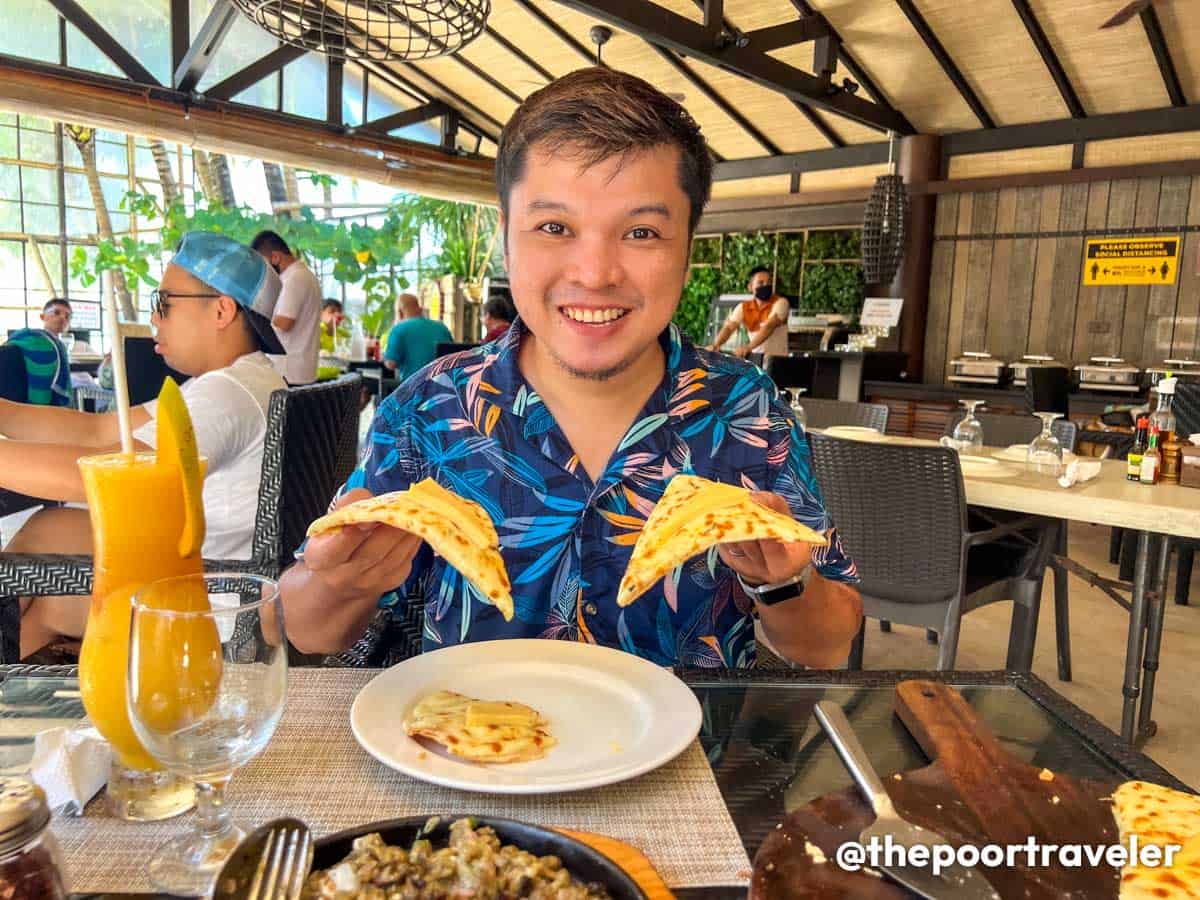 Boracay is not only a haven for beachgoers but also a paradise for food lovers! It's the birthplace of many simple but iconic grubs — Merly's chori burger, Real Coffee and Tea's calamansi muffins, Jonah's fruit shake, and Lemoni's lemon bars. It is also home to some of the best restaurants and gastropubs in the Philippines, from Dos Mestizo's to Nonie's to Los Indios Bravos.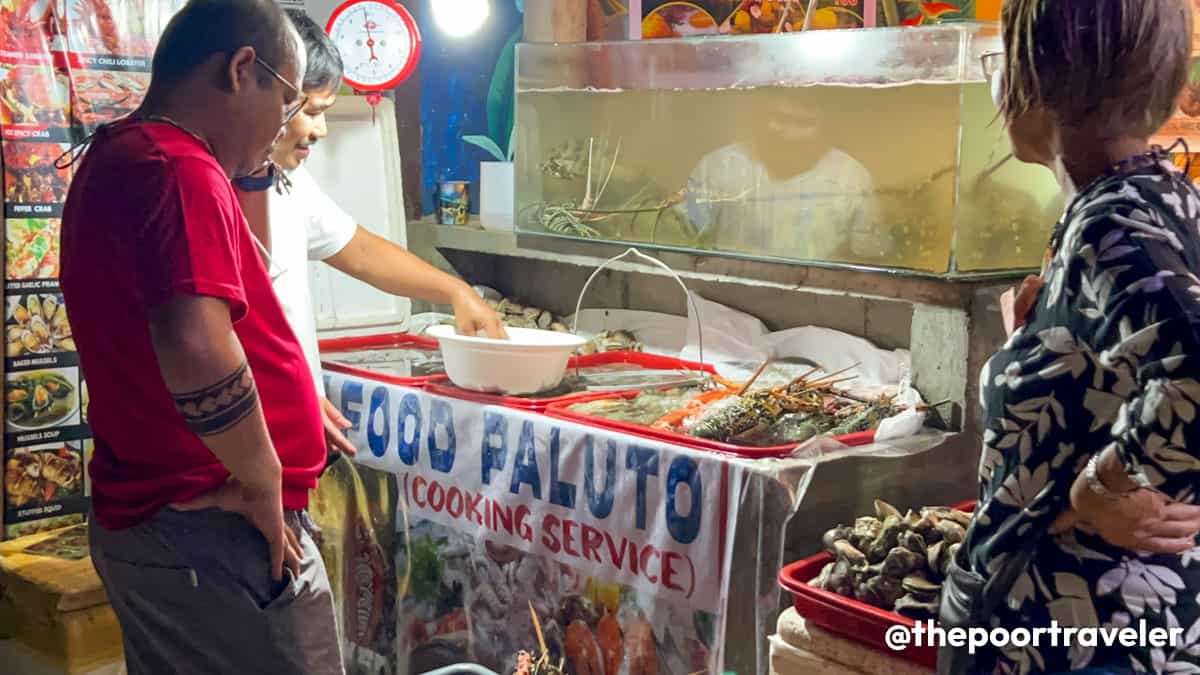 If you are looking for fresh, inexpensive seafood options, you can go to paluto restaurants, where you buy the ingredients and have the restaurant cook the food the way you want. You can easily find prawns, crabs, lobsters, shellfish, and different kinds of fish. Add variety to your menu with fresh meats, vegetables, and fruits.
We have a more detailed article on what to eat in Boracay in the posts below:
✅ TOP 25 RESTAURANTS IN BORACAY
✅ 10 BUDGET FOOD SPOTS IN BORACAY
LOOKING FOR MEAL DISCOUNTS? Klook has several restaurant vouchers that entitle holders 5 to 15% OFF.
---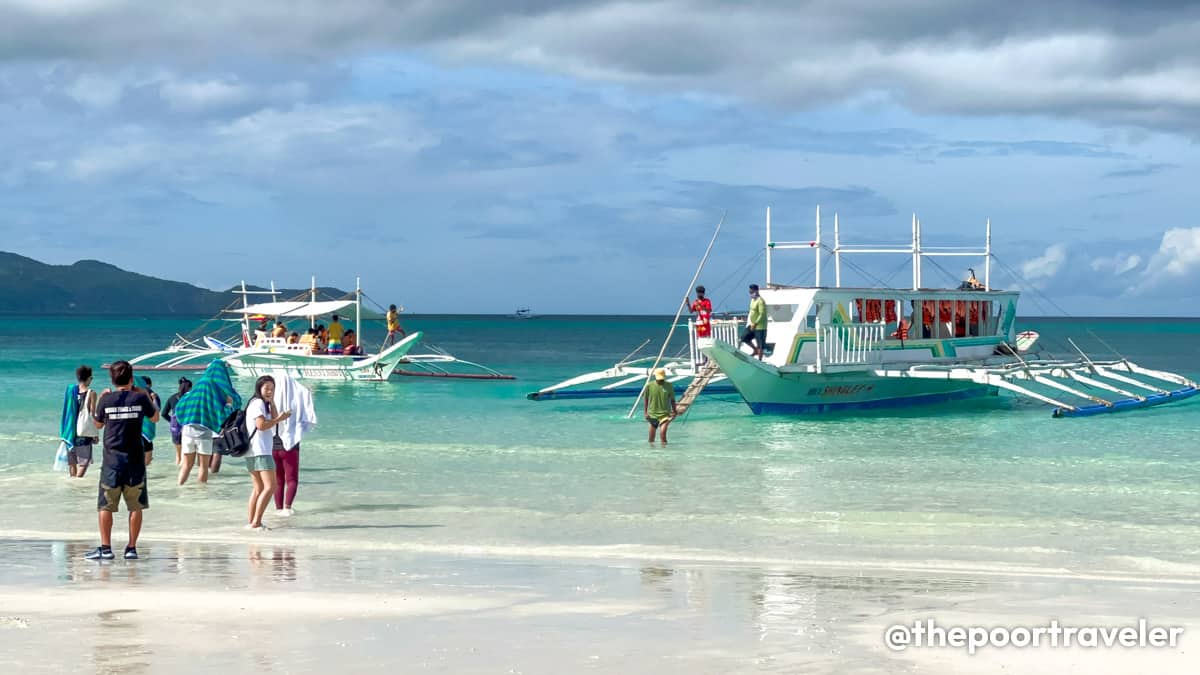 There's more to Boracay than White Beach. The island's jagged corners are filled with fair sand, creating shorter but still stunning beaches. There are also smaller islands around it. You can set foot in some of them by joining a boat tour.
A Boracay join-in boat tour usually has four (4) stops:
Puka Shell Beach
Crystal Cove (Island)
buffet lunch stop
a coral garden (snorkeling site)
Some tour operators change or rearrange stops, others add one or two more. But a tour usually lasts eight (8) hours. Pick up is at either Station 1 or 3, the exact time varies depending on the operator. Most tours cost PHP 800-900 (USD 14.30-16.10) per person.
As you explore the island, you may be approached by touts offering this tour. If you prefer booking with Klook, it's possible too. You'll find the link to the Klook tour below.
✅ RESERVE A SLOT or CHECK ITINERARY HERE!
Here are more bits of info about each stop.
---
Puka Beach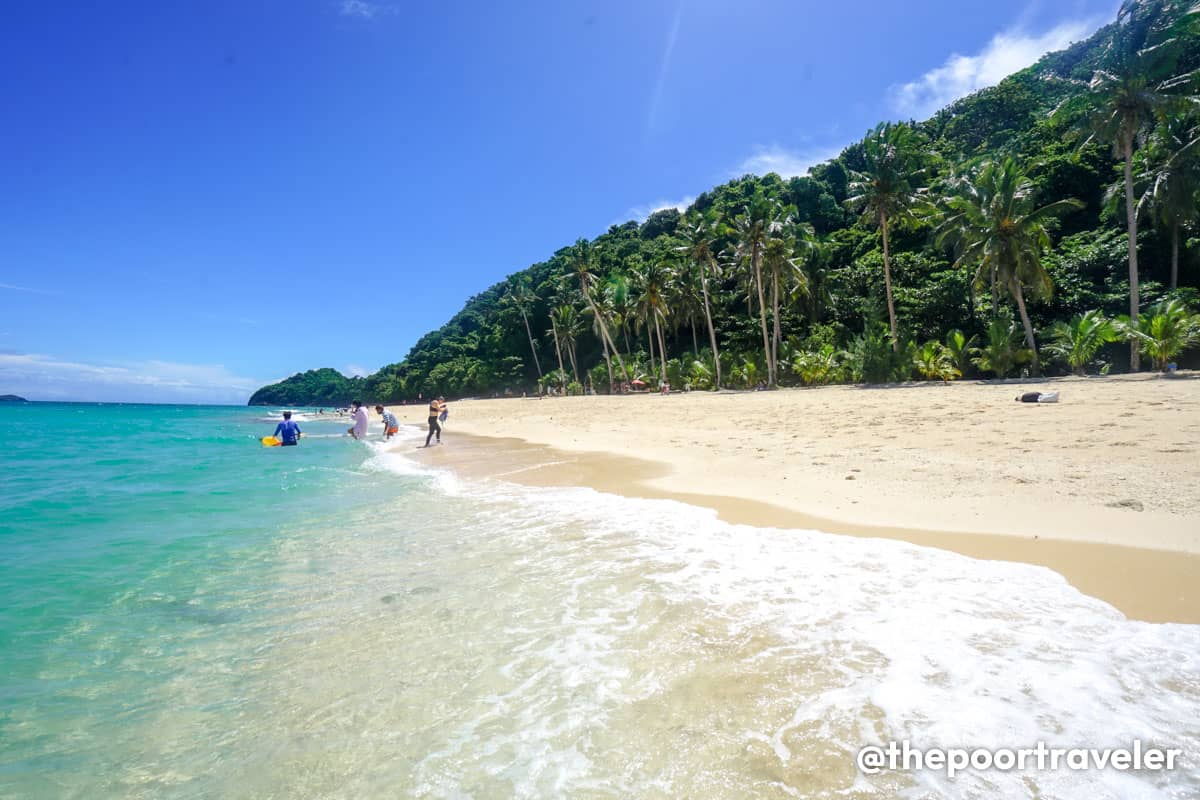 Puka Beach is one of the most picturesque beaches of Boracay, perhaps second only to White Beach. It is als a staple in island hopping tour itineraries.
It used to be the sanctuary for travelers seeking a quiet escape from the constant and sometimes incessant buzzing of White Beach. Located in Barangay Yapak, it is neatly tucked away in the northen tip of the island. However, over the past few years, it has attracted more and more tourists that it no longer is the silent sanctuary it once was. Today, you'll also find here many of the same activities that are common along White Beach, from crystal kayak to henna tattoo to braiding services.
That's not to say that you should skip it. Puka Beach's beauty remains intact; thanks to its wide beach, strewn with fine sand on one end and puka shells on the other, after which the beach was most likely named.
Boat tours often allot 45 to 60 minutes to Puka Beach, which may not be enough. Some operators urge guests to go crystal kayaking here, but don't. It will just eat up your already limited time, when you can try it elsewhere. Just use the time you have exploring the beach.
If you want to swim, venture to the parts where the waves are calmer. Find a spot to spread your beach blanket and chill. And should you ever get hungry, you can grab a snack from one of the food stores/stalls.
You'll also find a couple of photo spots here, both proving to be extremely popular among tourists, as evident in the long queues.
Although Puka Beach is the highlight of the island hopping tour, it can also be accessed by land. You may join an e-trike tour or just come here directly by e-trike.
Location: Puka Beach, Barangay Yapak, Boracay Island, Malay, Aklan
---
Snorkeling Site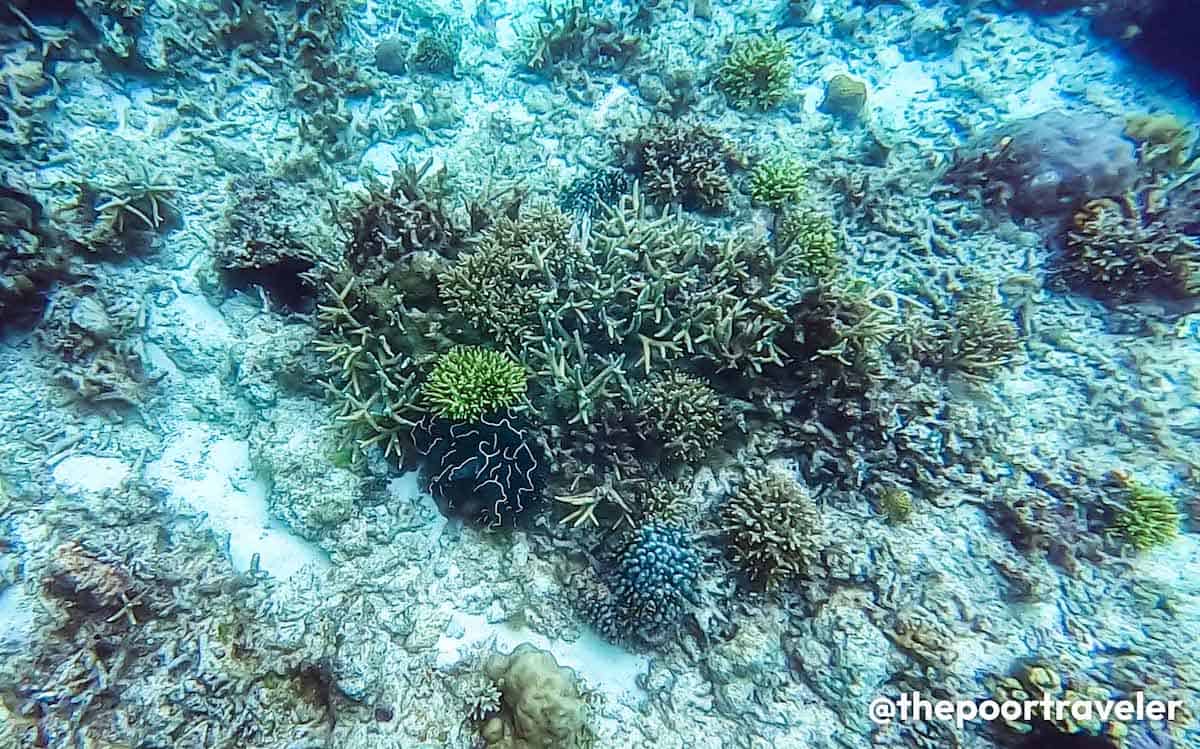 Every boat tour makes a stop at a coral garden for those who wish to go snorkeling. The boat is moored not too far from the coast, in our case, just off Balinghai Beach. Here, you'll get a sneak peek into the marine life and scenery that surround the island.
While we believe that each destination has its charm, we also believe in managing expectations of our readers. The spot we were brought to was not as vibrant or as alive and kicking as the other sites I've visited elsewhere in the Philippines. If you've been to Palawan or Bohol, you may find snorkeling here underwhelming.
If you decide to go snorkeling, you'll need to pay an extra P45. (No need to pay if you're staying on the boat.)
Remember to use reef-friendly sunscreen! Bring your waterproof camera for the best photos, and bring your own snorkeling gear for hygienic purposes. It's also best to wear your life vest at all times, as the waves may suddenly change and overwhelm you.
---
Crystal Cove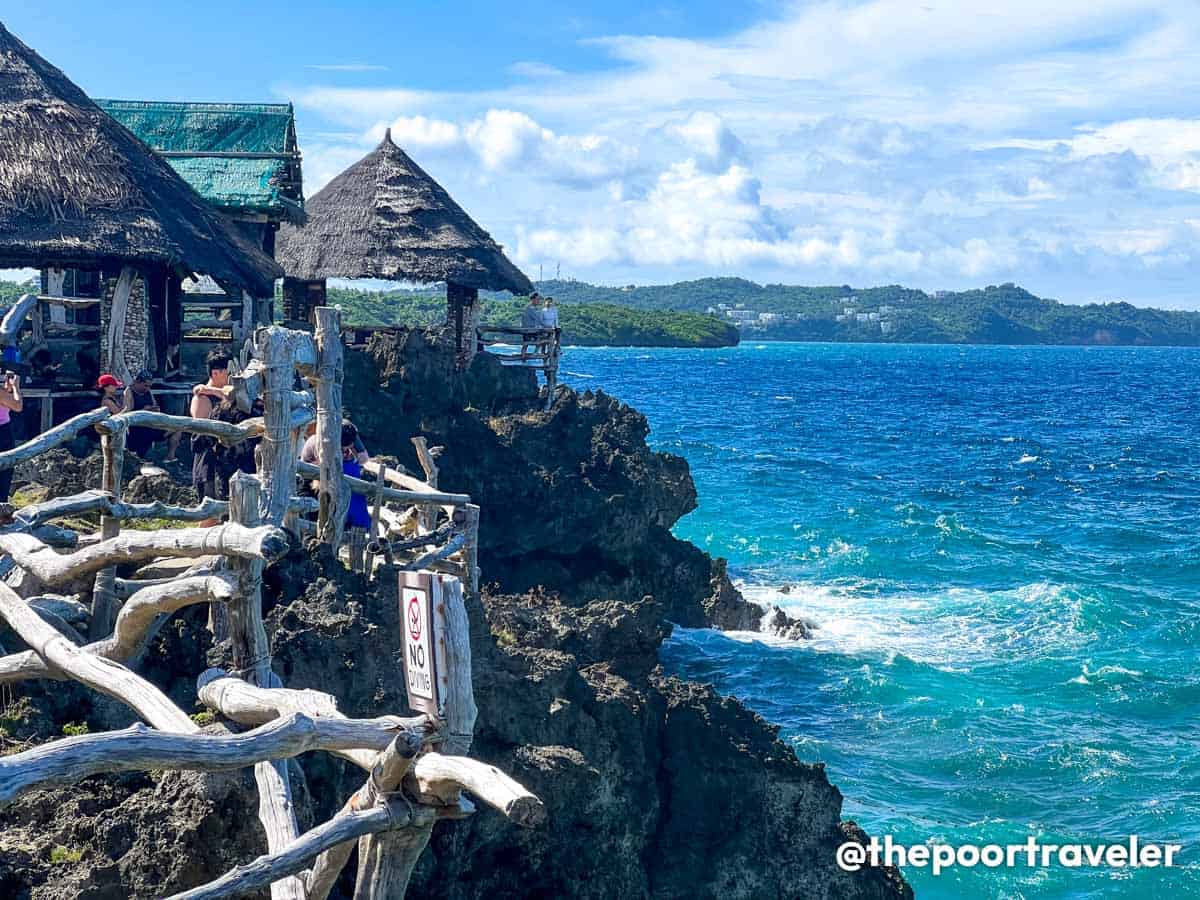 Off the coast of Boracay lies Laurel island or Tiguatian Island, which harbors Crystal Cove, a two-hectare resort peppered with almost irresistible viewpoints. But the main highlight is its caves adorned with interesting rock formations, which serve as a powerful background for photos. You may also check out the mini museum and aviary or go swimming and snorkeling.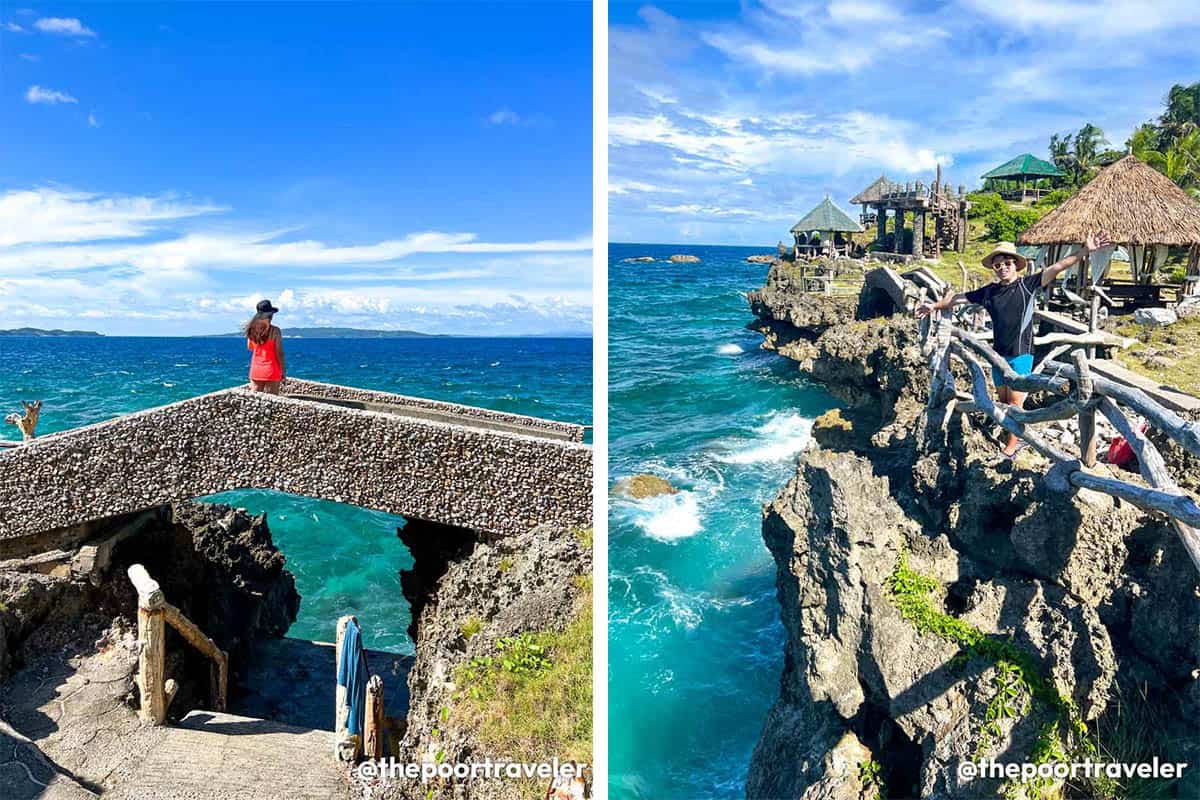 The resort charges an additional P300 entrance fee, which is NOT included in the island hopping tour rate. If you opt to enter the resort, purchase a ticket at the booth by the gate. Otherwise, if you wish to not enter and stay on the beach, no need to pay anything. While waiting for the guests who chose to enter, you may simply chill on the sand, head for a swim, or quench your thirst with fresh coconut juice at P100 a piece. Banana que is also available at P35 per stick.
Location: Crystal Cove, Malay, Aklan
Entrance Fee: P300/pax
---
Magic Island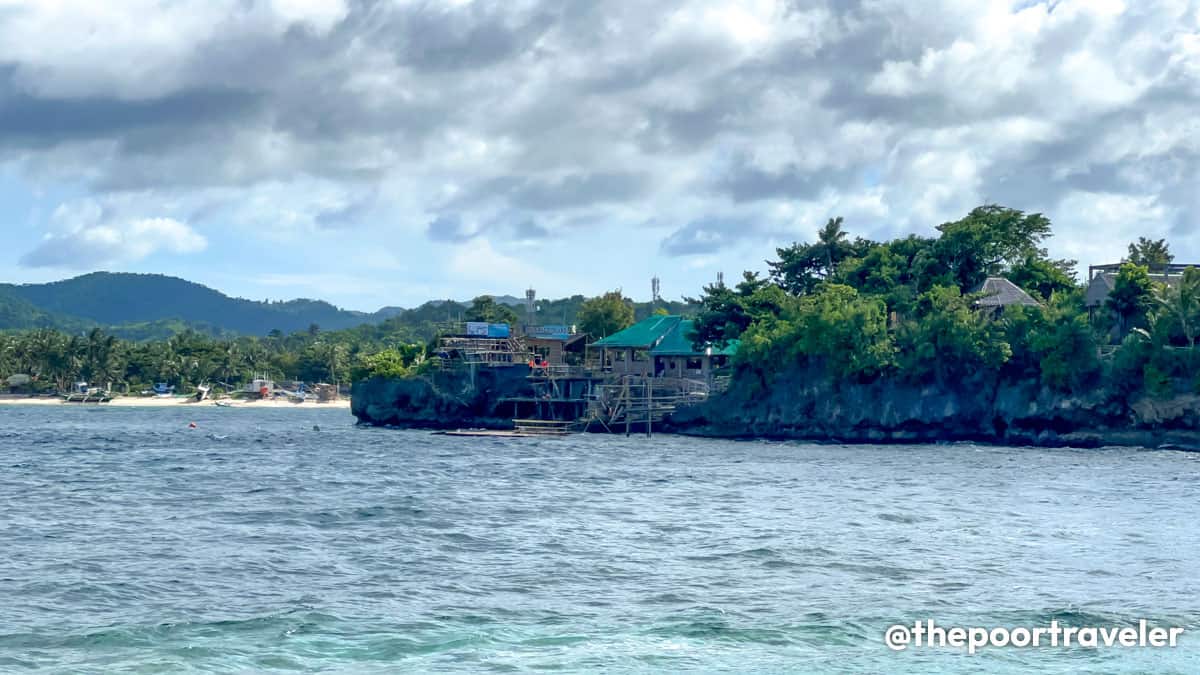 Magic Island is a small islet between Crystal Cove and mainland Panay Island. In fact, from the beach of Crystal Cove, you could have a good look at its rocks, rising from the blue waters. But these rocks are not just cliffs. To some thrill-seekers, these are diving platforms.
The truth is, most island hopping tours do NOT make a stop at Magic Island, even when it's included in the list of attractions plastered on the pamphlets that touts use to attract customers. Most tours simply pass by it on the way to Canyon Cove, and you could only admire it from a distance.
So if you're into cliff jumping, double check if the tour you're booking will indeed make a stop at Magic Island. And double check with the boatman before boarding, for good measure. Or just charter your own boat.
For cliff jumpers, a stop at Magic Island could be worth the trouble. It has five different diving platforms, perched at varying heights —- 3, 5, 7, 9, and 10 meters. The P250 entrance fee includes unlimited cliff dives. But do note that there's nothing much else to do here aside from cliff jumping, eating lunch, and some picture taking,
Location: Magic Island, Malay, Aklan
Entrance Fee: P250/person
---
Crocodile Island
Crocodile Island is one of the few islets off the southeastern coast of Boracay and a usual island-hopping stop. If you check Google Maps, the aerial view looks nothing like a crocodile. However, viewing it from a certain angle as your boat approaches the island will show you how it gets its name. Though the island is rocky and uninhabited, with little vegetation, its underwater scenery draws the attention of divers and snorkelers.
Earlier, we mentioned that join-in boat tours usually have a snorkeling stop. For some, that stop is here, just off the coast of Crocodile Island. It can also be reached by private boat. Some tourists kayak around the island from Tambisaan Beach, the main jump-off point to Crocodile Island.
Location: Crocodile Island, Barangay Manoc-Manoc, Boracay Island, Malay, Aklan
If you are interested in joining an island-hopping tour that includes Crocodile Island, Crystal Cove Island, and/or Magic Island in the itinerary, you can book it with Klook! Check the itinerary and the inclusions before booking to ensure the package suits your preferences.
---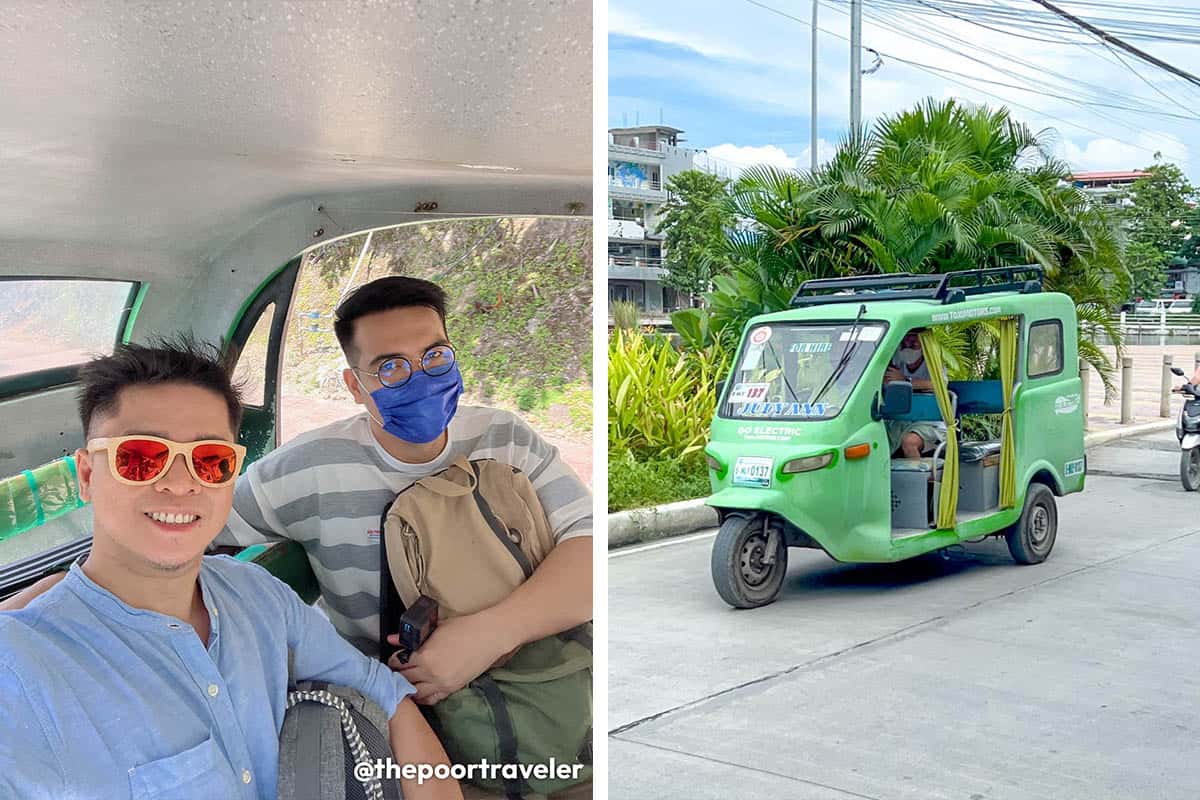 Aside from island hopping, another way to see much of Boracay is by e-trike or electric tricycle. It is now the most common mode of transportation around the island, and you may charter one to take you around. The approved fare is P500 per hour, maximum of 4 passengers per vehicle. To be clear, that's P500 per e-trike per hour. NOT per person.
E-Trike Tour
P500/hour
Maximum of 4 pax
To arrange a land tour, you may simply hail an e-trike in the streets. In our many visits to Boracay, we encountered drivers who charge more even for short-distance rides, so when we meet honest drivers, we try to help them by sharing their numbers. And one of them is Kuya Ambro. He did not overcharge us. Here's his number.
Kuya Ambro
E-Trike service
+63 943 1304164
Unlike boat tours with fixed itinerary, an e-trike tour is very flexible. Because you're charged by the hour, you dictate where to go and how long to stay at each stop. Most drivers have a suggested itinerary but it's ultimately up to you whether to follow that or make your own.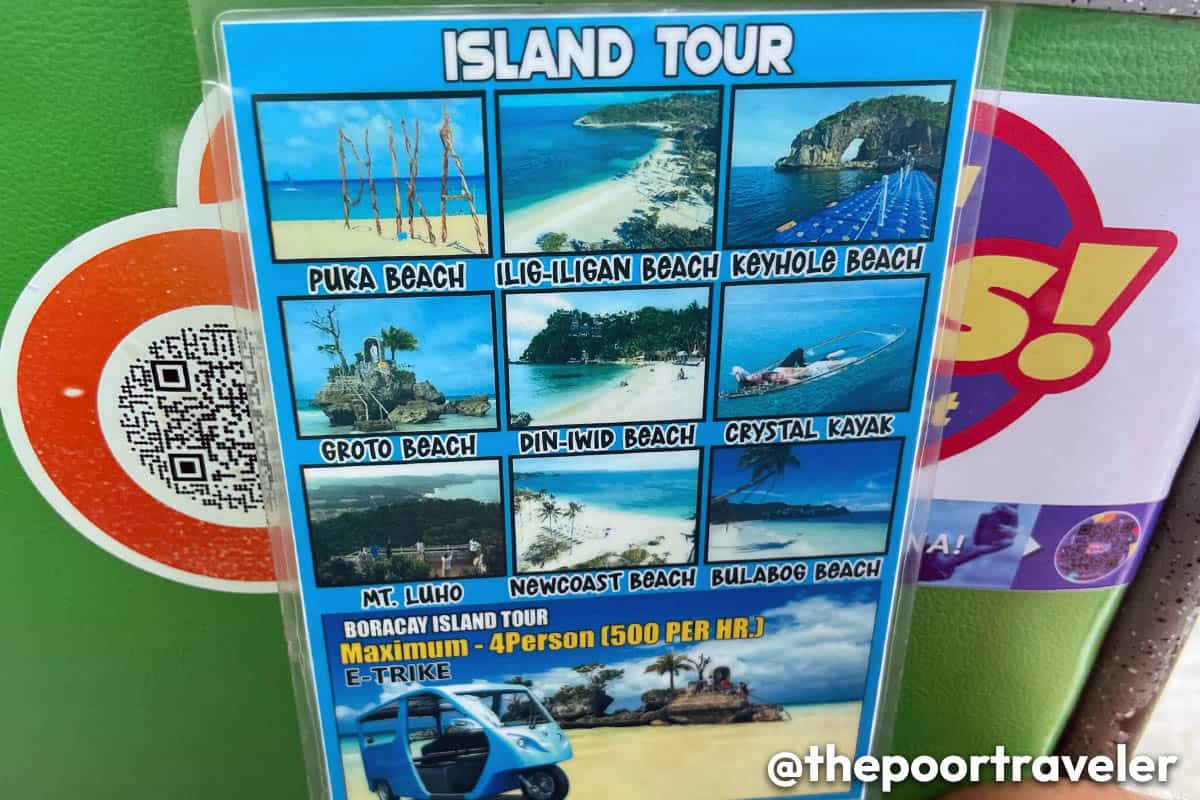 To be honest, the highlight of any land tour is also Puka Beach, which we already discussed earlier. But aside from that, here are the other places you may visit.
---
Cujo's Keyhole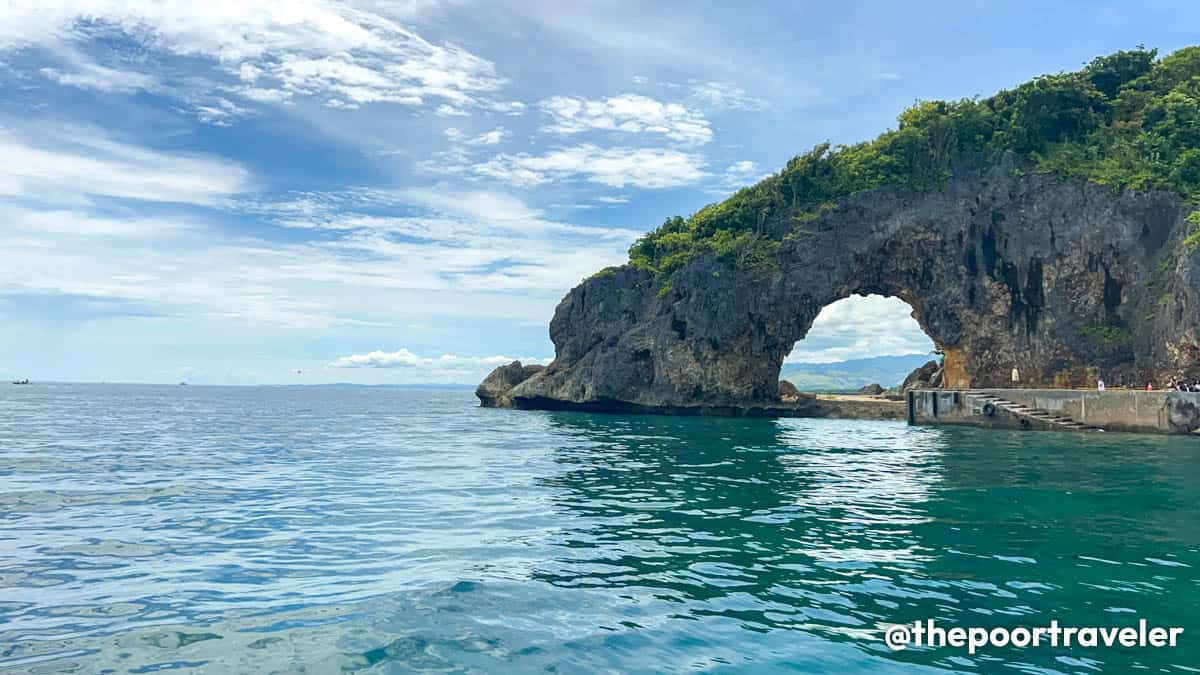 As development continues and more tourists search for other places to explore on the island, Cujo's Keyhole quickly became a must-see attraction in Boracay.
Dubbed "The Keyhole" by many, Cujo's Keyhole is located within the upscale Boracay Newcoast, a private real estate and resort development on the island's northeast coast. Not to worry! Everyone is welcome to visit. The management of Boracay Newcoast lets non-guests in. Most tourists come here via e-trike or a tricycle tour which includes a Keyhole stop in the itinerary. If you'd like to DIY a visit to the Keyhole, eTrike fare from the White Beach area to Boracay Newcoast is P300, one-way.
To protect the rock formation, parts of the area have been cordoned off to prevent entry beyond the safety line. Visitors can only take photos of it and with it as the background. However, you are free to explore the Lapuz-Lapuz Beach nearby and even avail of the crystal kayak experience there.
Location: Boracay Newcoast, Barangay Yapak, Boracay Island, Malay, Aklan
---
Mt. Luho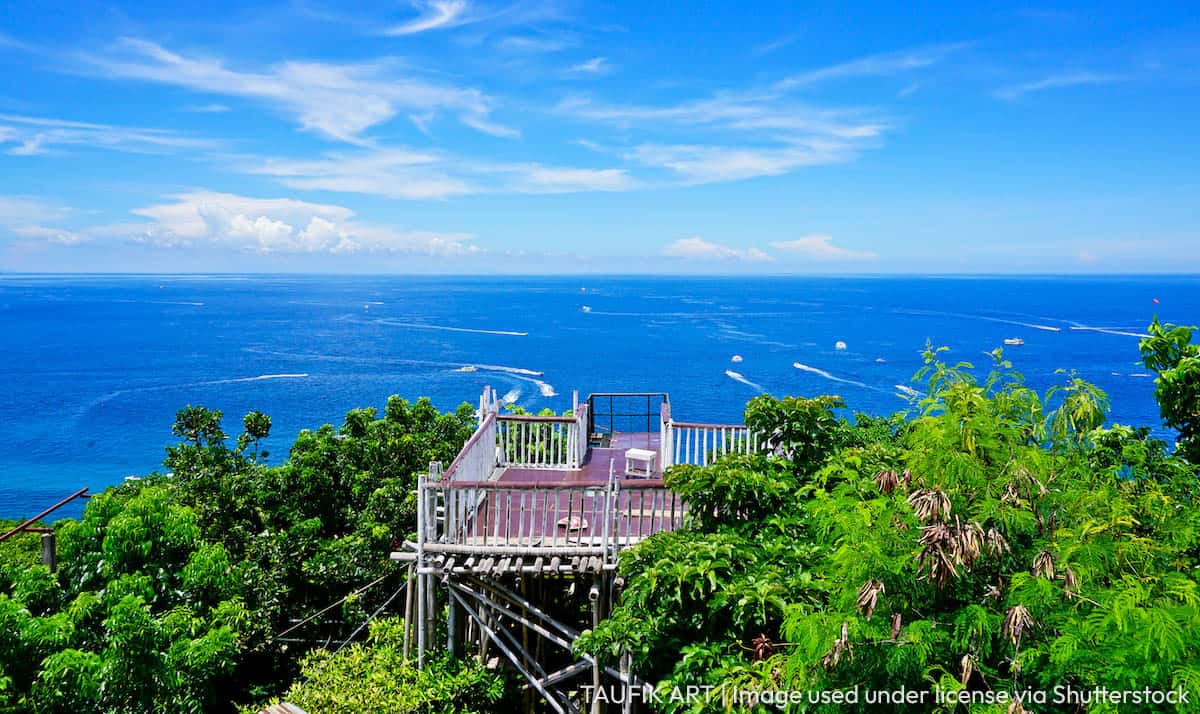 Less of a mountain and more of a hill, Mt. Luho lies near Bulabog Beach. As the island's highest peak, you can find spots to get good views of Bulabog Beach, Ilig-Iligan Beach, the sea, and the surrounding areas. However, since it has been a while since we had been here, we're not sure if the man-made observation deck is still open.
Mount Luho is also usually included in ATV ride packages offered by various tour operators.
Location: Mount Luho, Barangay Balabag, Boracay Island, Malay, Aklan
---
Diniwid Beach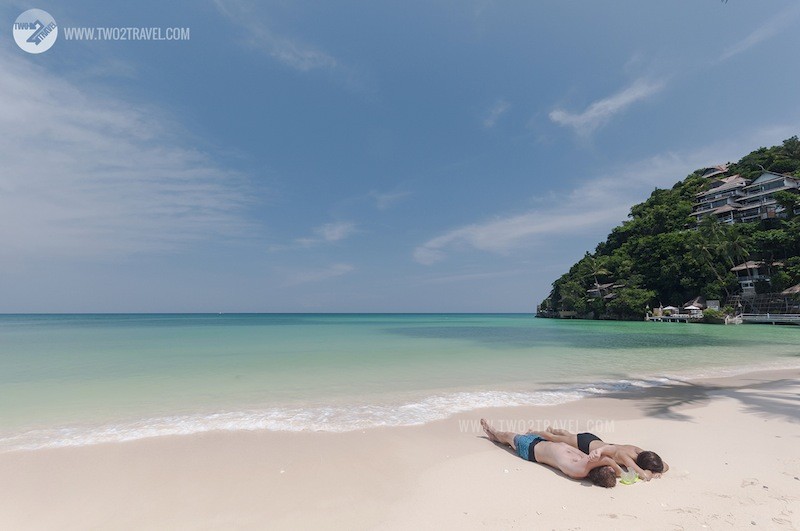 Diniwid Beach is a semi-hidden beach adjacent to White Beach. Access it via a rocky path connecting Station 1 to the smaller, quieter white sand beach.
The sand may not be as powdery fine as that of White Beach, but the clear and calm waters make it worth your while. It is the nearest option if you want to quickly escape the crowded shore of the most popular beach on the island. Consider booking your accommodation in one of the hotels in the area if tranquility is what you are after. You only have to traverse the walking path to reach White Beach's Stations 1, 2, and 3 for more dining options or explore the whole powdery stretch.
Diniwid Beach is also an excellent spot for watching the sunset, so expect the beach to get a little more crowded than usual at dusk.
Location: Diniwid Beach, Din-Iwid Road, Barangay Yapak, Boracay, Malay, Aklan
---
Ilig-Iligan Beach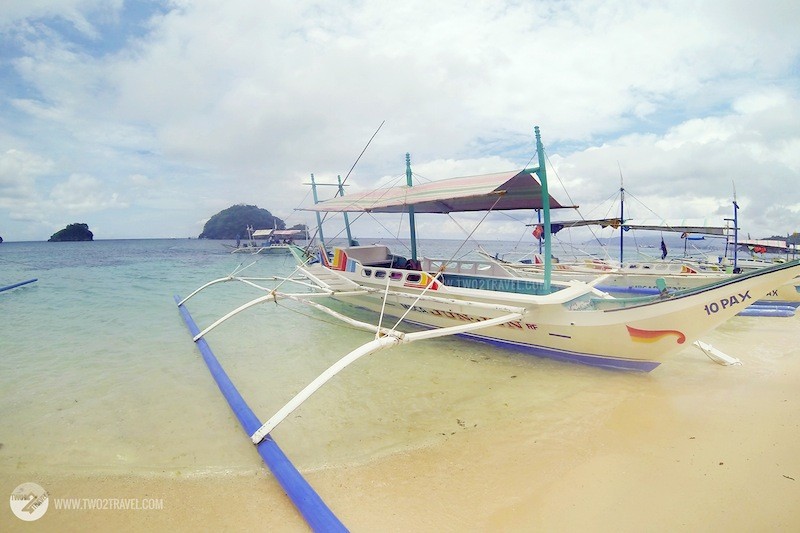 If you want to escape the hustle and bustle of the tourism hub, scour the northern portion of the island and you'll find its many secluded beaches. One of them is Ilig-Iligan Beach, another tranquil stretch of fine white sand. It is another worthy candidate for a Puka Beach alternative, but there are very few establishments and basic amenities — paid restroom/toilet at best. Strap your snorkeling gear, go sunbathing, and savor the serenity.
Location: Ilig-Iligan Beach, Barangay Yapak, Boracay, Malay, Aklan
---
Bulabog Beach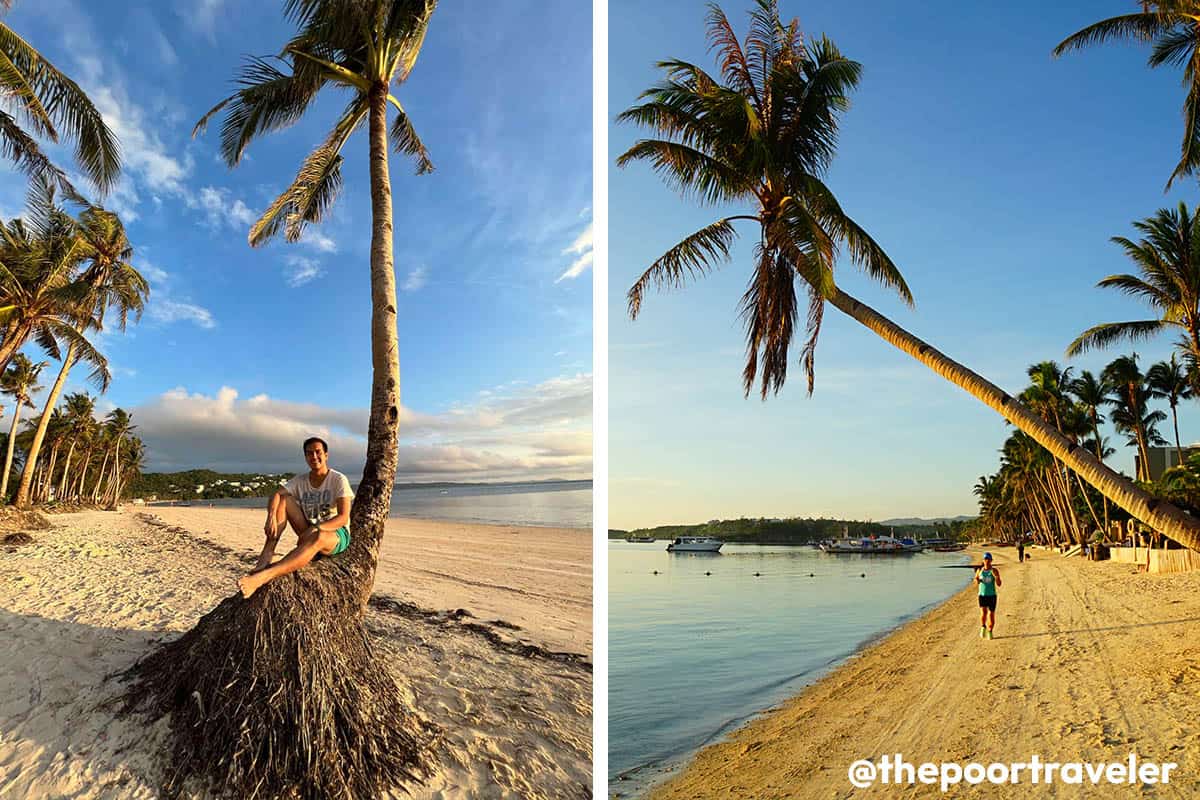 Running parallel to White Beach on the west, Bulabog Beach can be reached within 10-15 minutes on foot or about 5 minutes via an e-trike from Stations 1, 2, or 3.
It may not have the well-loved powdery white sand shore of White Beach, but the windy coast welcomes adrenaline junkies. The beach hosts operators offering gear rentals and lessons, especially for kitesurfing/windsurfing. Other water sports activities are also available, like parasailing and jet skiing. There are also other tourist facilities like restaurants and lodgings.
And while White Beach hogs the spotlight for what many regard as the best sunset of their lives, Bulabog rewards those who flee from the crowd a gorgeous sunrise for keeps.
Location: Bulabog Beach, Barangay Balabag, Boracay Island, Malay, Aklan
---
Crystal Kayak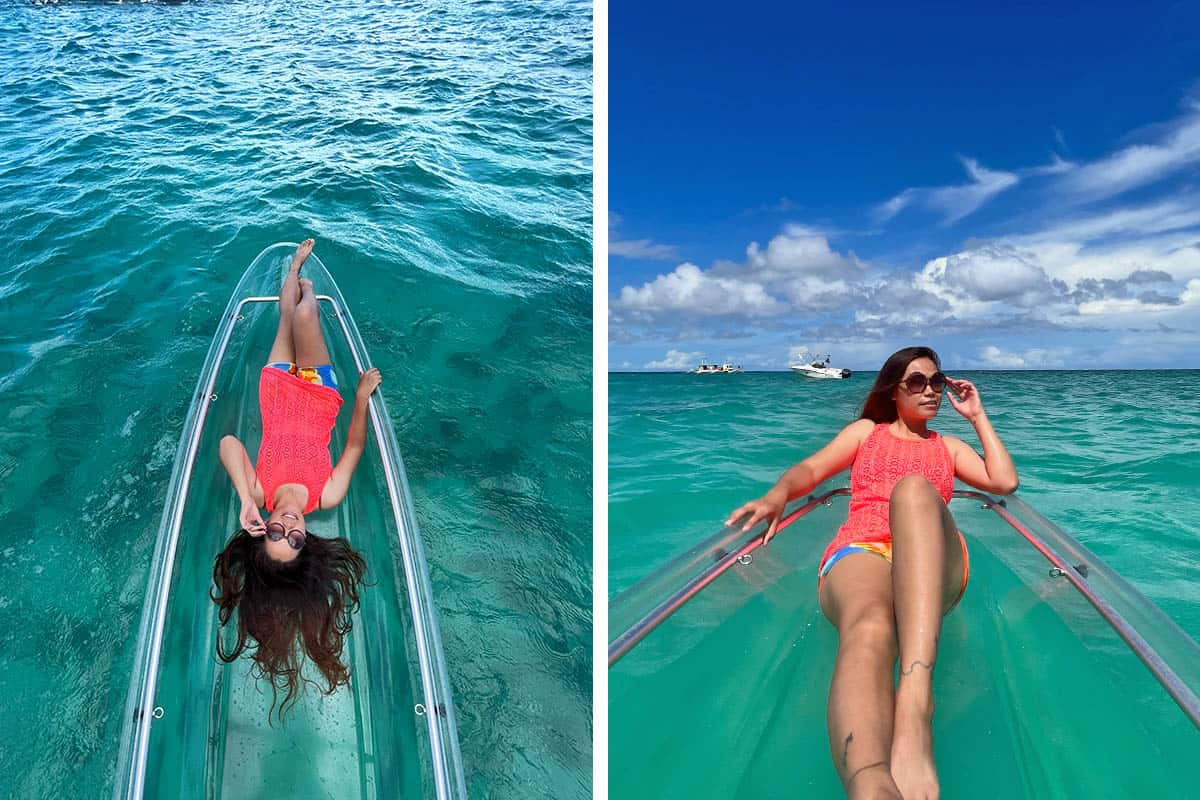 It's crystal clear that this is THE newest rave in Boracay. It's all over social media — people posting glossy magazine-type photos of themselves in a transparent kayak, with the emerald to sapphire water adding oomph to each snap.
It's easy to book a crystal kayak. Just approach any of the boatmen or skippers on White Beach (from Station 1 to 3), Puka Beach, or any of Boracay Newcoast's private beaches. Or they may approach you. Quite persistently, too.
Don't know how to pose and project? No worries! The boatman, who also serves as your photographer, will guide and instruct you. They know all the right poses and flattering angles! I personally don't know how to project or pose, but my boatman made me feel at ease and confident through his instructions. By leveling up the quality of your photos, these crystal kayaks amplify your island getaway experience, making it more memorable.
Take advantage of the water's vibrant sheen on a clear sunny day for this particular photo op. Don't forget to bring your sunglasses!
Location: White Beach, Puka Beach, Boracay Newcoast
Rate: Starts at P250 per person.
Duration: 15-20 minutes
---
Standup Paddling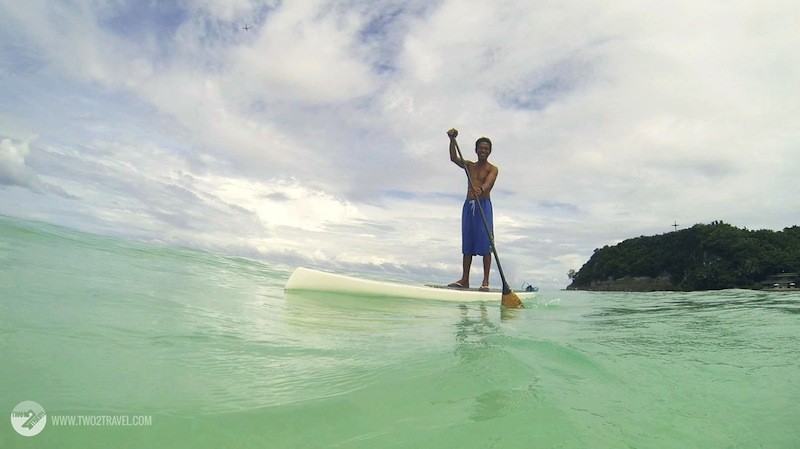 If the idea of just lazing on the sand sounds boring to you, then make a stand. On a paddleboard, if you dare. Long before crystal kayaks dominated Boracay's beachscape, stand up paddling or paddleboarding rules White Beach. It is one of the ideal places for beginners to practice and indulge in the activity because of its calm waters. Paddle with your friends or family with the beautiful seascape as your backdrop!
Rates: 30-Minute, P500 / 1-Hour, P700
You can also find discounted stand-up paddling experiences on Klook!
✅ CHECK RATES & RESERVE SLOT HERE!
---
Paraw Sailing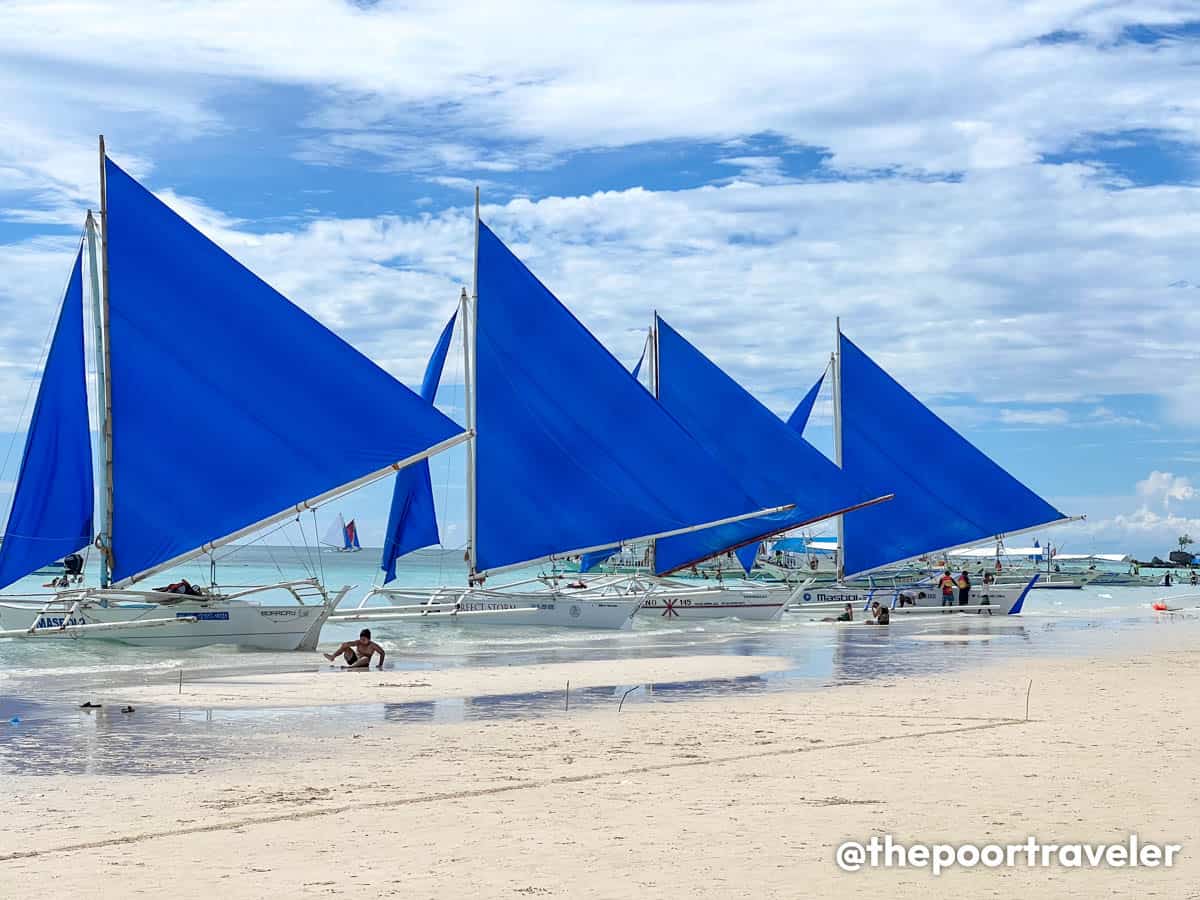 One of Boracay's most recognizable icons, the paraw is an outrigger boat bearing two iconic triangular sails. It's even more romantic during sunset, when the Boracay beachscape, particularly White Beach, transforms into a huge shadow play stage with the paraws as the main characters and the sunset aiding the performance as a natural lighting director.
Daytime Rates:
Solo, P2000
Duo, P1000 per person
Trio, P830 per person
Group of 4, P750 per person
Group of 5, P700 per person
Group of 6, P670 per person
Sunset Rates
Solo, P2500
Duo, P1200 per person
Trio, P1000 per person
Group of 4, P875 per person
Group of 5, P800 per person
Group of 6, P750 per person
If you want to go beyond admiring them from afar, get on board and let the wind and the whole experience blow your worries away. You can book on-site or score limited promo rates from Klook when you reserve online! You can check out these two options:
✅ CHECK RATES & RESERVE A DAY SLOT HERE!
✅ CHECK RATES & RESERVE A SUNSET SLOT HERE!
---
Parasailing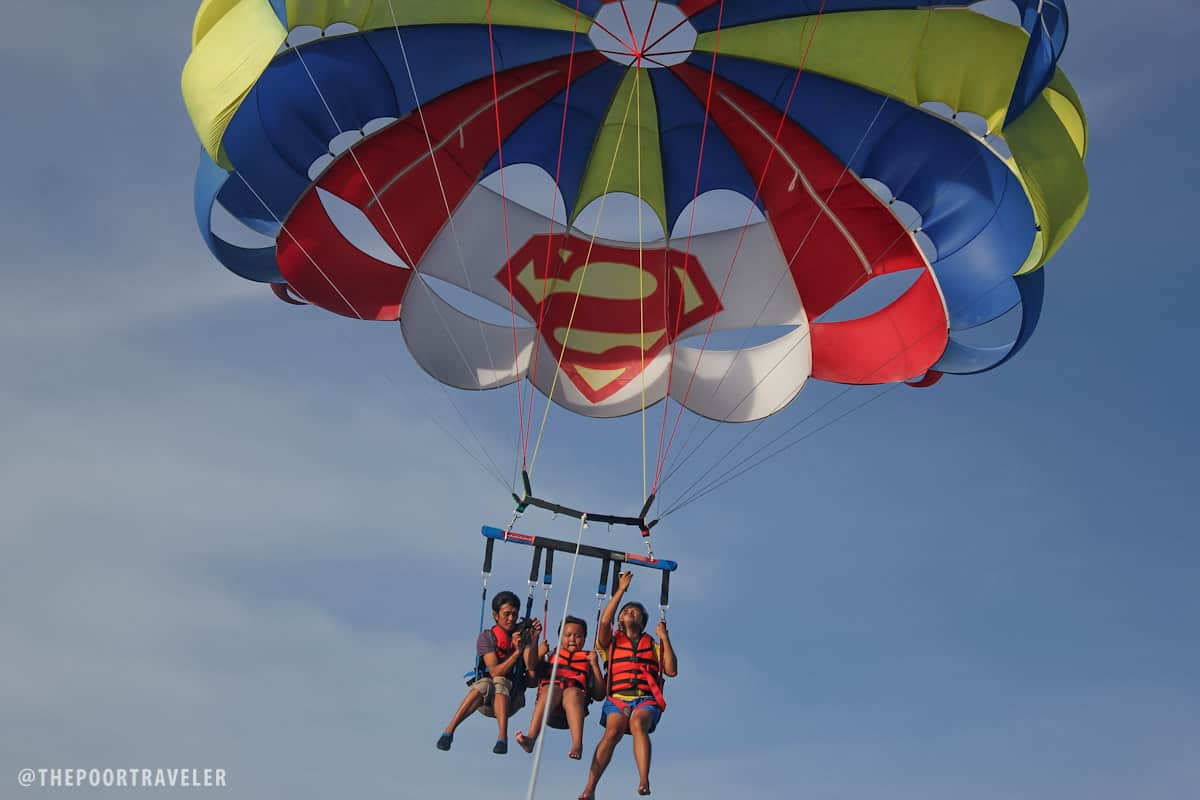 How about a bird's eye view of Boracay while strapped to a parachute hinged onto a speedboat?
For the adventurous, this will surely make you scream your heart out in awe and excitement. Enjoy the unique top-view of the island and capture the moment with an action camera or ask the boat staff to take your photos. It's cheaper to do it with a companion during the off-peak season.
Rates:
Solo, P2500
Tandem, P1800 per person

For Klook users, check for promo rates! These packages usually include: 15-Minute Solo or Tandem Parasailing, boat ride, full equipment, and safety gear.
---
Banana Boat Ride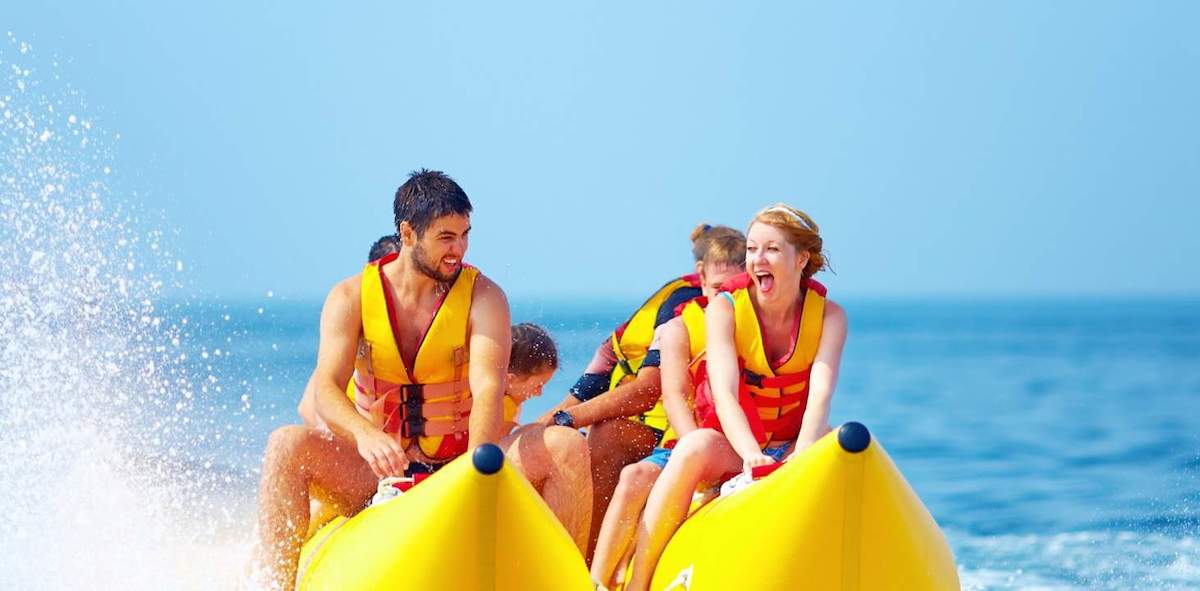 Banana boat rides have become a beach experience staple. It's one of the most thrilling ways to bond with your family, friends, or even colleagues. There's no better feeling than to share roars of laughter as you go on a bumpy and bouncy ride atop Boracay's waters.
Note that this is not recommended for children below 13 years.
Rate: P450 per person

Book your banana boat ride through Klook! The package will include a 15-minute Banana boat ride, life jacket, and helmet.
---
UFO Inflatable Ride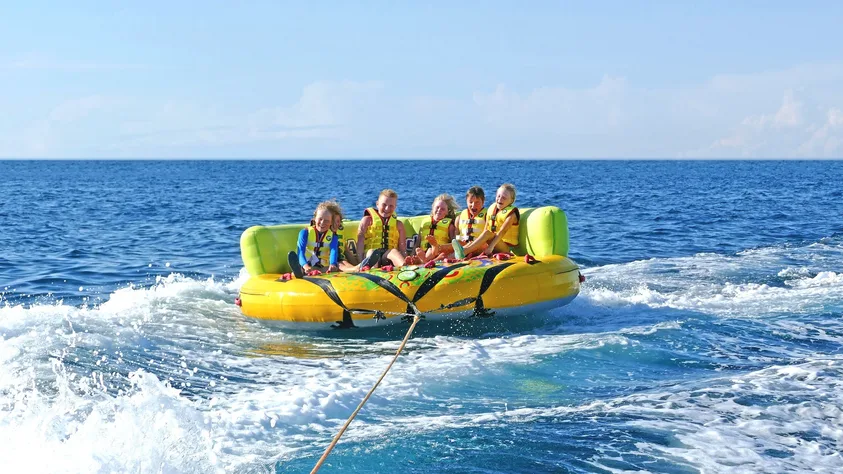 Ever heard of a UFO ride in Boracay? No, we're not talking about alien sightings.
UFO rides work the same way as banana boat rides, which rip you through the waves on an inflatable banana-shaped boat. But instead of straddling an enormous fruit, prepare to be swept away and whipped around on a round air-filled saucer. Think of it as a UFO on water. Very that. But more fun.
Packages for UFO (or Hurricane) rides typically cover the 15-minute ride experience, safety gear, and life jackets.
Rate: P700 per person

Score a deal when you book with Klook!
---
Scuba Diving
Have you ever wondered how it feels to see marine life up close? Then dive deeper into the otherworldly realm under the waves! Don't know how? No worries! Turn your Boracay trip into an opportunity to learn something new by taking a few scuba diving classes.
Many diving resorts on the island offer introductory courses for beginners. Some of them don't require prior diving experience. Even the worst of swimmers are welcome at some dive spots. The instructors and the divemaster will guide you every step of the way and will teach you the proper breathing and handling of equipment.
Introductory Dive Rates: Solo, P5000 / Group of 2-6, P3500 per person

You can reserve a slot through Klook! The introductory course includes a PADI-certified dive instructor, full dive gear and equipment, one dive session, a towel, and bottled drinking water.
---
Helmet Diving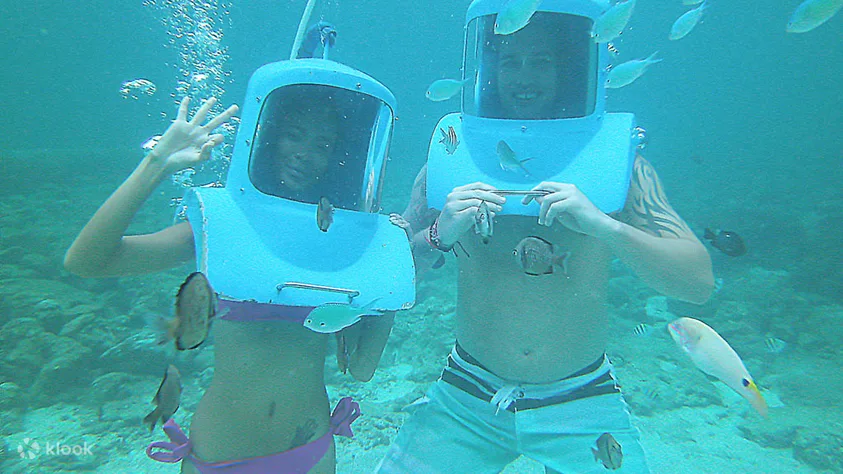 Not ready for scuba diving yet? How about helmet diving? Also called sea walking, this is another alternative if you just want to appreciate Boracay's colorful marine life without donning wetsuits and oxygen tanks. It's like strolling along the park but you have the ocean floor for gravel. However, this activity is not recommended if you have ear problems or are claustrophobic.
Rate: P1000 per person

You can also book this activity on Klook. The package includes a PADI-qualified dive instructor, boat ride, gear and equipment, and a soft copy of photos and video.
---
Kite Surfing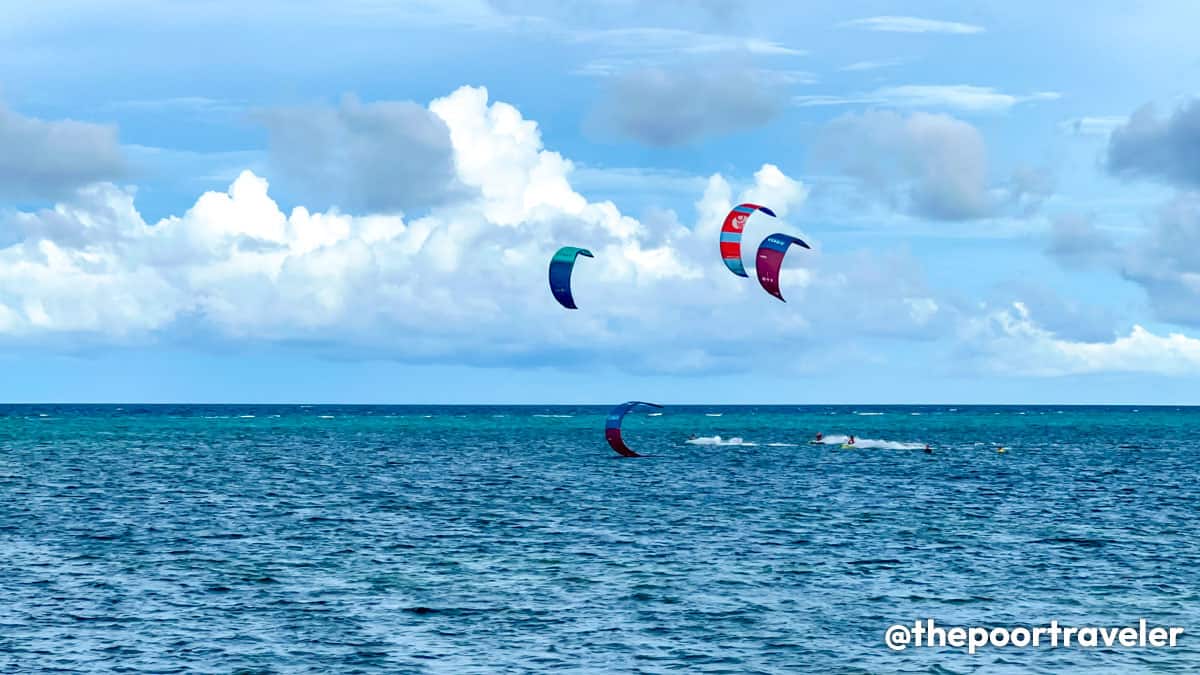 The go-to spot for kitesurfing and windsurfing in Boracay is Bulabog Beach, which stretches along the island's eastern coast.
If you want to catch the best wind condition, a Boracay trip during the Northeast Monsoon (Amihan) season, which happens from November (or late October) to March (or early April), is ideal. During this season, the wind velocity ranges from 15 to 25 knots and may even reach more than 30 knots.
Want to try it but don't know where to begin? Several kitesurfing and windsurfing schools dot the shores of Bulabog. This is your best chance to learn the said sports because Boracay caters to beginners and professionals alike.
Location: Bulabog Beach, Barangay Balabag, Boracay Island, Malay, Aklan
Opening Hours: Kitesurfing/Windsurfing schools and rentals usually open at 7:00 AM and close at 6:00 PM.
Kitesurfing/Windsurfing Lessons Rate: P3,500 to P25,000 (depending on inclusions and number of sessions)
---
Mermaid Swimming
Live your mermaid dream in Boracay!
The Philippine Mermaid Swimming Academy adds a unique spin to monofin swimming by letting students wear beautiful mermaid tails that shimmer under the sun. Aesthetics and fantasy aside, monofin swimming is considered a good workout and doubles as training for aspiring free divers.
This option is also available for those who only want to do mermaid photoshoots. Book an appointment for classes and photoshoot sessions. No walk-ins.
Introduction to Mermaiding Swimming Lesson (IMSIA): P1800/pax for 90 minutes (pre-scheduled)
Mermaid Photo Op: P800/pax for 30 minutes (dry and shallow water)
Contact Details: +63 917 324 3947 / Philippine Mermaid Swimming Academy FB Page
---
Jet Ski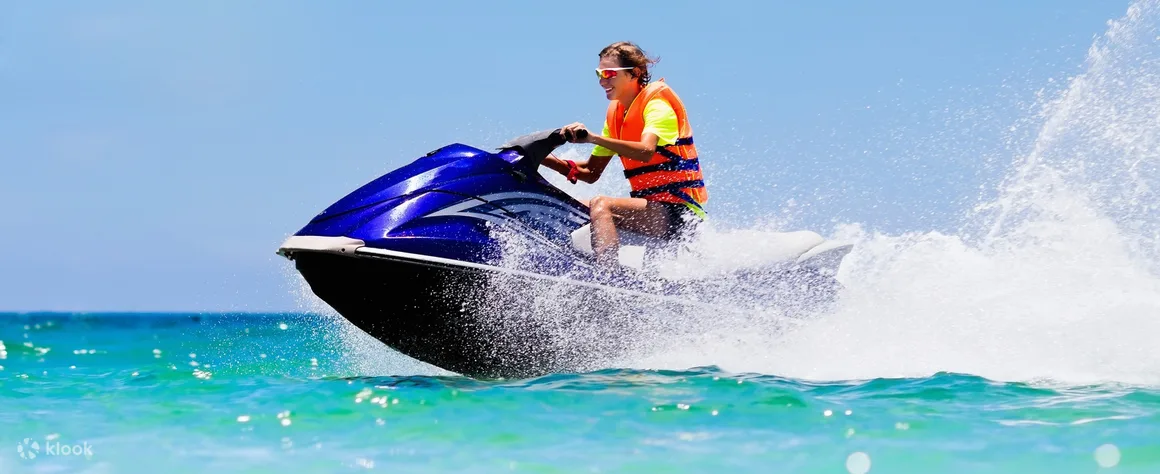 For the speed devils who want to take control, jet ski your way around Boracay's waters! Slow down to take in the wonderful views or speed up to chase the thrill. You can rent a jet ski and go on your own or let a local guide instruct you and ensure your safety.
Rates: 15-Minute Ride, P2200 per jetski / 30-Minute Ride, P3800 per jetski

You can check the rates on Klook and choose how long you wish to do water zoomies — 15 minutes, 30 minutes, or 1 hour. This private activity includes a life vest, a jetski unit, and a guide.
---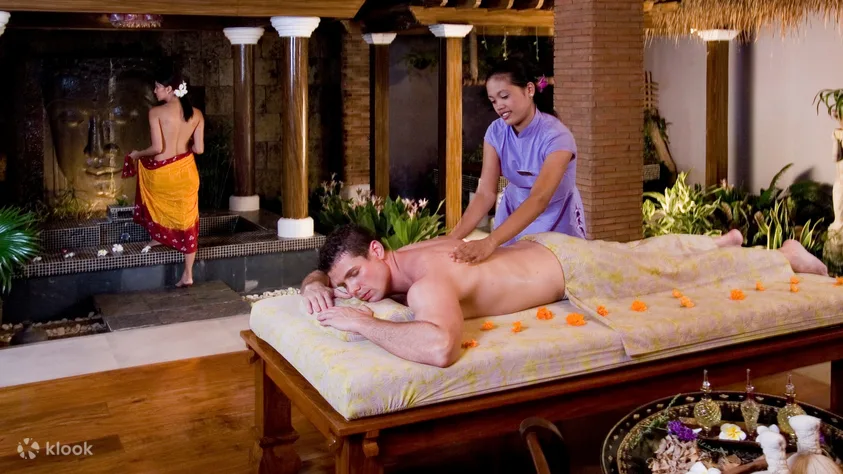 If you lugged around your stress all the way to Boracay, it's time to leave it behind. Rest easy and take your pick from the luxurious spas or humble beach-side massage services across the island.
Rates may vary depending on the scope and length of each massage. If you want to get pampered at a high-end resort's spa and massage amenities, you can inquire or book at the reception or through the resort's official website. More budget-friendly options also abound along White Beach and the main road. As you walk along, you'll probably be approached by spa staff offering various massage services.
✅ CHECK OPTIONS and SEE RATES HERE!
---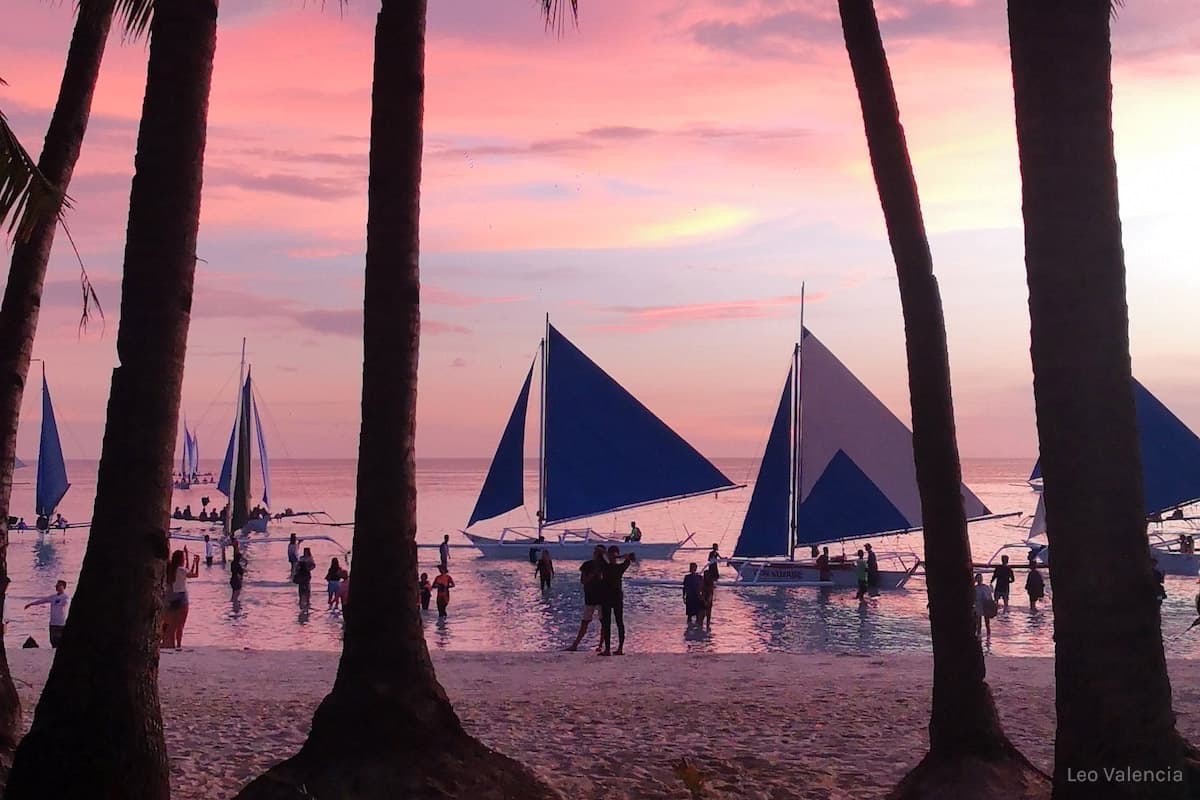 Ahhhhh the unbelievably stunning Boracay sunset!
Words are not enough to describe its beauty. It WILL leave you speechless. Just look at the photo! If that's not enough, just Google "Boracay sunset." It perfectly embodies the saying, "The best things in life are free."
But if you're at or around Station 2, don't expect to have a tranquil sunset moment as you will be sharing the space with countless of other tourists who are all after the same thing. You'll find quieter corners in other stations.
---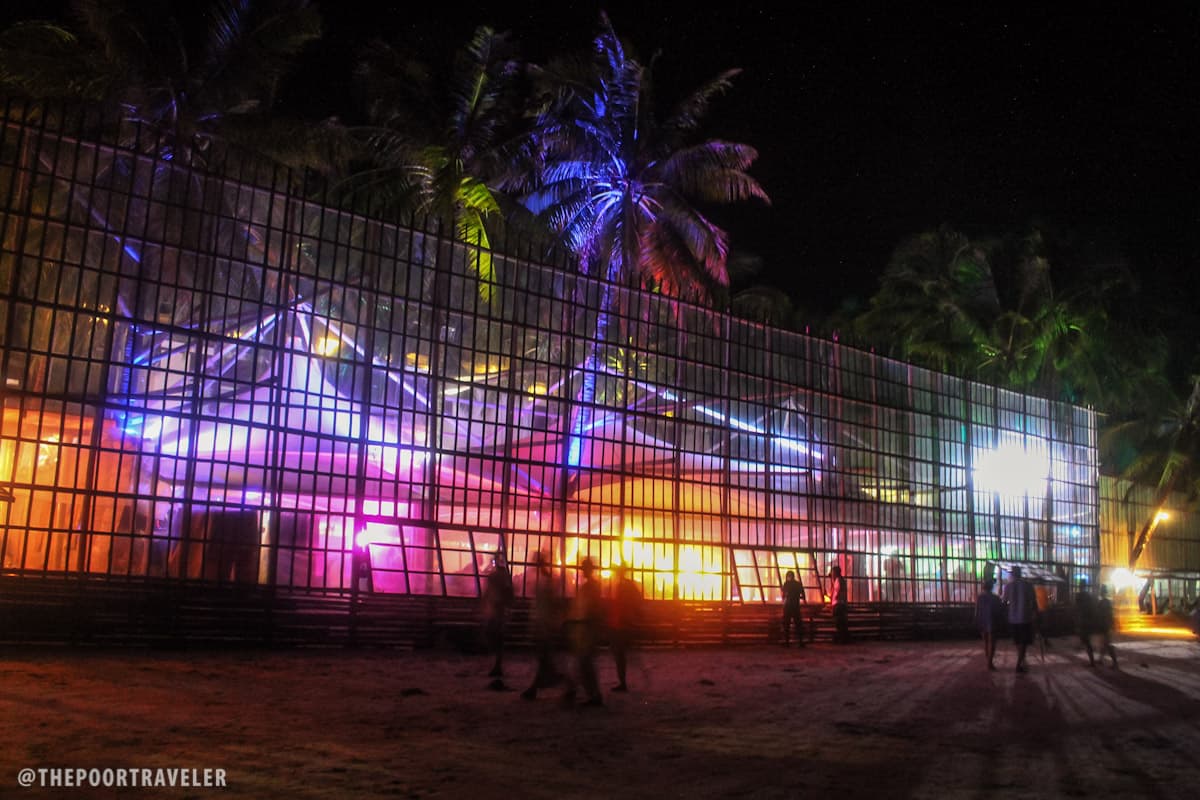 Boracay earned the well-deserved nickname "Party Island" for its bustling nightlife. Nowadays, the party scene at night might not be as wild, loud, and abundant as before, but the island still hosts bars where tourists can enjoy some drinks while grooving along to live bands.
---
While Boracay cradles several public beaches, including the most iconic White Beach, it also harbors several private coves. If you're looking for an exclusive beach experience and are willing to splurge for your dream vacation or well-deserved holiday, consider staying in a luxury hotel that has access to a private beach.
Newcoast Coves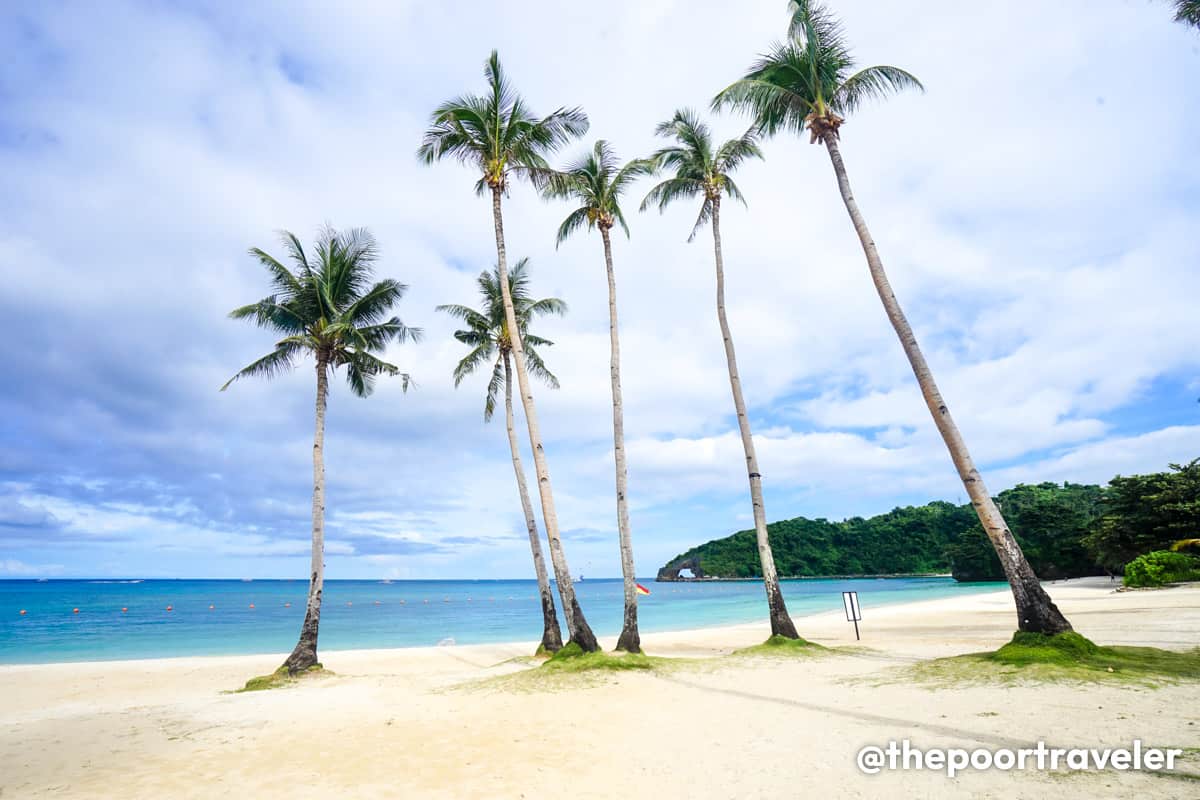 Encompassing 150 hectares of hilly landscape overlooking the Sibuyan Sea, this tropical township has hotels, residential condominiums, a commercial district, Cujo's Keyhole, and three private coves/beaches. Explore Cove 1, 2, and 3 (or Savoy Beach, Belmont Beach, and Fairways Beach) in this area.
At the end of the Newcoast Station strip is Cove 2, the most developed among the three. Several beach lounges freckle the wide and spacious sandy shore. Drinks and cocktails are available at the bar. Stalls selling snacks, souvenirs, and non-alcoholic beverages occupy the last paved strip before reaching the sandy shore of the cove. You can also avail of the crystal kayak experience here.
Cove 1 has a concrete pathway leading down to its rugged beachscape. This is the usual spot for sunrise watching within the NewCoast property.
Location: Boracay Newcoast, Barangay Yapak, Boracay Island, Malay, Aklan
---
Station 0 (Punta Bunga)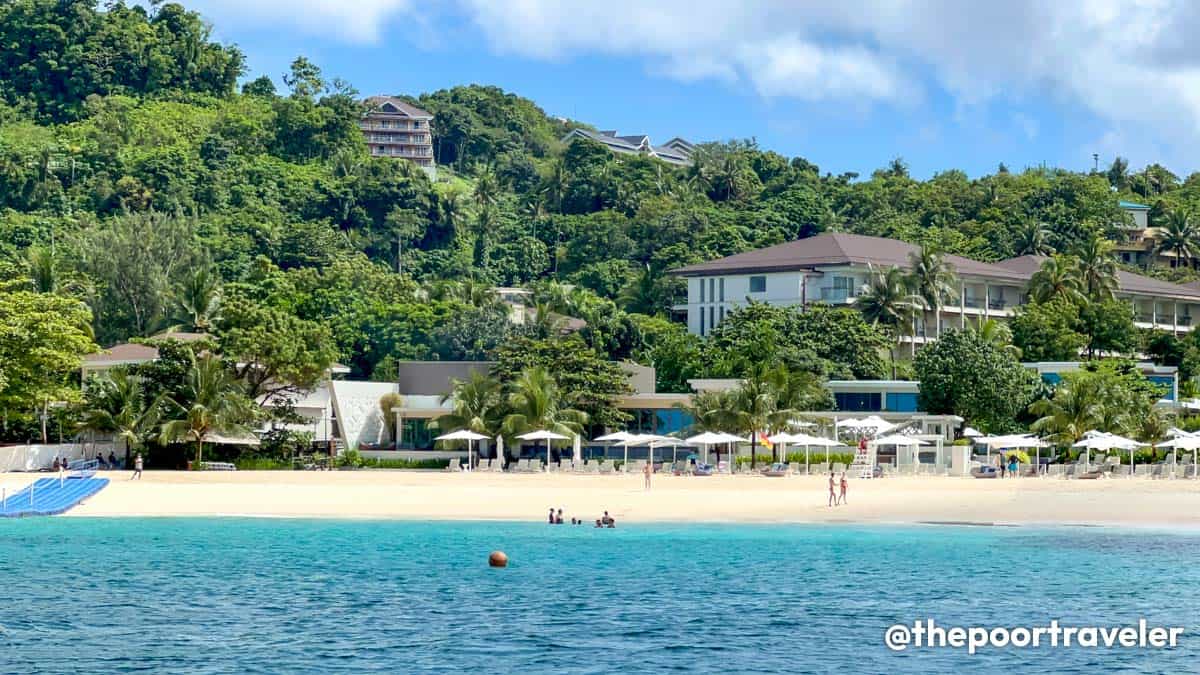 Access Punta Bunga Beach through any of these three luxury resorts:
Crimson Resort and Spa Boracay
Shangri-la Resort
Mövenpick Resort and Spa Boracay
Mostly calm and quiet, the beach stretches along Boracay's northwest coast and hosts some of the surrounding luxury resorts' water activities including snorkeling, kayaking, swimming, sunbathing, and sunset watching.
Location: Barangay Yapak, Boracay Island, Malay, Aklan
---
Lapuz-Lapuz Beach (Fairways)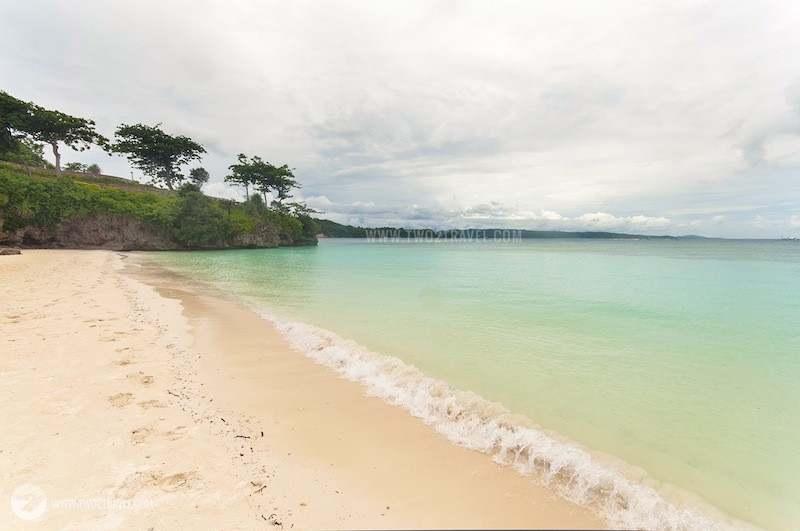 Fairways & Bluewater Resort shares access to Lapuz Lapuz Beach (also called Fairways Beach) with other exclusive resorts like Belmont and Savoy in Boracay Newcoast.
Aside from swimming, beach bumming, and picture taking at the Keyhole, the crystal kayak experience is also offered here.
Location: Barangay Yapak, Boracay Island, Malay, Aklan
---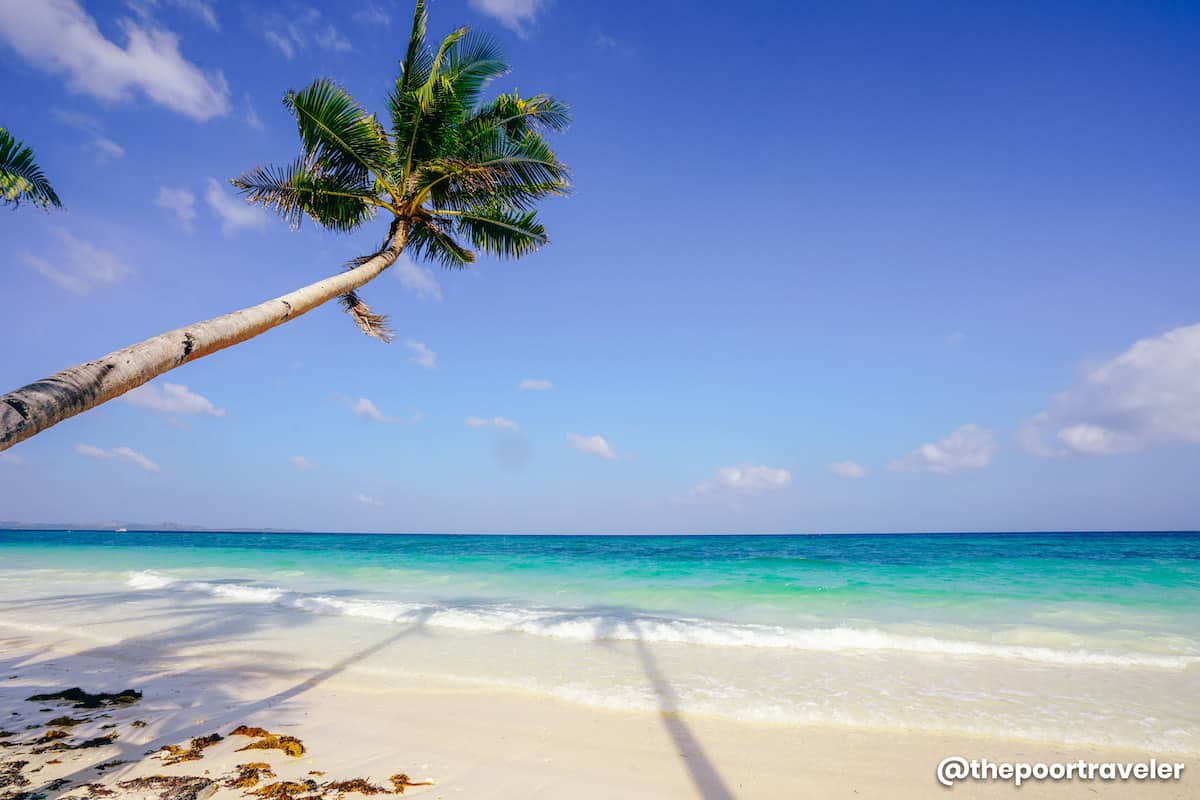 Also referred to as Hambil Island, Carabao Island is a pristine tropical paradise in Romblon's San Jose municipality. But it is close and easily accessible from Boracay and Caticlan, piquing the interest of more beach chasers who are looking for quieter, more laidback escape. From Boracay, you may simply book a boat tour to Carabao Island and be back within the day.
Its nooks and crannies are filled with white sand, punctuated by cliff diving sites and lined with highly Instagrammable coconut trees.
Covering a land area of 22.05 square kilometers, it boasts a number of attractions including:
Lanas Beach
San Jose Beach
Tagaytay Viewpoint
cliff jumping spots like Cathedral Cave and Koding Koding
Boat travel time from Boracay is 45 minutes.
If you're curious about the other attractions that the neighboring province of Romblon has in its sleeves, READ: ROMBLON TOURIST SPOTS! ✅
---
One of the travel requirements upon entry to Boracay is a confirmed booking with a DOT-approved accommodation establishment. SEE: LIST OF ACCREDITED BORACAY HOTELS & RESORTS! ✅
We also added links to Agoda so you could easily check their latest rates and pictures.
But here are some of the hotels and resorts in Boracay that we were able to try over the years:
BUDGET OPTIONS
MID-RANGE OPTIONS
LUXURY OPTIONS
---
First uploaded: 2023 04 25
Written by: Asta Alvarez and Yosh Dimen
Photos by: Yosh Dimen
Editing and additional writing by: Hannah Manalo
Additional photos by: Owen Ballesteros, Leo Valencia, and various tour companies via Klook

---