Ever heard of kambak-kambak syndrome?
Prior to our last Puerto Princesa trip, I'd never encountered this term before. You know how you tend to return to a destination over and over again? It seems to happen a lot in Palawan, and so the locals gave it a name — kambak-kambak — a tongue-in-cheek spin to "come back, come back". Given that our team have set foot in Puerto Princesa multiple times over the past decade, if it were a real condition, we probably had caught it, too!
Whether it's your first time or you're a kambak-kambak traveler, we've put together this Puerto Princesa travel guide to help you plan a hassle-free journey!
WHAT'S COVERED IN THIS GUIDE?
The capital of the province of Palawan, Puerto Princesa is a first-class, highly urbanized city. But despite the rapid development over the years, it retains its rustic and partly suburban vibe; thanks to the lines of trees and the lush greenery that cover the area. No wonder it's often dubbed "The City in the Forest" and has been recognized as one of the cleanest and greenest cities in the country.
Strategically located in the middle of Palawan, it serves as the primary gateway to the main island. Although it can take hours, you could access up to El Nido in the northernmost tip or Bataraza in the south, which serves as the jump off point to the legendary Balabac Islands. The city proper faces Sulu Sea to the southeast, but its territory reaches until the West Philippine Sea to the northwest. Puerto Princesa is also the second largest city in the Philippines, next only to Davao.
Dubbed as the Eco-Tourism Center of the Philippines, Puerto Princesa is known for its organized and synchronized tourism industry. Various sectors like tour guides, boat operators, and tricycle drivers work together. The tours are regulated and monitored by the Tourism Office, hence standardized tours are offered to tourists. The most popular is a tour of the Puerto Princesa Underground River, which is a UNESCO World Heritage Site and voted as one of the New7Wonders of Nature in 2012.
Here are some essential information that you might find useful to know before going to Puerto Princesa.
---
Puerto Princesa is open to all travelers regardless of their vaccination status. We didn't experience any document inspection upon arrival in the city. But airline staff do ask to see the following upon checkin:
Valid ID
Vaccination card or VaxCertPH (for fully vaccinated tourists)
However, if you're coming from a place under Alert Level 2 or higher, a negative antigen test result valid within one day prior to departure is required.
---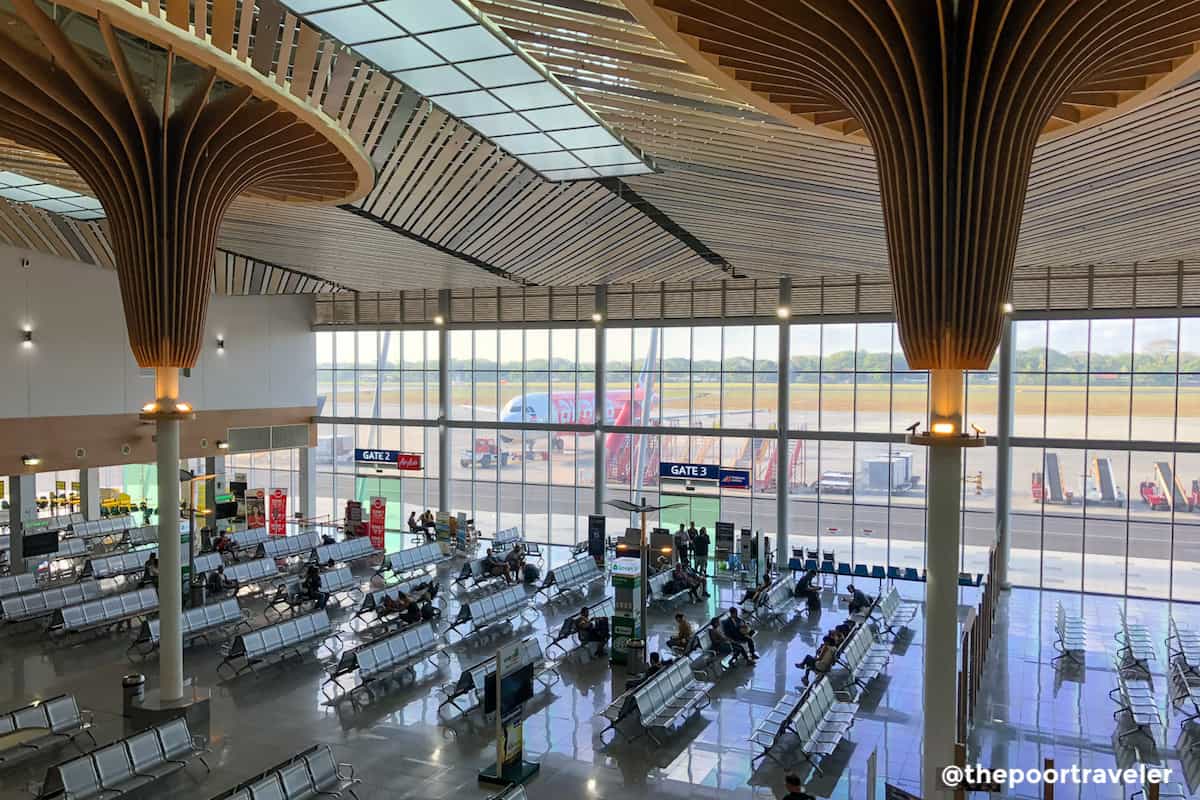 The Puerto Princesa International Airport (PPS) serves as the main gateway to the city and other municipalities in Palawan. Most domestic airlines — Philippine Airlines, Cebu Pacific, AirAsia — have flights to and from Puerto Princesa, so looking for one would not be a problem.
Puerto Princesa Airport to City Center
The Puerto Princesa International Airport is located within the city center. From here, going to areas within the city proper would take only few minutes.
The most convenient mode of transportation from the airport is the tricycle. Tricycles can be found parked outside the airport, waiting for passengers. You'll have to walk a bit to the gate and exit the airport to ride one.
Here are the fares from the airport to different parts of the city. Tricycles can accommodate up to 3 people.
Within the city center: P150
To San Jose Terminal: P200
To Honda Bay: P500
If you're booked with an upscale hotel or resort, double check with the management first and see if they offer free airport transfers.
---
A lot of accommodations are situated within the city center, not too far from the airport. Beachfront hotels or resorts are usually located a bit farther. Staying in the city proper is ideal if you want to see more of the city and have easy access to its many restaurants and shops.
Top Budget Hotels & Guesthouses in Puerto Princesa
Here are some of the top-ranking but affordable properties on Agoda with over 100 reviews:
---
Popular Puerto Princesa Resorts
If you have a bigger budget, here are some of the most well-known properties in the city.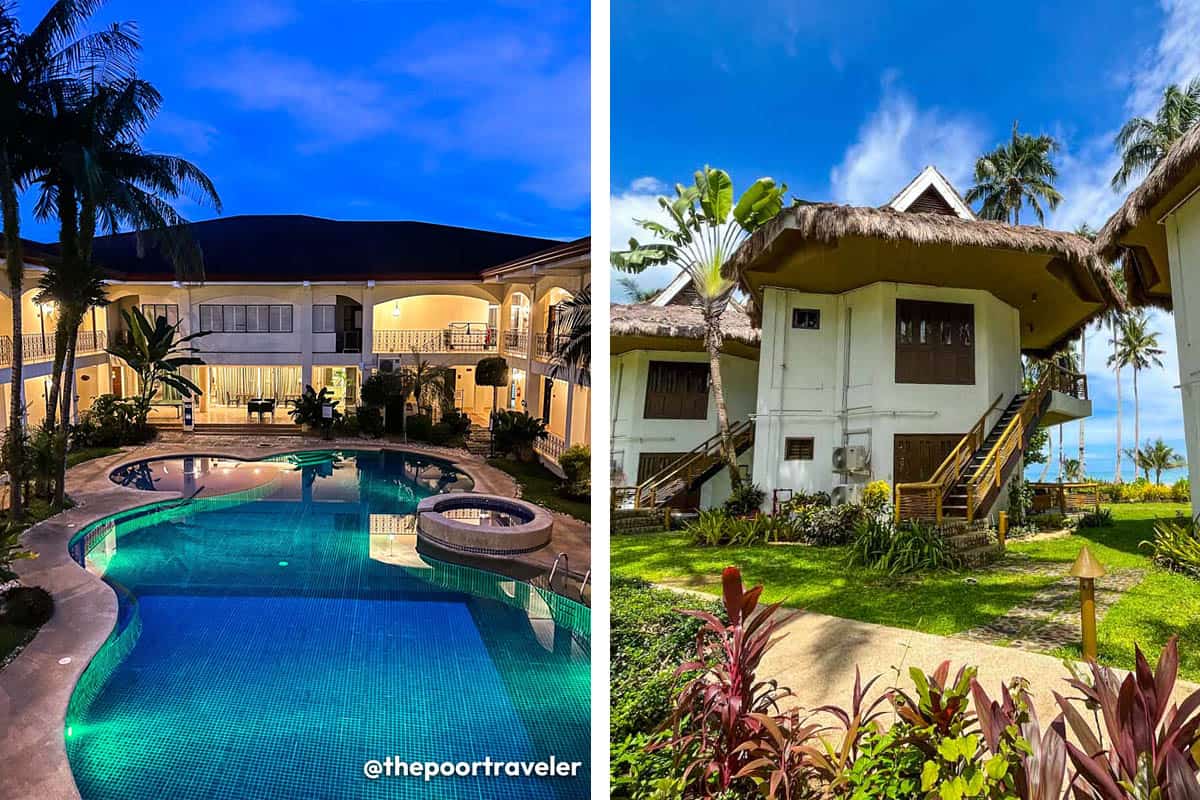 ---
Many of the attractions in Puerto Princesa can be visited as part of a tour. Although it is possible to pull a DIY to save on the costs, booking a packaged tour will make it more convenient and hassle-free. When you avail of one, you'll also have a trained tour guide who can give you more information and insights about each spot, allowing you to appreciate it more.
In this section, we'll share with you the best attractions and activities in Puerto Princesa, grouped according to the tours that they're usually a part of. We'll include costs for both packaged and DIY tours.
Puerto Princesa Underground River Tour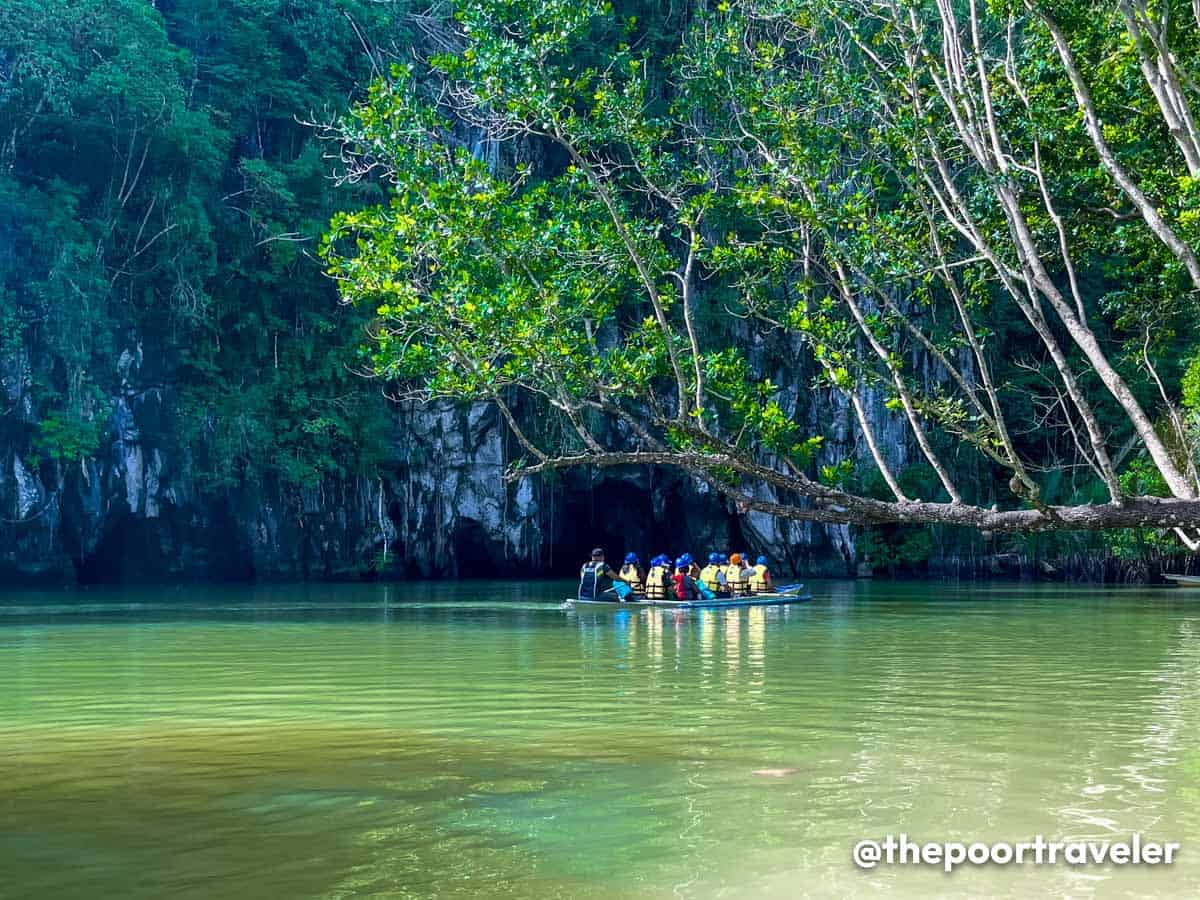 The city's most well-known tourist spot, the Puerto Princesa Subterranean River is a UNESCO World Heritage Site, a Ramsar Wetland Site, and one of the New 7 Wonders of Nature.
On a paddle boat, you'll be led by a guide on a journey into the cave that shelters the underground river. The tour covers only the first 1.5 kilometers, but the river measures 8.2 kilometers long in full. Some parts are open only to scientists and other permitted explorers.
Inside the cave, you will see stunning stalactites, stalagmites and the various formations that took shape for over thousands of years. You'll also learn more about the cave system through the provided audio guide.
If you have limited time or budget and could only avail of one packaged tour, this should be it. The PPUR management only allows a limited number of tourists per day. Because of this, walk-ins are not allowed and advanced reservation is required. If you book a tour with a travel agency or tour operator, they will handle the paperwork for you. You'll also avoid the trouble of arranging transportation to Sabang Beach which is the jump-off point, around one and a half hours away.
Packaged tours usually include:
roundtrip land transfer to Sabang Beach
roundtrip boat transfer to the underground river
audio guide
lunch
You may also avail this tour via Klook for P1900. But if you have more time and bigger budget, consider doing a 3-in-1 Sabang Tour. At P3550, it includes the following:
Underground River Tour
Sabang X Zipline
Mangrove Paddle Tour
Check updated rates or book below:
✅ BOOK UNDERGROUND RIVER TOUR HERE!
✅ BOOK UNDERGROUND RIVER + SABANG ZIPLINE + MANGROVE PADDLE TOUR!
---
Honda Bay Tour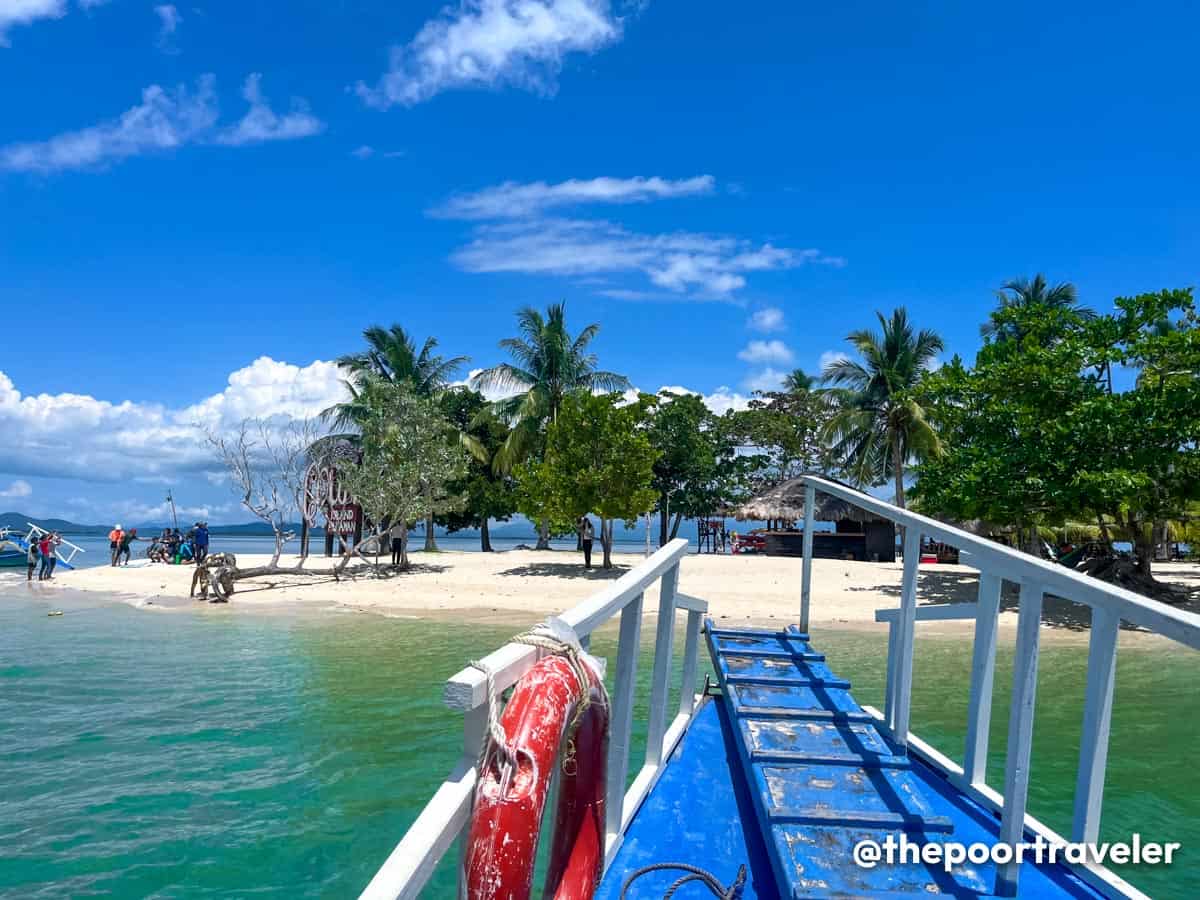 Honda Bay Tour is an island hopping activity that will take you to at least three islands not too far away from the city. As of this writing, only 3 islands are open for island hopping tours: Starfish Island, Luli Island, and Cowrie Island.
If you're traveling with a large group, pulling a DIY can help you save. If you're traveling solo, with a small group or you simply want the convenience of availing a packaged tour, travel agencies and hotels usually offer this tour for P1500 per person.
If you plan to travel independently, here are the rates for private boats. You'll see two prices because you have two boat options: 3-cylinder and 4-cylinder boats.
3 Islands (Starfish, Luli & Cowrie): P1800 to P2100
2 Islands (Luli & Cowrie only): P1500 to P1800
You may also opt to skip the island hopping if you have a particular island you want to visit.
There's also an environmental fee that you have to pay at the wharf. Here are the rates:
Environmental fee: P150
Terminal fee: P5
Goggles & snorkel rental: P150
Full face mask rental: P200
Aqua shoes rental: P150
Fins rental: P150
Each island also has a separate entrance fee and cottage rental fees as well. Here are the entrance fees per island.
Cowrie Island: P100
Luli Island: P70
Starfish Island: P50
If you want to avoid the hassle of paying these fees on your own, you can just book a packaged tour. Honda Bay Tours are inclusive of land and boat transfers, entrance and cottages fees, and lunch. You may also avail this tour via Klook!
---
Puerto Princesa City Tour
This half-day tour can be done either in the morning or afternoon. Tour operators usually offer this tour for P600 per person, but you can also charter a tricycle for P1000 per vehicle, which could accommodate up to 3 people.
The city tour usually includes the following stops: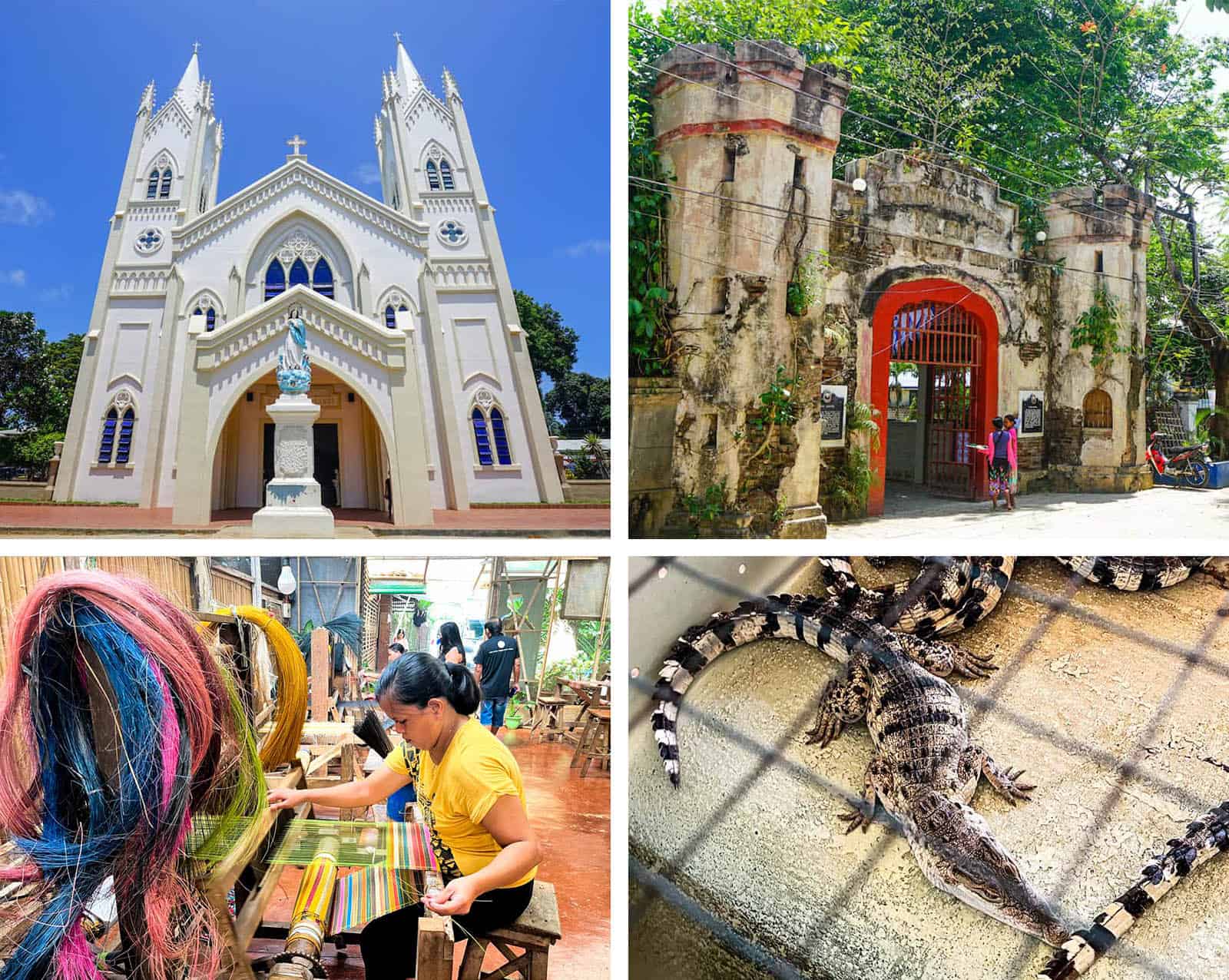 Palawan Wildlife Rescue and Conservation Center. First known as Crocodile Farming Institute, it keeps and breeds two species of crocodiles: the Philippine crocodile (Crocodylus mindorensis) and the saltwater crocodile (Crocodylus porosus). Rescued animals are also housed in this facility, especially those that are endemic to the province.
Plaza Cuartel. A historic square, Plaza Cuartel was an old garrison where the Palawan Massacre took place in December 1944. One hundred fifty American prisoners of war were kept in a tunnel during World War II until they were killed by the Japanese by burning them alive. Eleven prisoners were able to escape and survive. Their names are now displayed on a plaque inside the plaza.
Binuatan Creations. A gift shop where you can buy handloom woven products made from Palawan's native grasses and fibers. Aside from shopping, you can also see how the products are made in their workshop and even try weaving yourself!
Mitra's Ranch. This property sitting on top of a hill in Brgy. Sta. Monica is owned by the late Senator Ramon Mitra and his family. It is open to the public and serves as a viewpoint.
Baker's Hill. Popular for their hopia and other pastries, this is the usual pasalubong stop! It's also a park with many picture-worthy corners and has an in-house restaurant if you want to grab a bite.
If you want to have a more comfortable tour in an air-conditioned van, you can avail this tour on Klook.
---
Firefly Watching Tour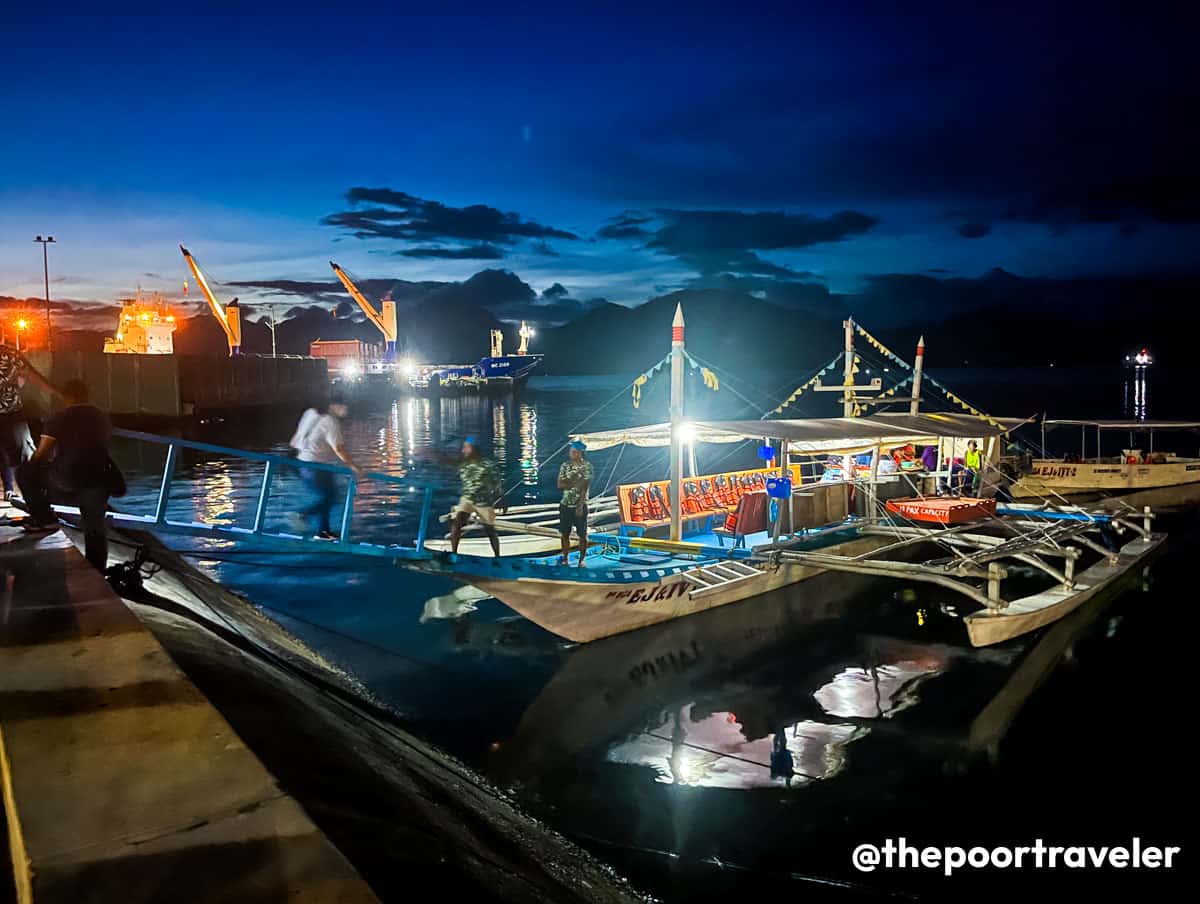 Spend a magical night and watch fireflies and the stars while on board a small boat. There are three locations for firefly watching in Puerto Princesa:
Iwahig. The first firefly watching location in Puerto Princesa. As of writing, this is closed and firefly watching tours here are unavailable.
Sicsican River. The tour commences on the Baywalk, where you will hop on a boat that will take you to Sicsican River. A dinner on the boat is also included on this tour.
Nagsaguipi River. Indulge in a buffet dinner before you feast your eyes with the glowing fireflies!
Tour operators offer this tour between P1300- P1600 per person. Firefly watching tour in Nagsaguipi River is also available on Klook.
---
Nagtabon Beach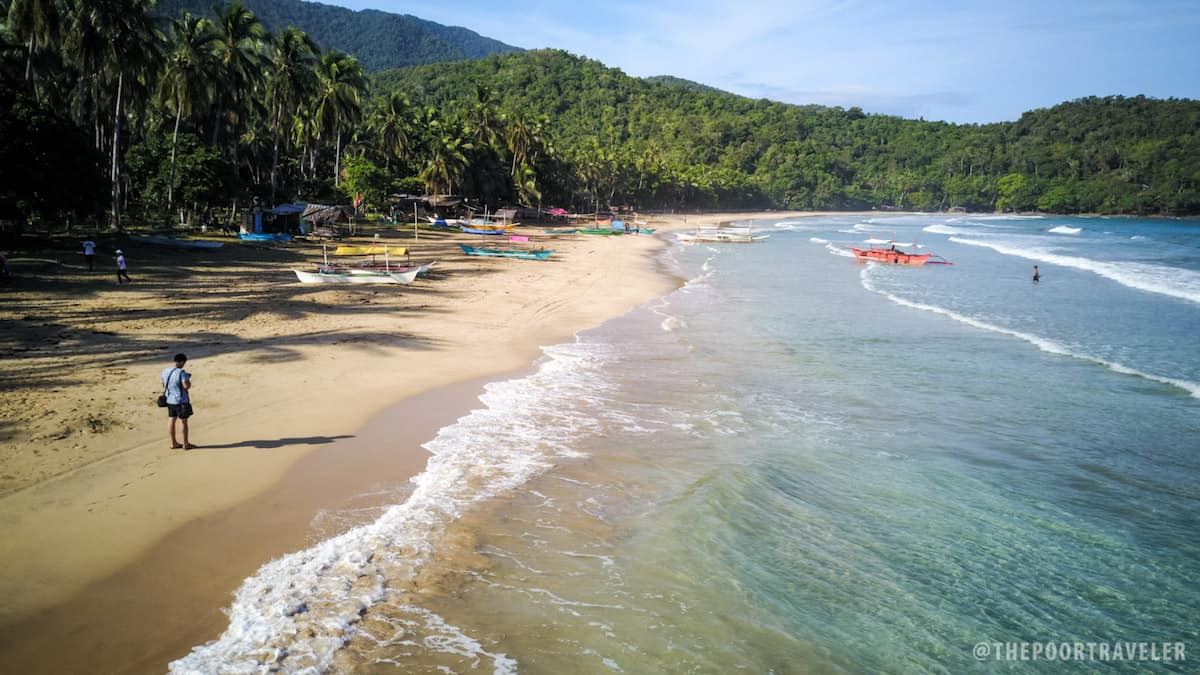 Less than an hour away from the city proper, Nagtabon Beach used to be a spot for those who want to avoid the crowd. Now, a number of accommodation establishments stand along the beach, but the place remains just as breathtaking. This is a nice place to visit if you're looking to spend more time on the beach without having to travel too far away from the city.
Make your way to San Jose terminal and hop on a bus going north. Any bus bound for Taytay, Roxas, or El Nido will do. Tell the driver to drop you off in Bacungan (P80) then ride a tricycle going to Nagtabon Beach (P300, max 3 pax).
If you're a group, you can rent a van to take you straight to Nagtabon. If you can drive two wheels, renting a motorbike is also an option if there are two of you or you're traveling solo.
Nagtabon Beach can also be included in your Puerto Princesa City Tour itinerary for an additional fee. Just ask your driver if he's OK with it.
---
Sabang X-Zipline
Thrill-seekers will love this attraction. This 800-meter long zipline is said to be one of the longest ziplines in the Philippines. You can enjoy this solo or by pair as you glide across Sabang Beach. The ride would also treat you to a fantastic view of Sabang from above. It takes a short 15-minute hike to reach the zipline's starting point.
This is usually packaged with Underground River since Sabang also serves as the jump-off point to it. You can do this prior to the underground river stop if there's a long waiting time or after it just before you have lunch. Sabang X-Zipline costs P550.
You may also avail this via Klook for a discounted price.
---
Other Puerto Princesa Attractions
Ugong Rock Adventures. An adventure park located in Barangay Tagabinet where you can go trekking, rappeling, and spelunking. A 71-meter zipline is also one of the features, making your adventure more unforgettable. Book here! ✅
Palawan Waterpark by Astoria. This is the only waterpark in Palawan. If you're looking for an activity that kids and kids at heart alike would enjoy, add this to your itinerary. Each ticket is inclusive of a lunch buffet. Rate: Adults, P1200; Kids (4ft and below), P950; Kids (2 years old and below), FREE
Tibag Falls. About 40 minutes away from the city center, Tibag Falls is located in Bacungan. To get here, board a bus going north at San Jose Terminal. Ask the driver to drop you off near Bacungan Bridge. From there, it would take a 2-hour walk to reach this glorious falls.
---
Finding a place to eat in Puerto Princesa will not be a problem. The city center is teeming with a diverse collection of food spots. If you want to try the Puerto Princesa classics, a few of them are located along Rizal Avenue.
If you're on a budget, you can always rely on carinderias (small eateries) where a P100-budget can get you a full meal.
Here are some of the most well-known restaurants in Puerto Princesa: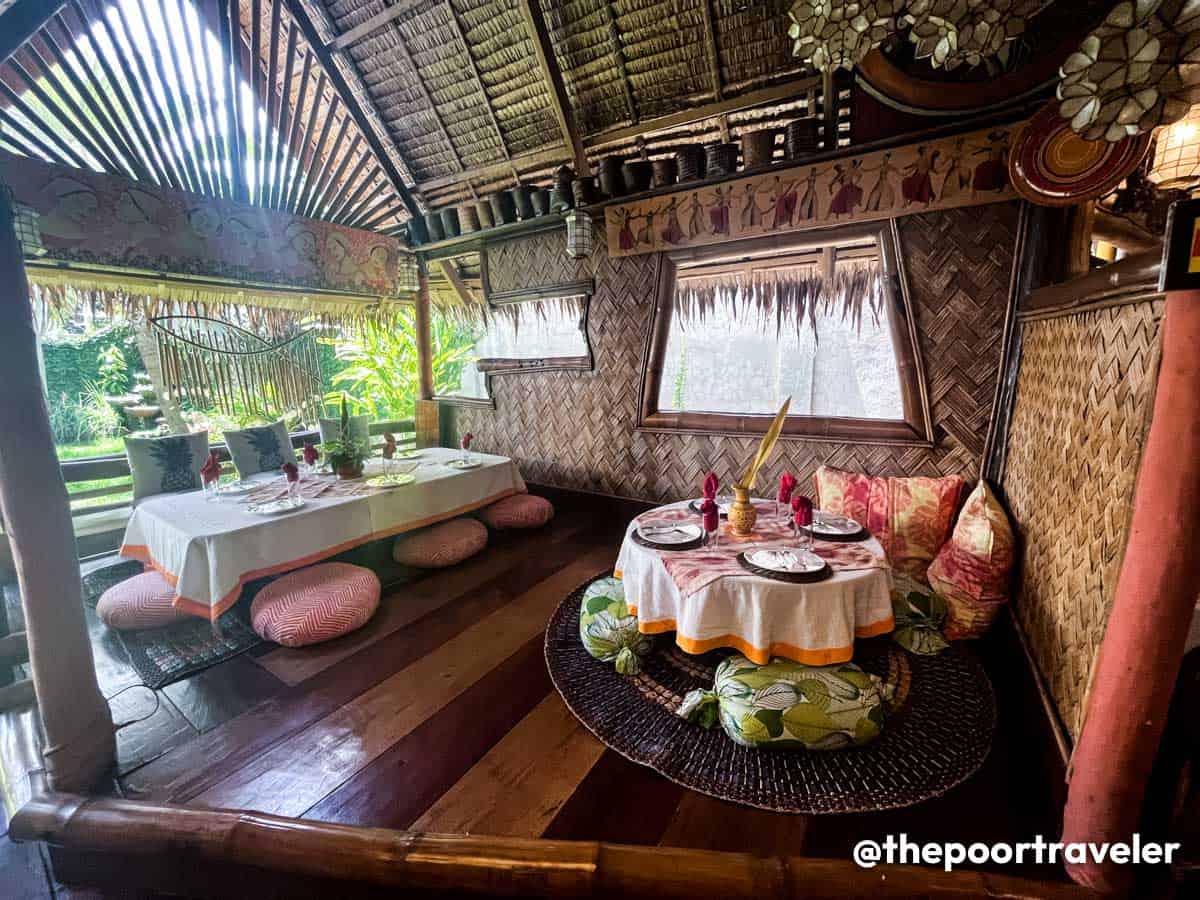 Ka Lui
Arguably the most popular dining spot in Puerto Princesa, this homey restaurant specializes in Pinoy seafood dishes like seafood kare-kare, grilled fish, and shrimp or tuna sinigang. Their menu is composed mostly of seafood and vegetables dishes. They also have a special set meal that is good for two for only P795. If you're planning to dine here, make sure to call the restaurant and make a reservation.
Location: Rizal Avenue, Puerto Princesa City
Operating Hours: Monday-Saturday, 11:00 AM to 2:00 PM – Lunch, 6:00 PM to 11:00 PM – Dinner; Sunda, CLOSED
Contact number: (048) 726 6217
---
Kinabuch's
Kinabuch's is an open-air grill and bar where you can enjoy some drinks with your meal. Their menu has a wide variety of Pinoy dishes from appetizers to dessert. It's also a go-to place for those who want to try Puerto Princesa's exotic dish, tamilok. It's usually served raw with a side of spiced vinegar.
Location: Rizal Avenue, Puerto Princesa City
Operating Hours: Daily, 4:00 PM to 11:00 PM
---
Cacaoyan Forest Park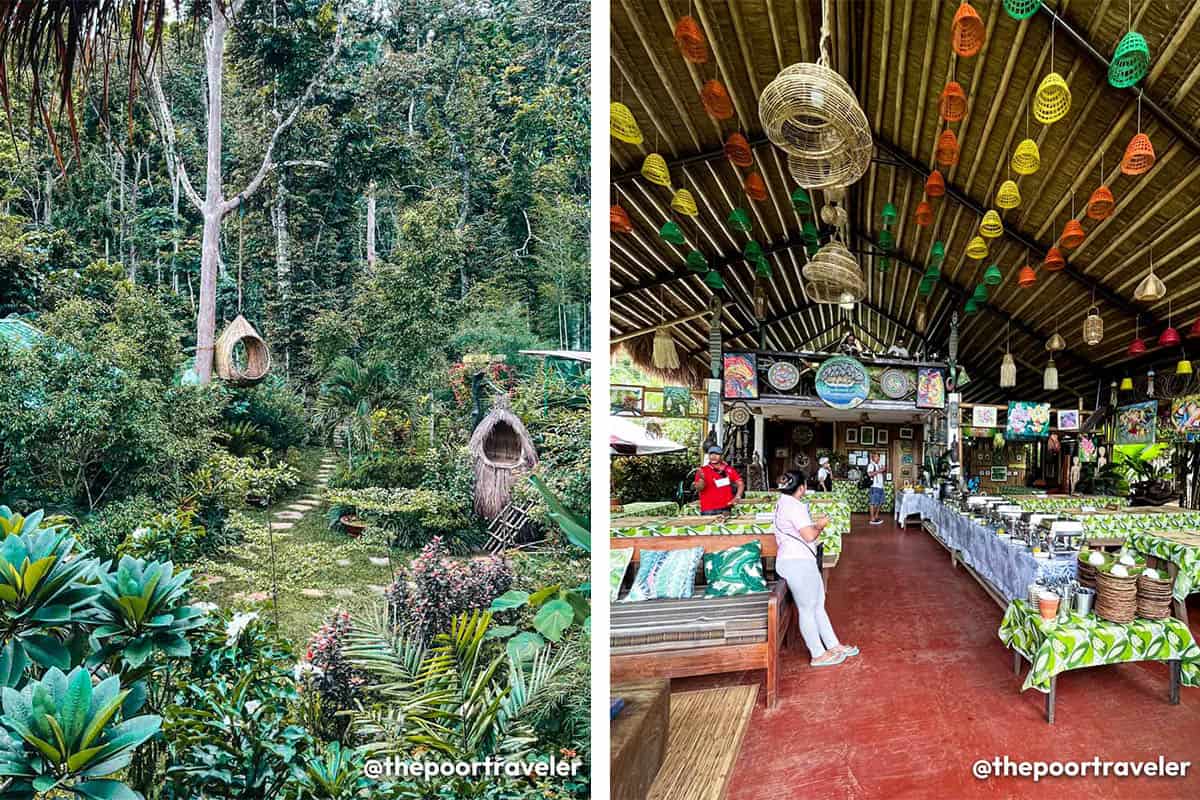 Cacaoyan Forest Park is a buffet restaurant set in a lush garden bursting with IG-worthy spots. It serves as a lunch stop on many Underground River tours offered by travel agencies. But if you want to experience this on its own, best to make advance reservations.
The lunch buffet is priced at P350/person, but you can get a discount if you book with Klook.
Location: Sabang, Puerto Princesa
Operating Hours: Daily, 10:00 AM to 4:00 PM
You can also order tamilok here for P100 per plate.
---
Other Puerto Princesa Restaurants
Badjao Seafront Restaurant. If you want to dine by the bay and feast on fresh seafood, this is the place to be. It stands next to mangroves and has a view of the sunset which adds to its charm. Price starts at P125 up to P550. Their seafood platter costs P1,150.
– Location: Abueg St., Puerto Princesa City
– Operating hours: Daily, 11:00 AM to 9:00 PM
Balinsasayaw Restaurant. A budget-friendly restaurant serving cheap to mid-range Pinoy dishes. Their value meals costs less than P200. If you're with a group, they also have group meals that you can avail.
– Address: Manalo St., Puerto Princesa City
– Operating Hours: Daily, 10:00 AM to 8:00 PM
Ka Joel's Restaurant. Another reliable name in the city's food scene, Ka Joel's serves Filipino cuisine. Its bestsellers include chicken inasal and beef kare kare.
– Location: Purok Centro, Puerto Princesa City
– Operating Hours: Daily, 11:00 AM to 2:00 PM- Lunch, 5:30 PM to 9:30 PM- Dinner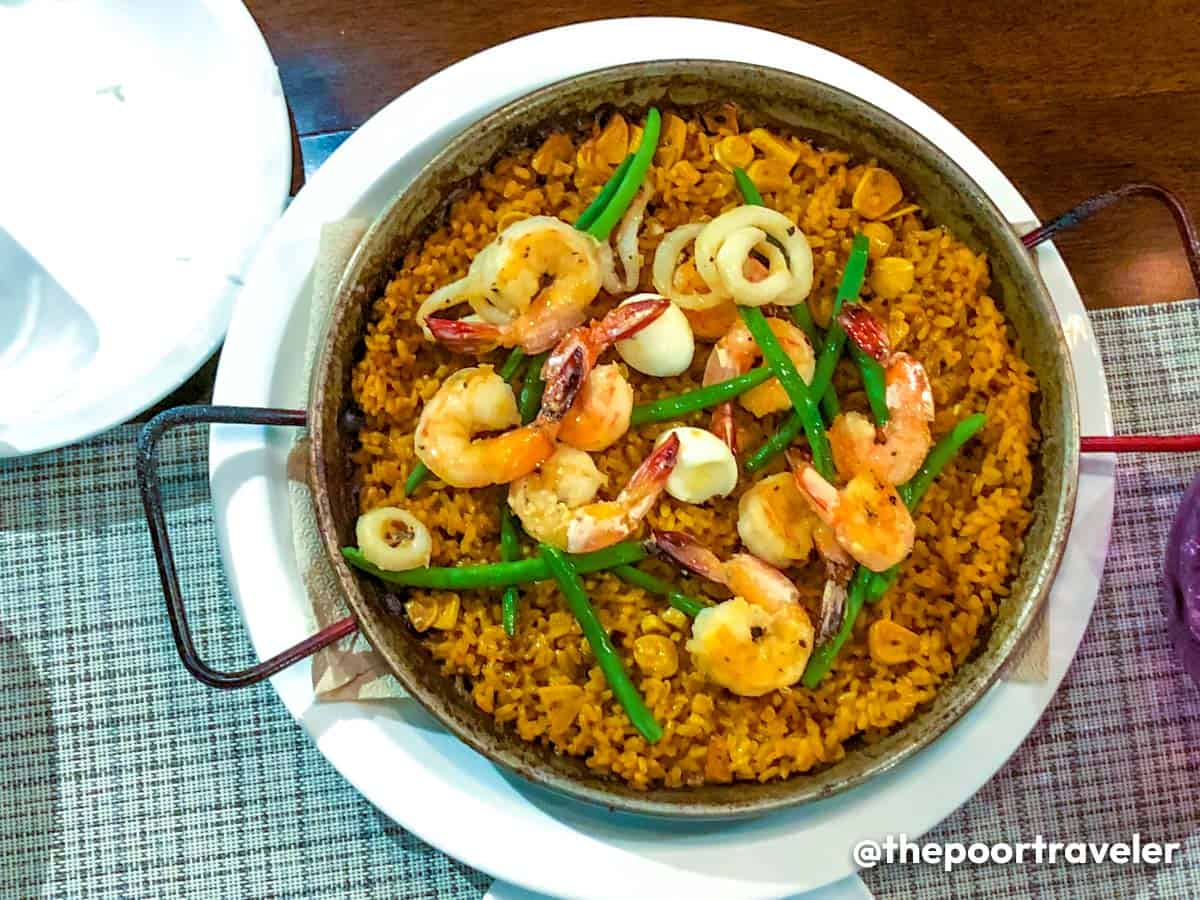 For loaded tourists, big hotels have their in-house restaurants that highlight their take on Filipino cuisine.
Hue Hotel houses Matiz Restaurant and Tapas Bar, which boasts a mostly Spanish menu.
Princesa Garden Island Resort and Spa has a dining complex featuring four restaurants including the Golden Elephant Seafood Village, which specializes in Thai food.
Here's a sample 3-day 2-night Puerto Princesa itinerary with breakdown of expenses. Note that this itinerary assumes the following:
You're a party of 2, splitting some of the costs.
The accommodation you'll book costs P1500 per night. If you split it between 2 people, that would be P750 per night per person.
You'll book most of the tours via Klook.
But as always, feel free to make adjustments based on your schedule and preferences.
DAY 1: CITY TOUR
08:20 AM – Arrival in Puerto Princesa
09:00 AM – Tricycle to hotel, P75 (P150/2pax)
09:20 AM – Hotel check-in
11:00 AM – Early lunch
12:30 PM – City Tour (Tricycle), P500 (P1000/2pax)
– Crocodile Park: P70
– Butterfly Garden: P60
– Mitra's Ranch: P20
04:00 PM – Hotel, freshen up
06:00 PM – Dinner at Ka Lui, P500
09:30 PM – Back to hotel
DAY 2: UNDERGROUND RIVER
06:00 AM – Wake up call
07:00 AM – Underground River Tour, P1900, Book here! ✅
04:00 PM – Back to hotel, Rest
07:00 PM – Dinner at Kinabuch's, P500
10:00 PM – Back to hotel
DAY 3: HONDA BAY TOUR
6:00 am – Wake up, early check-out, leave bags
7:00 am – Honday Bay Tour, P1640, Book here! ✅
2:00 pm – Back to hotel, pick up bags
3:00 pm – Tricycle to airport, P75 (P150/2pax)
5:30 pm – Flight back to Manila
This itinerary would cost you around PhP 5700 (USD 103, EUR 96, SGD 139), excluding airfare and hotel but including a bit of allowance for incidental expenses.
If you're able to book a room for P1400/night or P700/night/person, prepare to shell out a total of PhP 7,100 (USD 128, EUR 120, SGD 172) excluding airfare but including some allowance.
You can bring the cost even lower if you're a bigger group and by doing the Honda Bay Tour on your own (DIY-style).
---
Tricycle fare for short distances is around P15-25. Fares to and for the airport usually cost more than the regular fares.
Walk when you can. The streets of Puerto Princesa are punctuated with trees so it doesn't get as hot as other highly urbanized cities.
Bring your own reusable water bottle, so you don't need to keep buying bottled water. Doing this will help you save money and reduce plastic waste at the same time. You can just refill your water bottle at your hotel or at your lunch/dinner stops.
Bring insect repellent lotion. Protect yourself from mosquitoes by applying insect repellent lotion especially when you go trekking or island hopping.
Use coral-friendly sunscreen. Avoid using sunscreen that contains ingredients that could harm the coral reef like oxybenzone and parabens.
---
When is the best time to visit Puerto Princesa?
January to April, the driest period. But keep in mind that these are also the busiest months, peaking in March and April, which are considered "summer" months in the Philippines.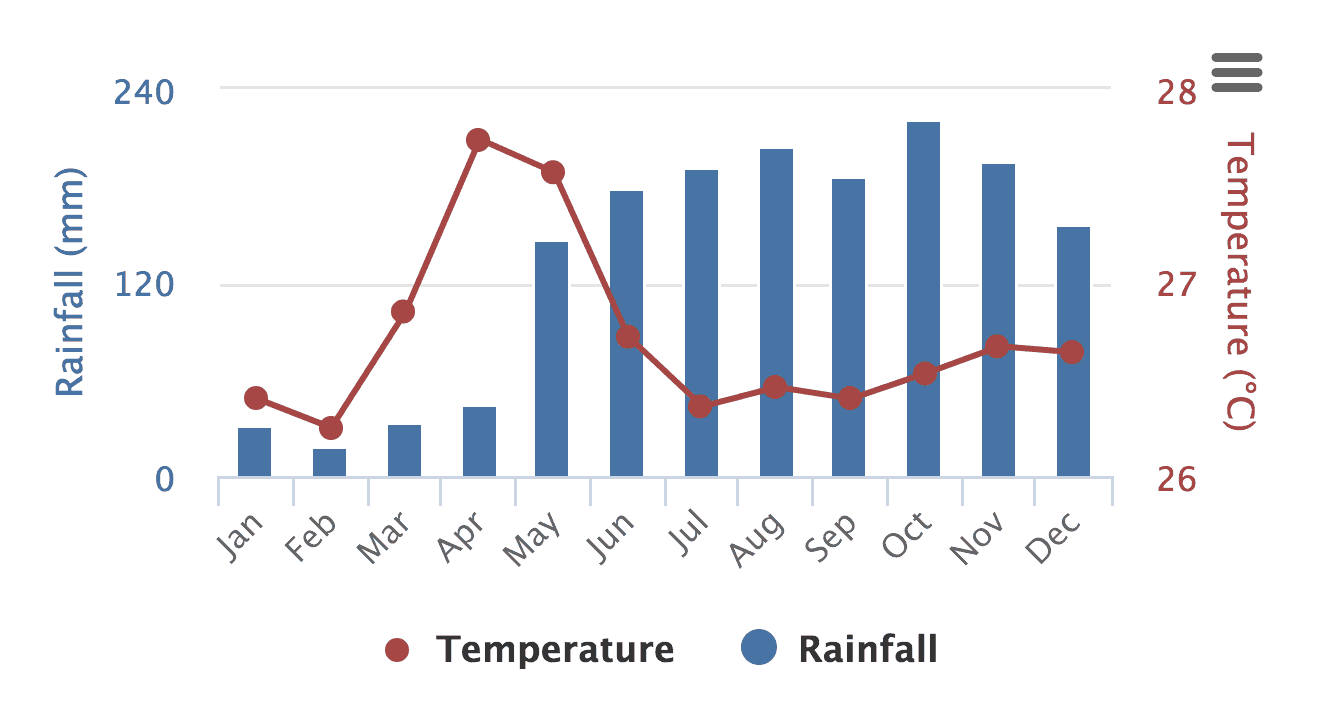 If you want to avoid the crowd, schedule a trip around January to February when the weather is not too hot and not that rainy either. Yet, it is also important to note that Palawan is in between two major seas, the West Philippine Sea and the Sulu Sea. Its location highly affects its weather system, which is different from the rest of the country. Even during the dry season, it could be pretty damp and rain is expected in the afternoons. In fact, our team have visited in April once and it still poured on a couple of days. And even in our other visits in other months, it would often rain in the afternoon.
Puerto Princesa is a year-round destination. While the city took a beating from Typhoon Odette a few years ago, this isn't a normal occurrence. Palawan is located in the western extreme of the country, isolated from most other main islands. It is not along the usual typhoon route.
What is the power plug/socket used in Puerto Princesa?
Electricity Info: 220V, 60Hz. Socket Type A, mostly.

---