It's quite easy to predict what a first-timer's Kuala Lumpur itinerary would look like. You can bet that it will include a stop at the Petronas Towers, a climb to Batu Caves, and a food crawl through Jalan Alor. Perhaps a day trip to Genting Highlands, too. These are staples, and for good reason. They have become the most recognizable tourism icons not just for the city but for Malaysia as a whole.
But if you've visited KL before, where should you go? Does the Malaysian capital have anything fresh to offer these days? And the answer to that, my friend, is a resounding yes.
Over the past few years, Kuala Lumpur has restored old sites and created new ones, adding to the already long list of things to do and places to visit in the city. In this post, we'll share with you some that you might want to consider on your next trip to the Garden City of Lights.
WHAT'S COVERED IN THIS GUIDE?
Spanning almost 70 meters, the Saloma Link is a pedestrian and cyclist bridge that straddles Klang River and Ampang-Kuala Lumpur Elevated Highway. Because it connects the old-world village of Kampung Baru (Kampong Bharu) to KLCC (Kuala Lumpur City Centre), where the Petronas Towers stand proudly, it also serves as a magnificent lookout. From here, one could admire the top halves of the twin towers sticking out from the skyline.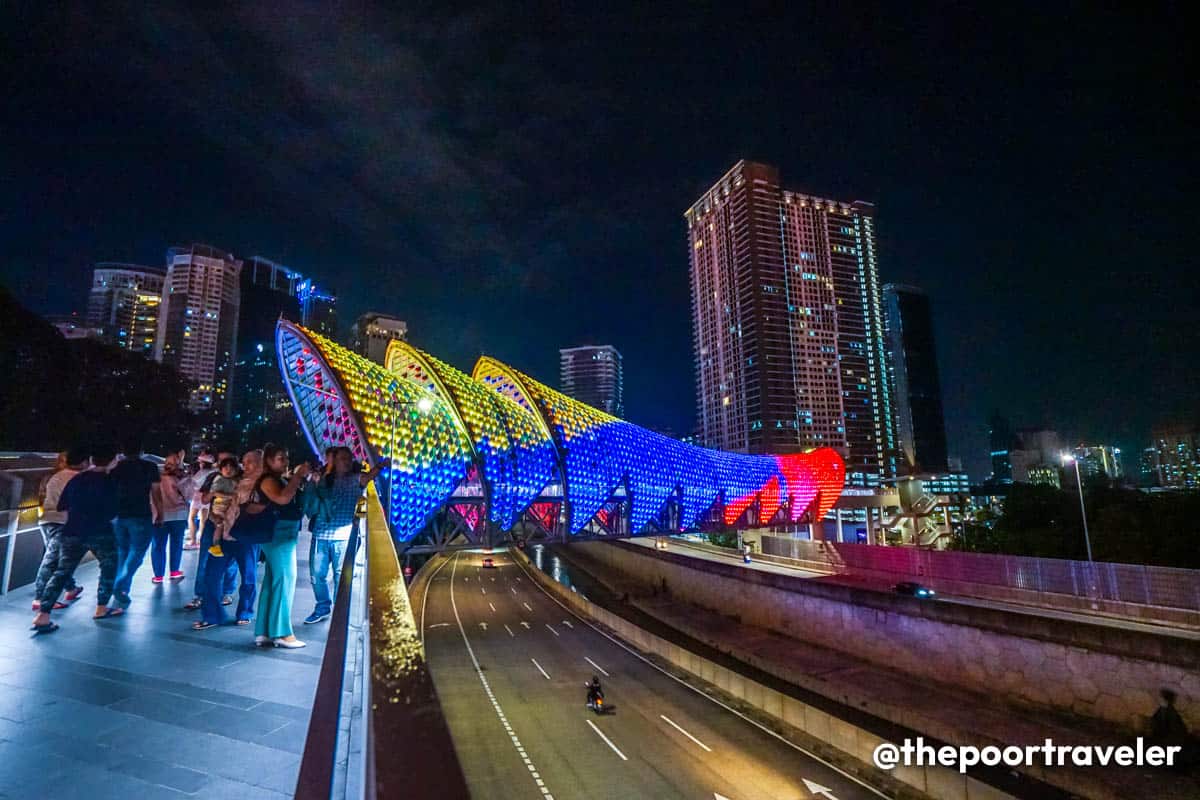 Saloma Bridge was opened to the public in February 2020, just before the pandemic brought global tourism to its knees. Hence, many of those who had been to Kuala Lumpur before probably have never seen this link yet. And it's a sight to behold, indeed! Designed by VERITAS Design Group, the structure is inspired by the betel nut leaf, part of the Malay wedding custom. It is best visited at night, when it is dressed in colorful, almost kaleidoscopic illumination, seemingly inviting and ushering visitors to the Petronas Towers and other nearby buildings. This means that it's also more crowded at night, so just keep that in mind.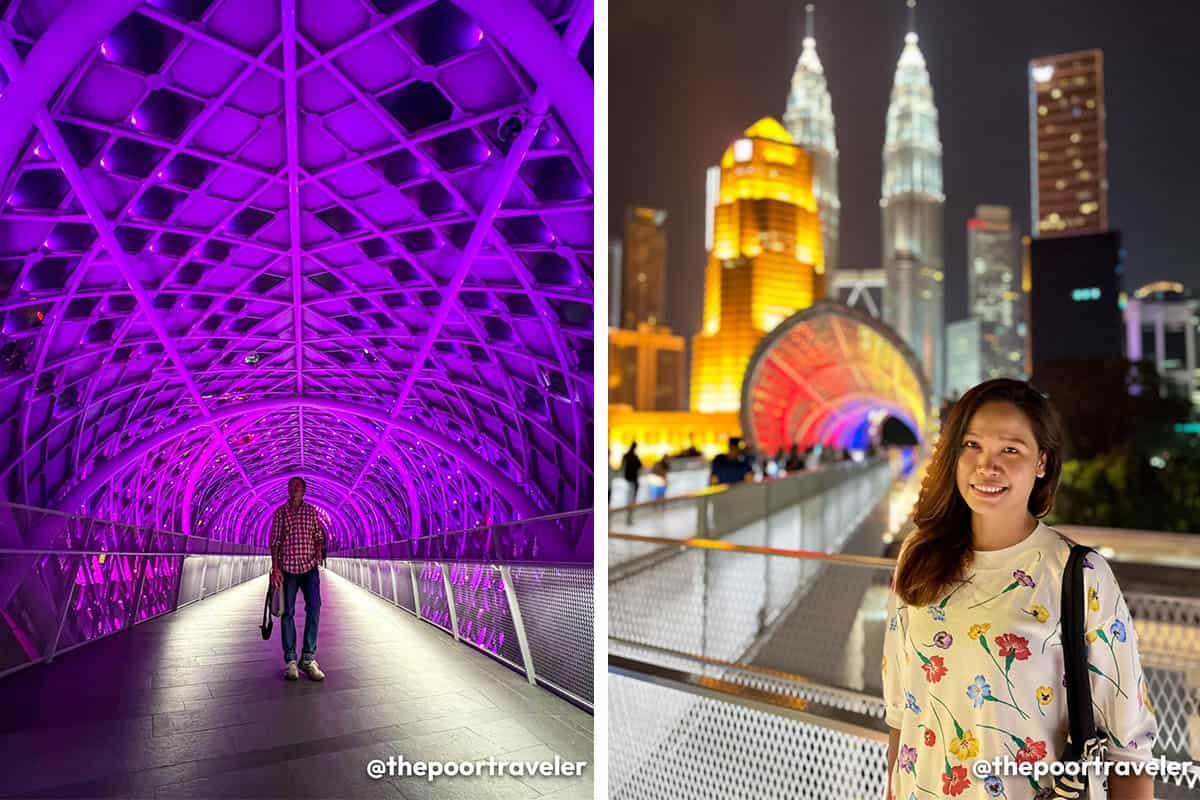 It wasn't plan of our original itinerary. We didn't even know about this link until we were already on the way to the Petronas Towers. Our AirAsia Ride driver casually mentioned it as we passed by the intersection close to it. He recommended that we go in that direction after we had our time with the Twins. And we did!
From the Petronas Towers, it was only an easy 10-minute walk away. Because it was built to service both pedestrians and cyclists alike, it is equipped with ramps on either side and an elevator on the Kampung Baru side.
The bridge was named after the Malaysian-Singaporean singer Saloma, whose remains were laid to rest at the nearby Jalan Ampang Muslim Cemetery on the KLCC side.
Location: Kampung Baru, Kuala Lumpur, Malaysia
Nearest Station: Kampung Baru LRT Station or KLCC LRT Station
---
We know Kuala Lumpur's Chinatown district has been around for a long time. And if you've been here before, you probably best remember Petaling Street, a 800-meter shopping strip running from Leboh Pasar Besar/Jalan Yap Ah Loy on the northern end to Bulatan Merdeka in the south. About 300 meters of it is covered by a green roof (fondly nicknamed the "Green Dragon") and marked by two Chinese arches on either end.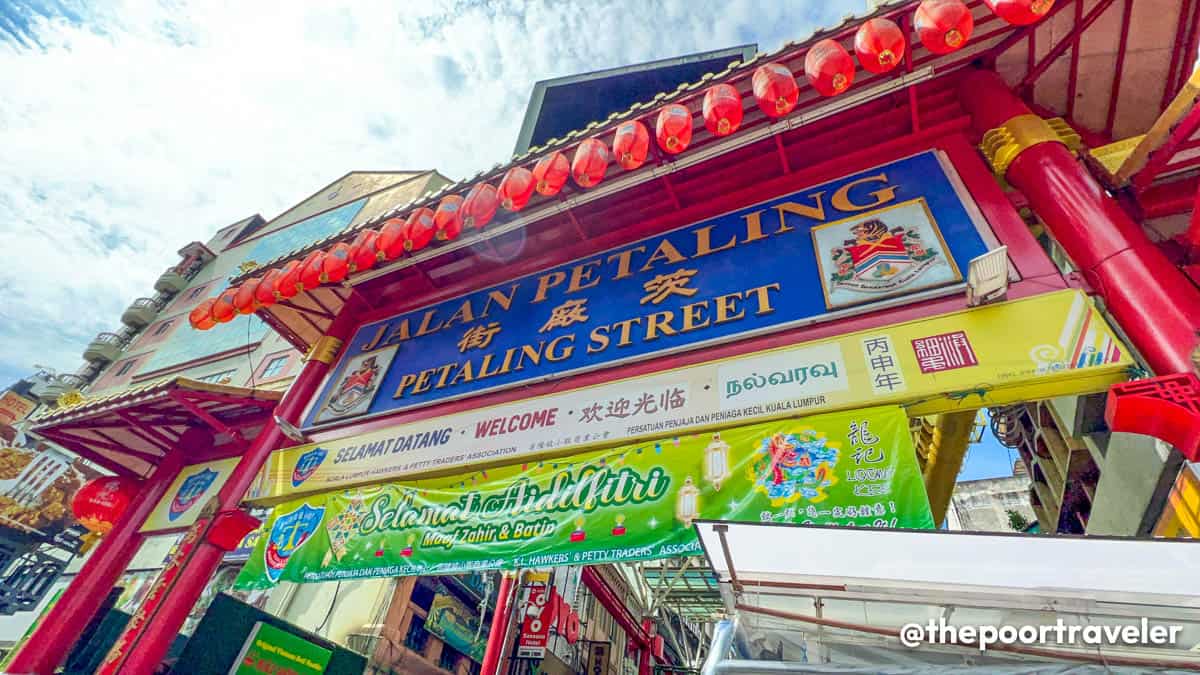 Petaling Street, in particular, has seen a number of transformations since Cantonese and Hakka tin trade workers arrived in the city in the 19th century. But sometime towards the end of the millennium, development slowed down and this part of KL became largely known as the go-to place for counterfeit products — from branded accessories to illegal DVDs.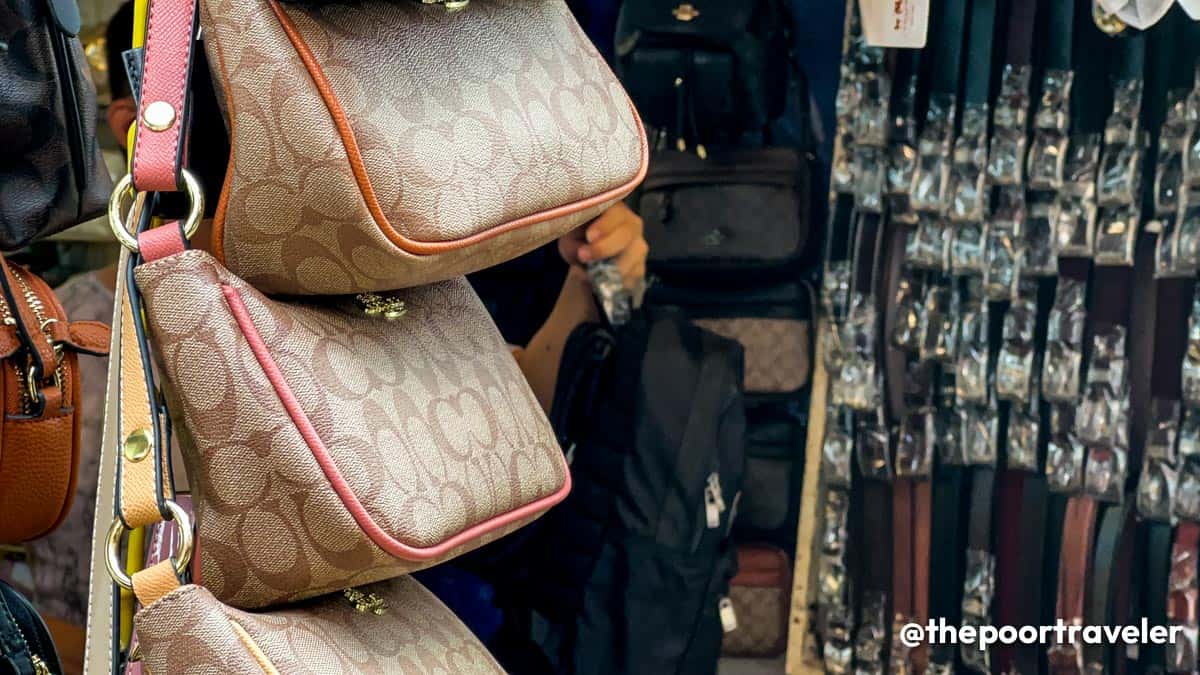 But as the 2010s ended, Chinatown has been enjoying a sort of renaissance. Counterfeit products are still there, but cool, hipster, Instagrammable spots also began popping up. A night food market came to life, serving an endless selection of Chinese and Southeast Asian dishes and snacks. Some buildings also got a much-needed face lift.
But this transformation is most evident at Lorong Panggung, also known as Kwai Chai Hong after a restoration passion project that spearheaded by Bai Chuan Management. It used to be a bleak and forgotten alleyway, but when it reopened to the public in 2019, visitors saw a captivating heritage site that has been thoroughly cleaned up and adorned by colorful street art and murals, depicting the Chinatown of yore.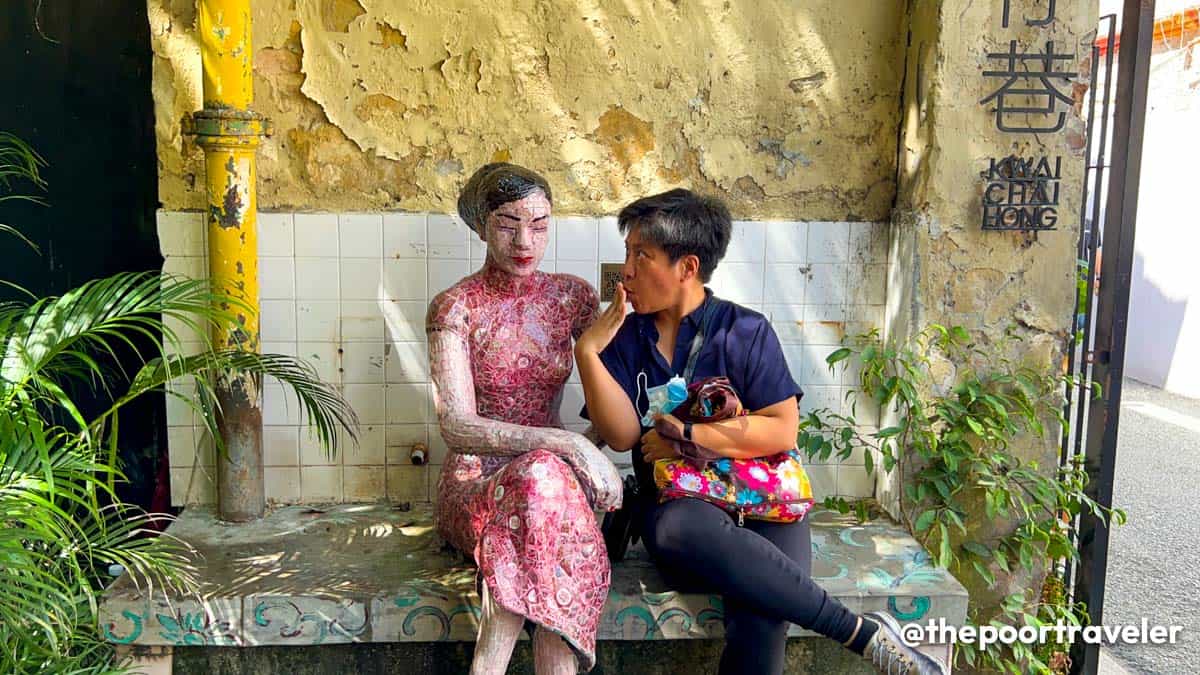 It covers the restoration of 10 pre-war shophouses — six on Jalan Petaling and four on Lorong Panggung — bringing back the 1960s glory days of KL's Chinatown. The once-neglected back lane has become a charming attraction that both locals and tourists can enjoy.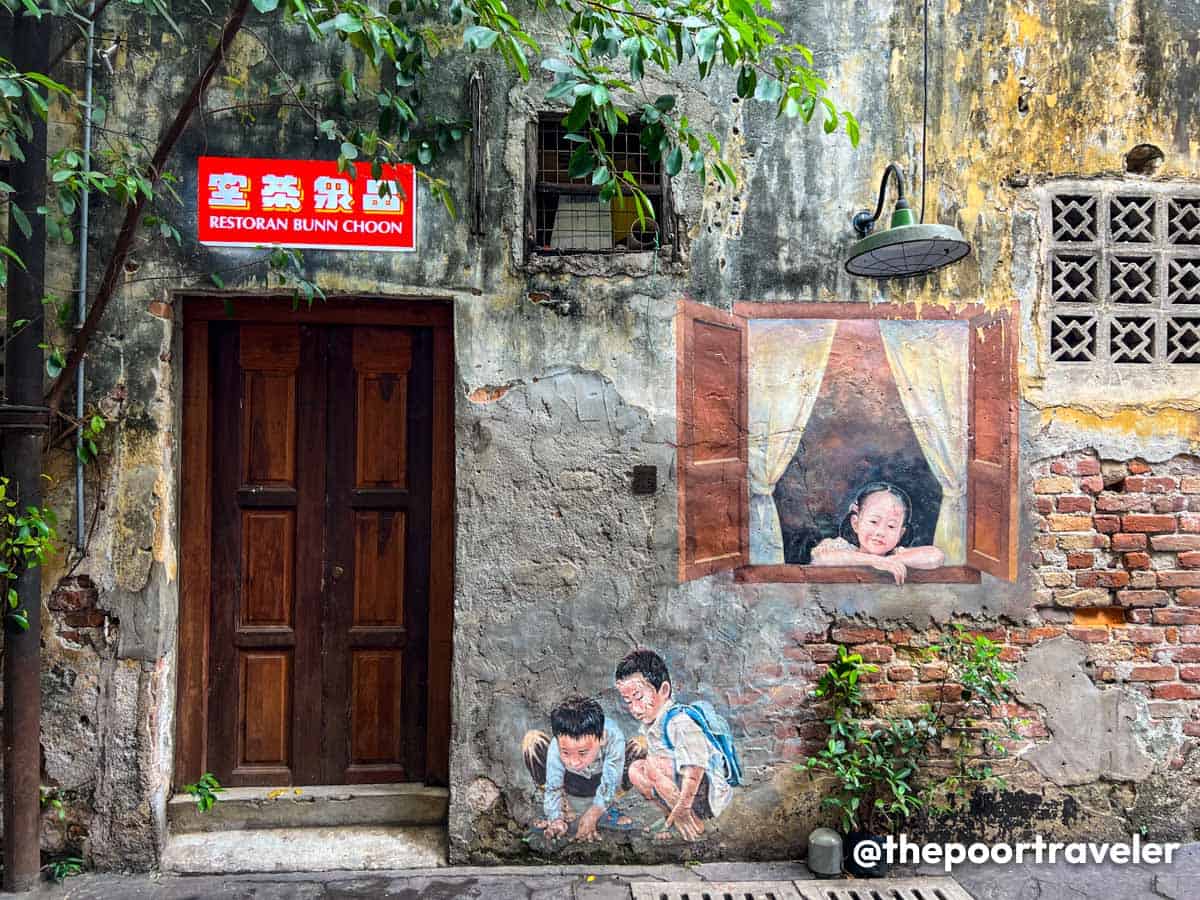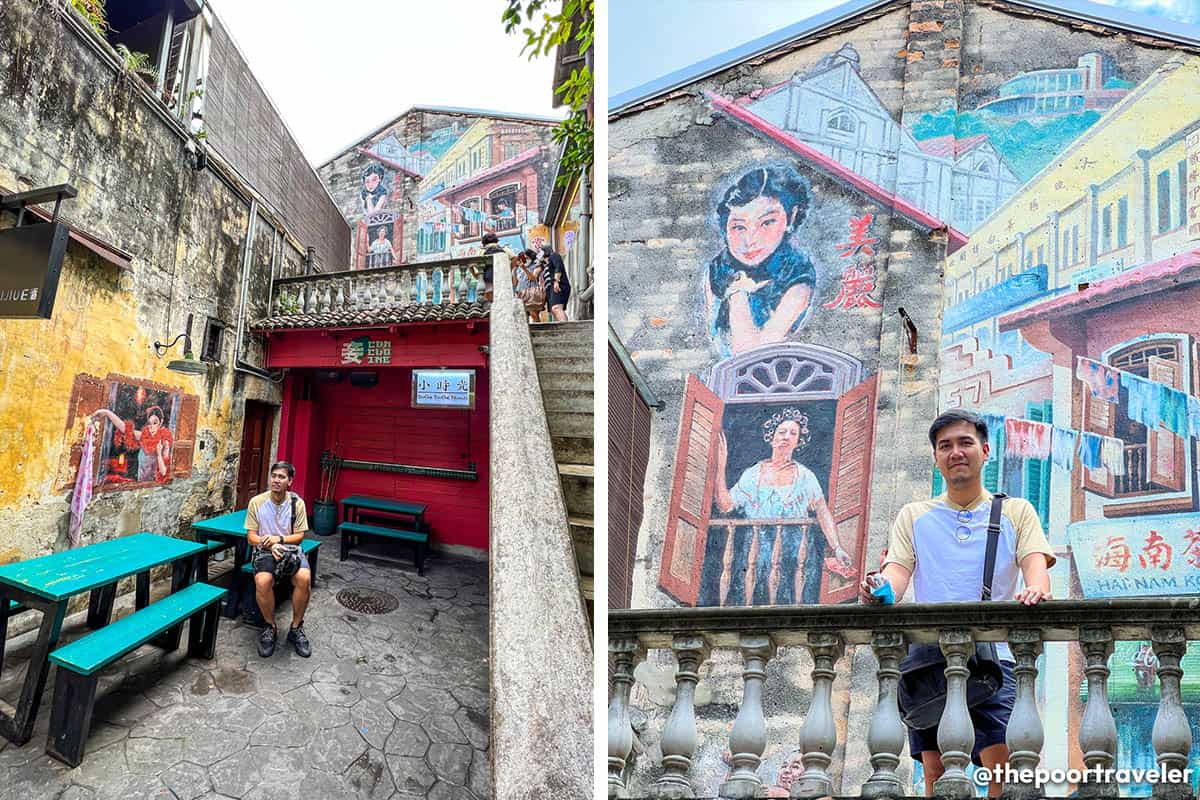 If you get hungry or thirsty, try one of the restaurants, cafes, and bars lining Lorong Panggung and Jalan Petaling. One of the most popular is Bunn Choon Restaurant, an iconic establishment serving highly sought-after egg tarts along with other pastries and dimsum since 1893. Just next to it, in the same bright yellow building, is Pandan Republic, also a local favorite best-known for its breakfast and dessert offerings like Hakka lei cha (pounded tea), pandan gula Melaka cheesecake, and pandan soft serve.
In another corner, you'll find Beryl's Chocolate and Cafe at Lot 18. Beryl's, of course, is Malaysia's homegrown chocolate brand, which I best know for its dragées, those simply irresistible egg-shaped chocolates with almonds or raisins at their core.
You might even spot an art installation or interactive exhibits.
Location: Lorong Panggung, City Centre, Kuala Lumpur, Malaysia
Nearest Station: Pasar Seni MRT Station
---
The River of Life is seven-year RM4-billion government project that ambitiously aimed to clean up, rehabilitate and beautify Klang River (Sungai Klang) and surrounding areas. But for tourism purposes, it mostly refers to the point where the Klang meets the Gombak River (Sungai Gombak), which best exemplifies this impressive transformation. This is an important part of the city because Kuala Lumpur literally means "muddy confluence" in Malay, referring to the convergence of these two muddy rivers.
From the lookout along Leboh Pasar Besar, the most eye-catching structure is the Masjid Jamek (Jamek Mosque), dressed in Moorish architecture, standing proudly at the junction. Inaugurated in 1909, it is one of the oldest in the capital. So yes, this isn't new at all; it's quite historic. What's fresh is what's happening around it.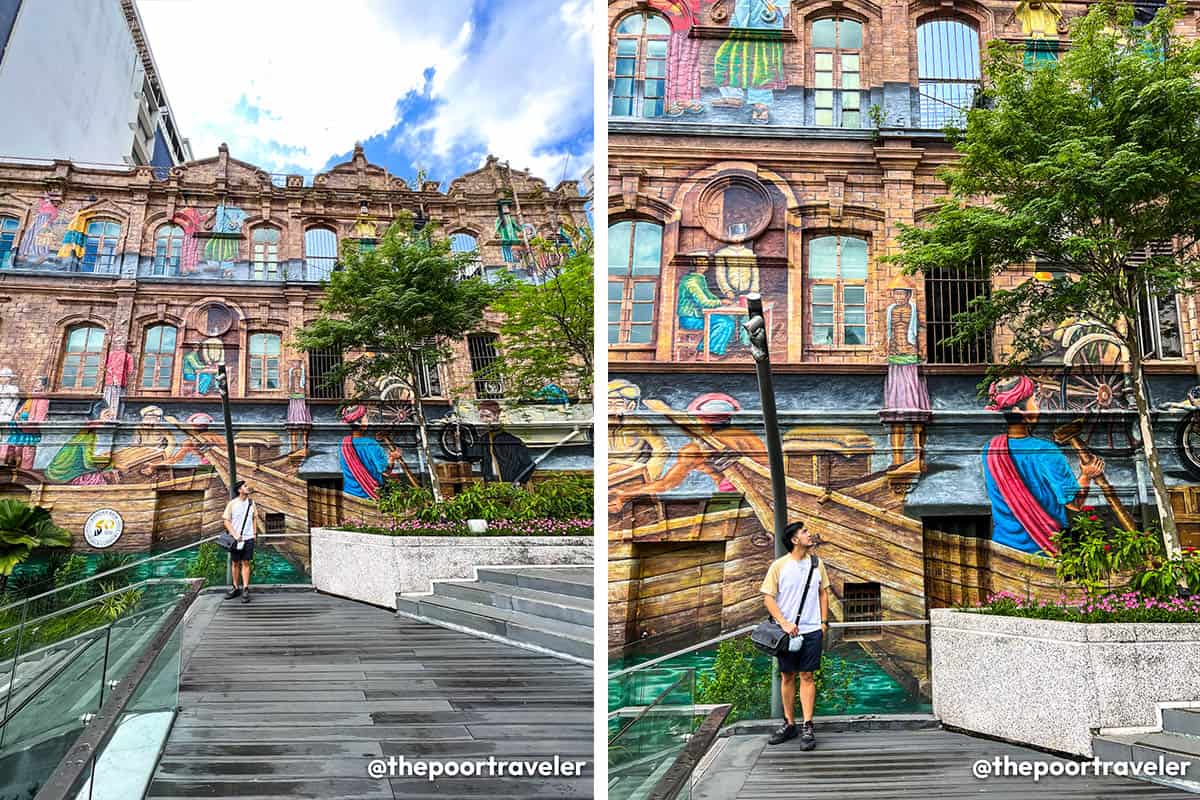 In the day time, the first things to probably get your attention are the gigantic murals decorating the facade of the flanking buildings! At night, the site is flooded with blue illuminations. We were also told that a fountain show activates every 20-30 minutes or so, creating a splash of magical visual display with the mosque in the background to various familiar tunes. It was around noon when we visited, so we didn't get to see any of these light and water shows, though.
Along the river, you'll also find cafes and bicycle paths.
Location: River of Life, Leboh Pasar Besar, City Centre, Kuala Lumpur, Malaysia
Nearest Station: Masjid Jamek LRT Station
---
Japan's borders remain closed for independent tourists, but if you really need a dose of it and you're KL-bound anyway, head over to Bukit Bintang, where Japanese establishments have been mushrooming.
First on the list is Don Don Donki. Doesn't ring a bell? This is actually the same as Don Quijote, Japan's largest discount store chain. Why the name change? Because its very first Asia-Pacific branch outside Japan was opened in Singapore, where another brand has already been using the name so they used Don Don Donki instead. When it opened its first Malaysian store at Lot 10 in Bukit Bintang in March 2021, they adopted the SG branding for regional consistency.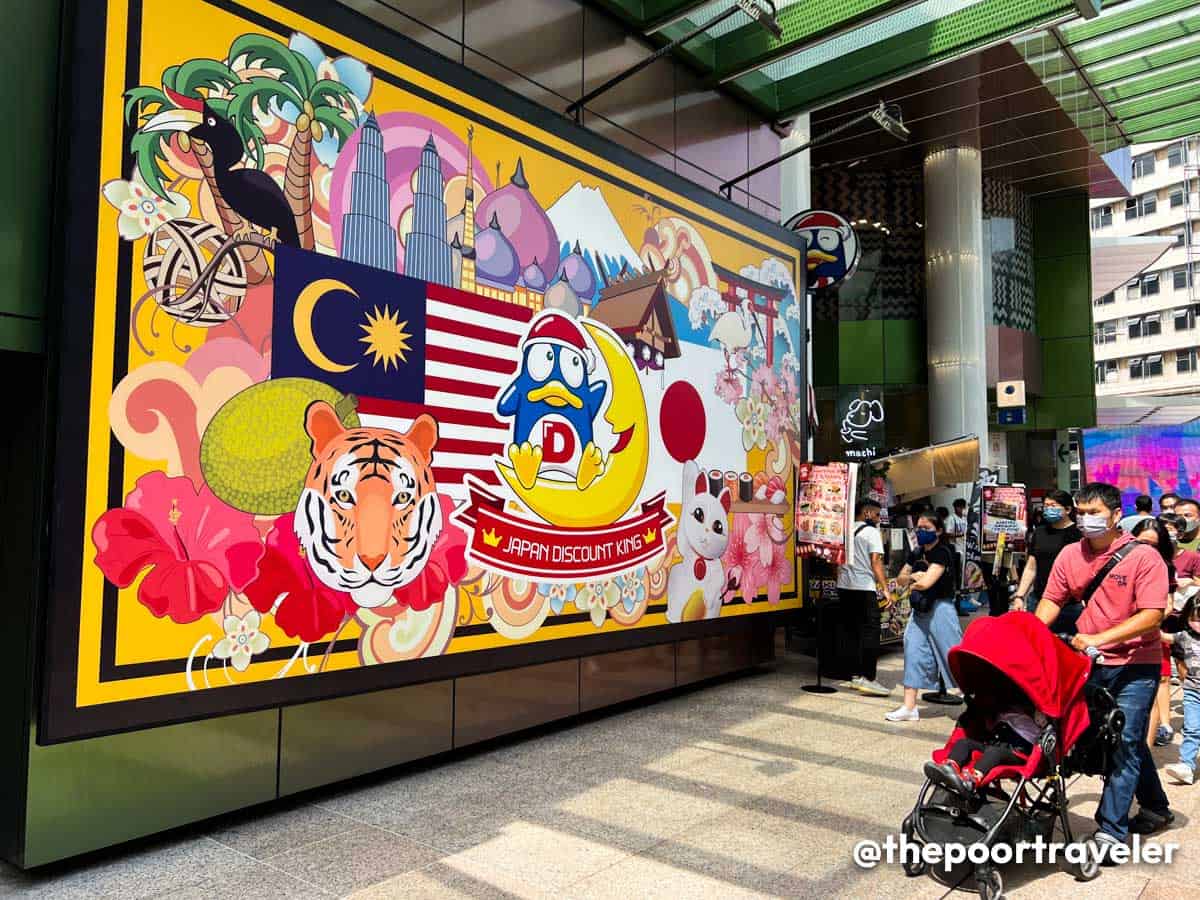 For the uninitiated, Don Quijote is a local and tourist favorite in Japan, with over 160 stores across the archipelago. Even we can't resist entering a Donki store whenever we see it just to snag some pasalubong. It has almost everything you could think of — from snacks to apparel to accessories to cosmetics to houseware — at a pocket-friendly price. Like in Japan, Donki here in Malaysia uses the same adorable penguin mascot. It was actually how we recognized the store as we passed by.
Since then, they have launched another branch, at Lalaport also in Bukit Bintang, which is also a new addition to the growing list of shopping malls in KL. Opened to the public in January 2022, Lalaport is the first Southeast Asian branch of Mutsui Shopping Park, another well-known institution in Japan. It houses several recognizable brands like Nitori, offering Japanese-style furniture similar to Muji (if you're more familiar with the latter); Nojima, famous for electronics; and Coo & Riku, Japan's largest pet store chain.
Don't leave without climbing the LED-illuminated starcase and checking out the open rooftop garden, which affords a majestic view of the city skyline including the KL Tower, especially at sunset.
---
Of course, we still highly recommend the classic culinary attractions in Kuala Lumpur, especially if you've never been there. But if you're looking for something new to try, new food spots have also sprouted throughout the city even in the midst of the pandemic.
On our last KL visit, after a vibrant photo-op session at the Saloma Link, we decided to head down to Kampung Baru. While the name translates to "New Village", it is actually one of the few remaining traditional Malay strongholds in KL, as more modern scenery and structures dominate the city. Formally established at the turn of the 20th century, it was officially declared as the Malay Agricultural Settlement in 1950. While tourists flock around Jalan Alor, many locals hang out here for food and drinks. It's pretty old, and it is home to some time-tested dining establishments.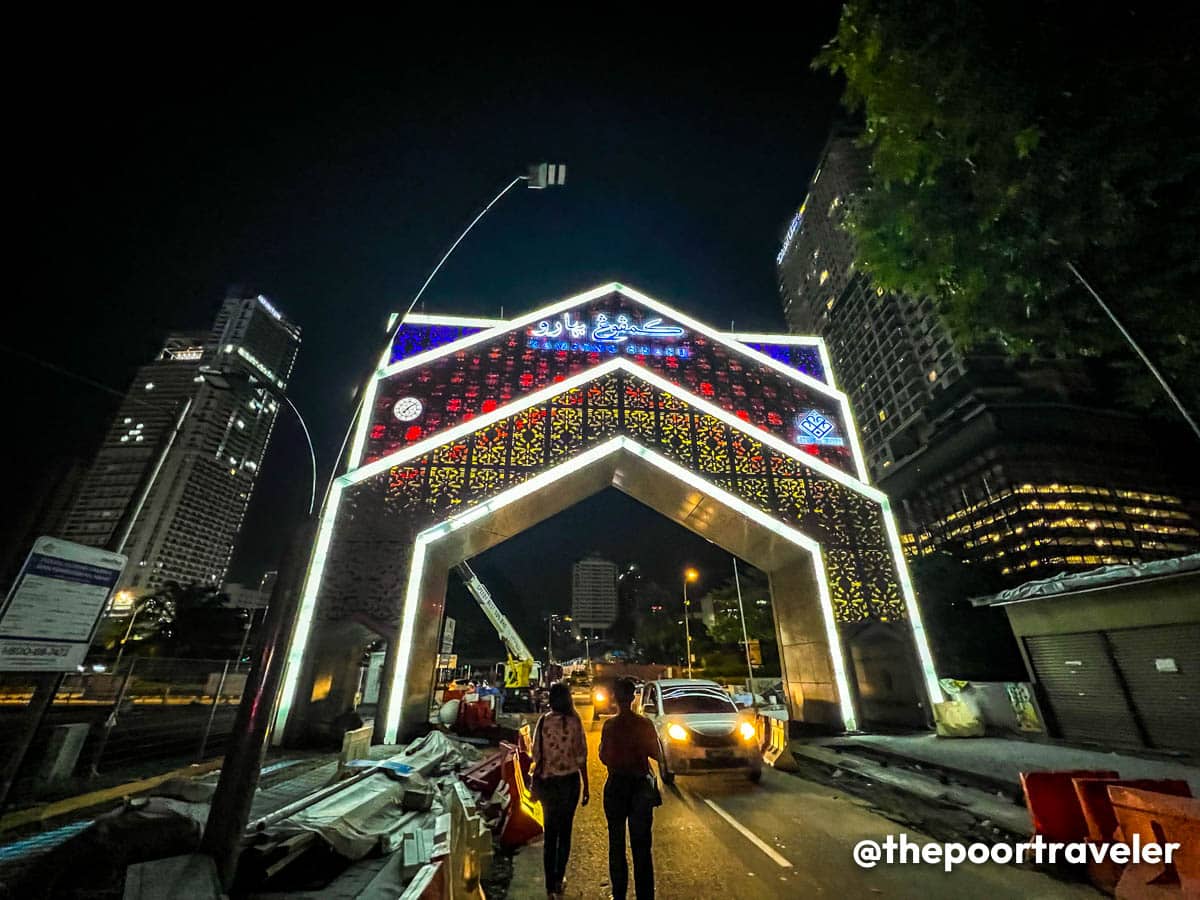 But every now and then, a new name pops up. And last year, one that took Malaysian social media by storm was Papa Kanafa, a stall that whips out tray after tray of sweet Turkish pastries in a spectacularly entertaining fashion. And if you've ever been here, you'll understand why there is so much online traction. The staff tirelessly and stylishly prepares each order of kunafa in front of customers, in a manner similar to a Salt Bae performance and exclaims "Welcome, Habibi!" before closing the lid.
(We're still preparing the videos so we could show you better. In the meantime, here are some screencaps.)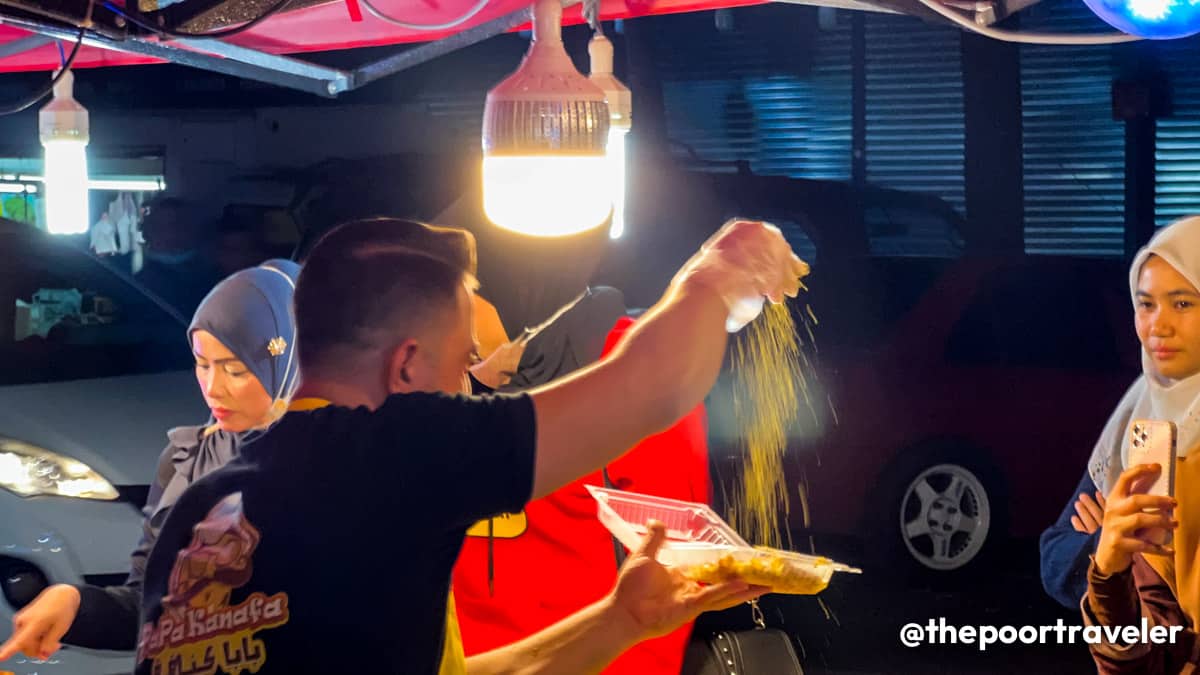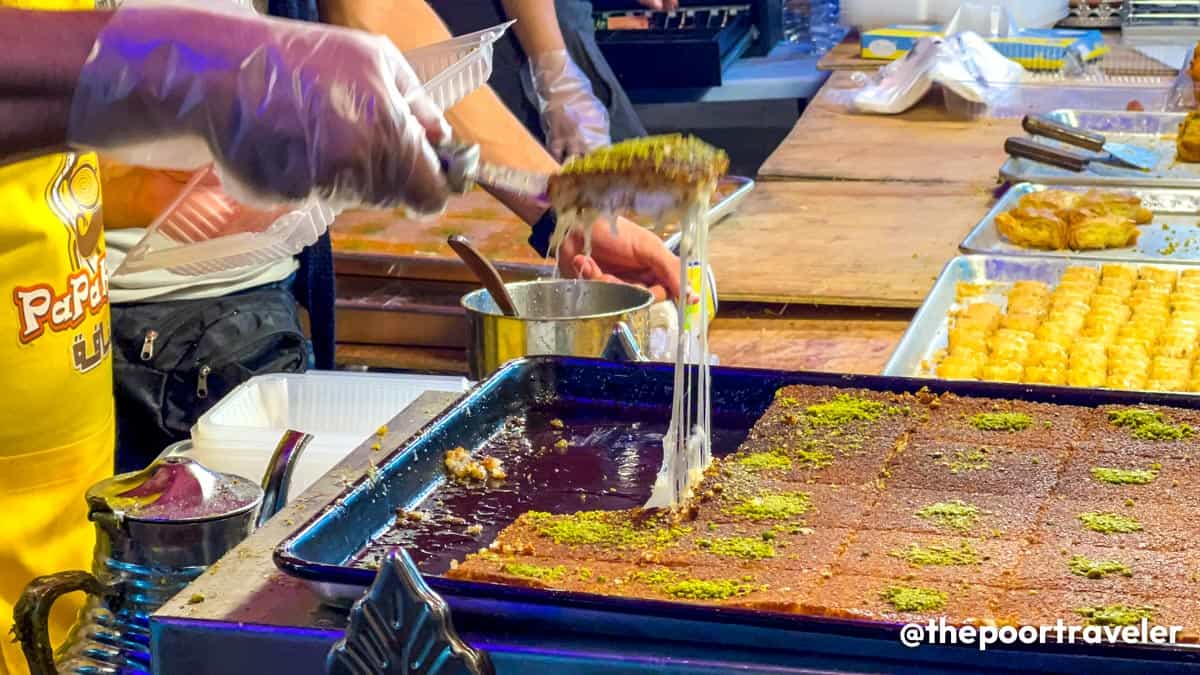 It's so popular that it's hard to miss the queue. We had to burn 30 minutes before our turn, but much of the wait was because they had to heat the pastry when they switch trays, which I think is great. It's also a good time for the staff to rest a bit because I could imagine how exhausting it could be doing it countless times.
But it's not all form. It serves pretty tasty desserts! Its main product is the kunafa — a pastry made from baked kataifi or shredded phyllo dough, doused with syrup and topped with bits of pistachios — which comes with one of two stuffings — cheese and cream (probably ashta). While we didn't care much about the cream version, the cheese kunafa was really worth the wait. The generous amount of stretchy cheese complemented the sweetness of the syrup. It wasn't too sweet, which I appreciated. The nuts simply add texture.
There are also a few cafes that recently opened within the Malay enclave but we didn't get to try. If you're not in the mood for something new, Kampung Baru also has its more established homegrown dining spots including Suraya Seafood and Nasi Lemak Wanjo.
Another food place getting good reviews online is The Chow Kit Kitchen and Bar, located at the ground floor of its namesake boutique hotel, part of the Ormond Hotel group. The most remarkable perhaps is its inclusion to CNN Travel's list of 20 Best New Restaurants in Asia Pacific for 2020. The menu changes but it puts its modern take on traditional Malaysian fare at its center including rendang and laksa. You don't need to be a hotel guest to dine here.
If for whatever reason you don't want to eat out, food delivery apps are also thriving in the city, the newest of which is AirAsia Food. Yep, Malaysia's biggest low-cost carrier now has its own food delivery service via its unified AirAsia SUPER APP!
AirAsia Food offers a wide spectrum of gastronomic delights, perfect for when you had a long day and wanted to just stay in your hotel (or hostel) for dinner. You can choose from different food categories — halal, vegetarian, Asian, Western, healthy, desserts, and so on. You might even get a discount through its many promos.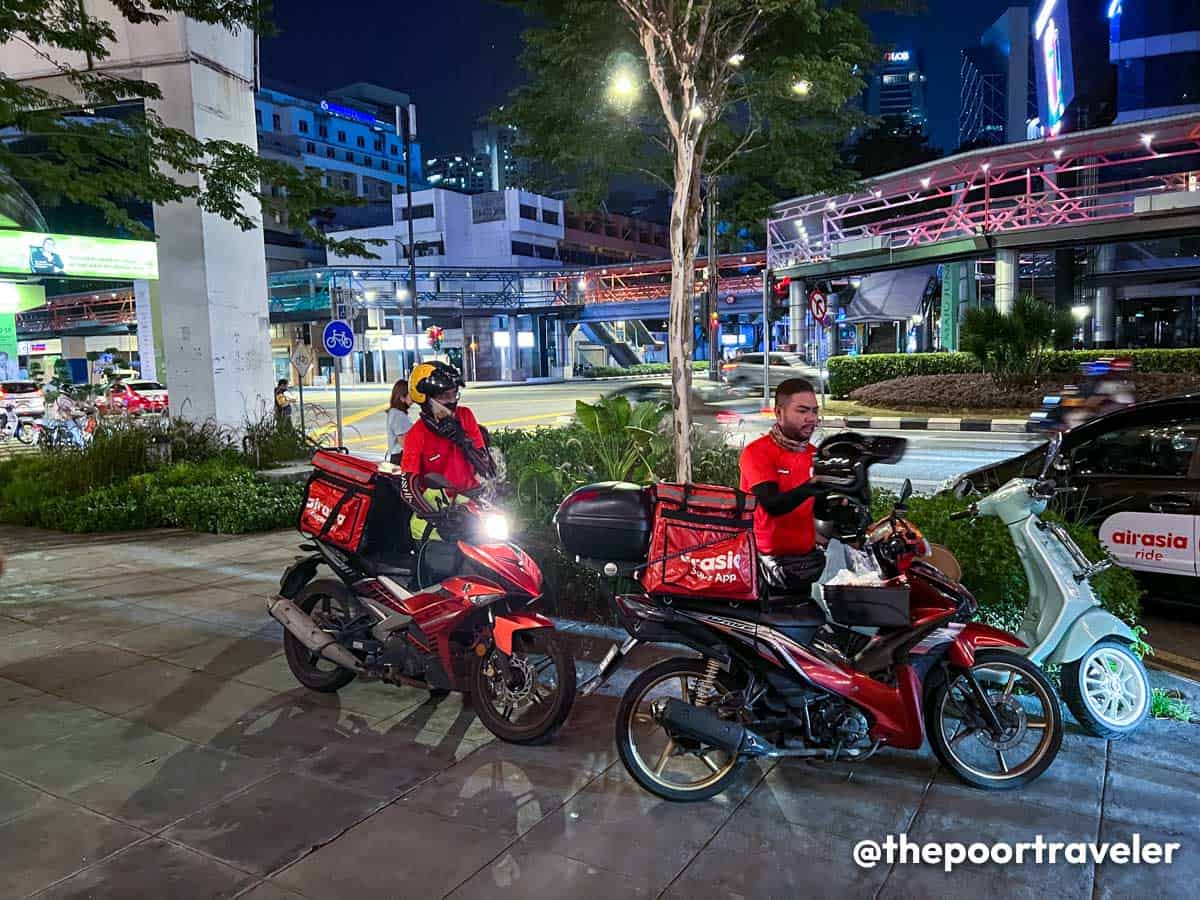 ---
You're probably wondering why Batu Caves is on this list. But hear us out.
If you last visited before August 2018, then you'll be surprised that a lot has changed since — at least visually. That year, the site was given a colorful — albeit a bit controversial — makeover. The 272-step staircase leading to the Cave Temple was painted in bright rainbow colors, completely changing its look and feel, so you might want to check it out again!
Batu Caves is an important and sacred place for the Hindu people. It's a network of caves and chambers carved into a 4-million-year-old karst hill. There are three big caves but the largest is the Cathedral Cave or Temple Cave, so called for its high ceiling and a number of Hindu shrines it houses. Located 13 km north of the Malaysian capital, Batu Caves is actually in Gombak, Selangor. It was named after the nearby river Sungai Batu.
---
OK, this one isn't an attraction in itself but a way to get around! Aside from food delivery, AirAsia has also launched a ride-hailing service — AirAsia Ride — available through the AirAsia SUPER APP. You can use it not just to get out of the airport to the city center, but also to get around the city!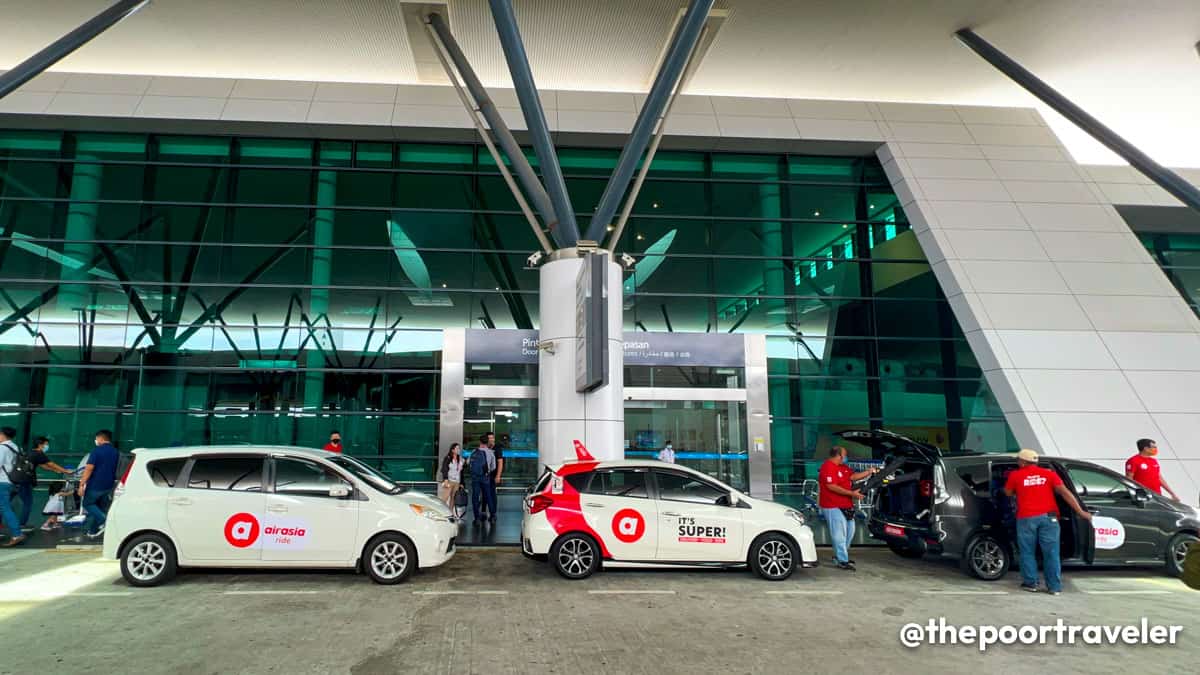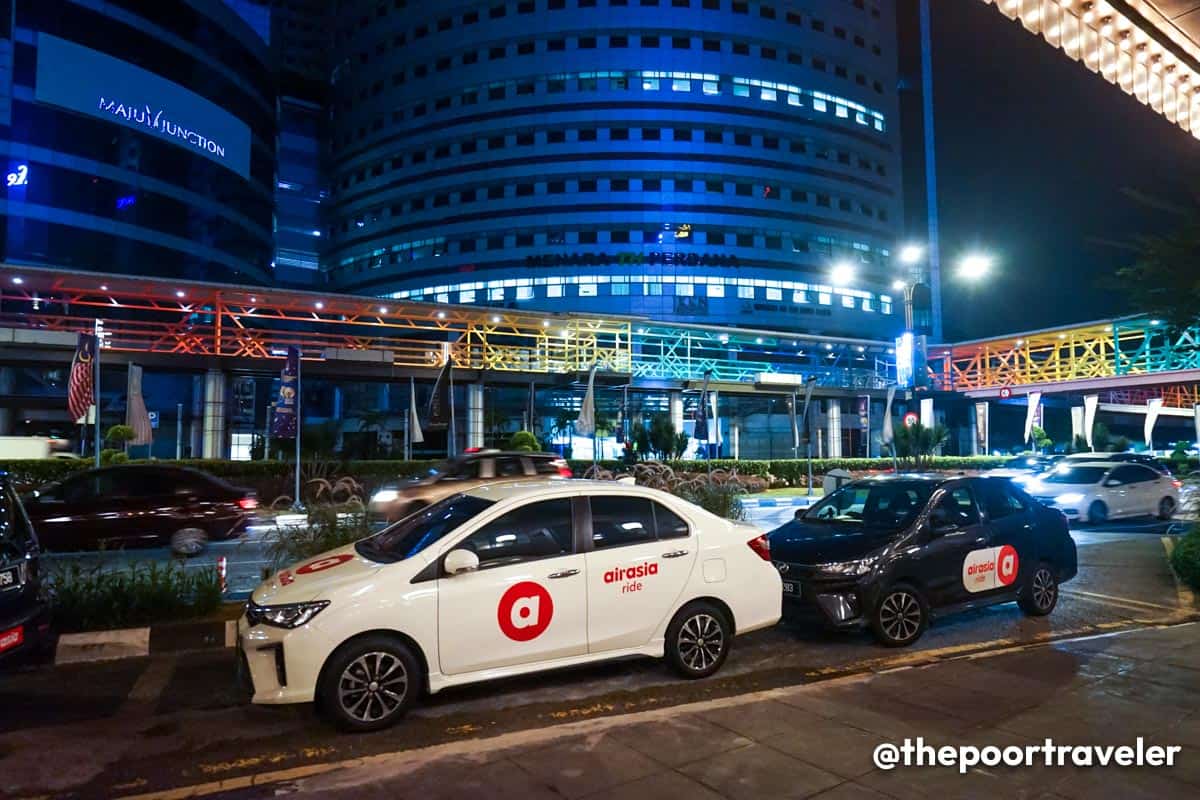 When AirAsia invited us to KL, they allowed us to use this service when going around on our own. Yes, yes, we know there are already more established similar apps offering this, but we love it when brands get some competition because more often than not, it comes with competitive prices! And true enough, when we tried AirAsia RIDE, we found that it charges less than usual, at times almost 50% cheaper compared to direct competitor. That's a huge plus for budget travelers like us. It means we can spend more on other things, like food and attractions.
It offers different types of rides — LadiesONLY, Compact (more affordable), and Anyride (closest to your vicinity).
AirAsia Ride and AirAsia Food are available on the airasia Super App! You may download it here: iOS users, Android users.
---
Article and photos by: Yosh Dimen
Additional words by: Asta Alvarez
Our recent Kuala Lumpur trip was made possible by AirAsia. Opinions are our own.
2️⃣0️⃣2️⃣2️⃣ • 8️⃣ • 2️⃣0️⃣
---