Published: 16 May 2022
When heat becomes unbearable and the stress gets too much to handle, most of us look north for a quick escape. While many of the country's most popular islands are located south of Manila, some of the most easily accessible can be found in the north. And when it comes to destinations in the north, it's pretty hard to resist the calls of La Union.
But since the pandemic has pretty much messed up all the well-established bus schedules that we have relied on over the years, it takes some effort to figure out how to get to La Union by bus. So we did a little digging (i.e. contacting bus companies). And we successfully reached PARTAS Transportation Company and Viron Transit.
‼️ IMPORTANT! These days, route availability and timings change frequently and quickly. Before your trip, contact the bus companies directly for the latest updates and policies at 0917 819 3909 (Partas) or 0932 364 1487 (Viron Transit) or message PARTAS's official FB page.
---
WHAT'S COVERED IN THIS GUIDE?
As of: 16 May 2022
PARTAS operates several bus routes to the north, mostly in the Ilocos Region and Abra. In their latest timetable (as of this writing), La Union is nowhere to be found. But it turned out that they still do ferry passengers to La Union via their other routes.
We recently called and messaged PARTAS to find out how to get to La Union. And they told us the following:
Ilocos- or Abra-bound PARTAS buses coming from CUBAO Terminal can drop off passengers in San Fernando City, La Union. These include P2P buses.
You need to inform the driver that you're alighting in La Union. Otherwise, they will skip the terminal. We were told they only make a stop in La Union if and only if there is a passenger getting off there.
PARTAS doesn't make a stop in San Juan (Urbiztondo). The closest is San Fernando City. They are only allowed to drop off passengers at their terminal. But since their Sebay Station (San Juan) is temporarily non-operational, buses can't stop there. However, their official FB page shared with us that they can drop off passengers in the following La Union towns: Agoo, Bacnotan, Balaoan, Bangar, Bauang, and Damortis. (See image below.)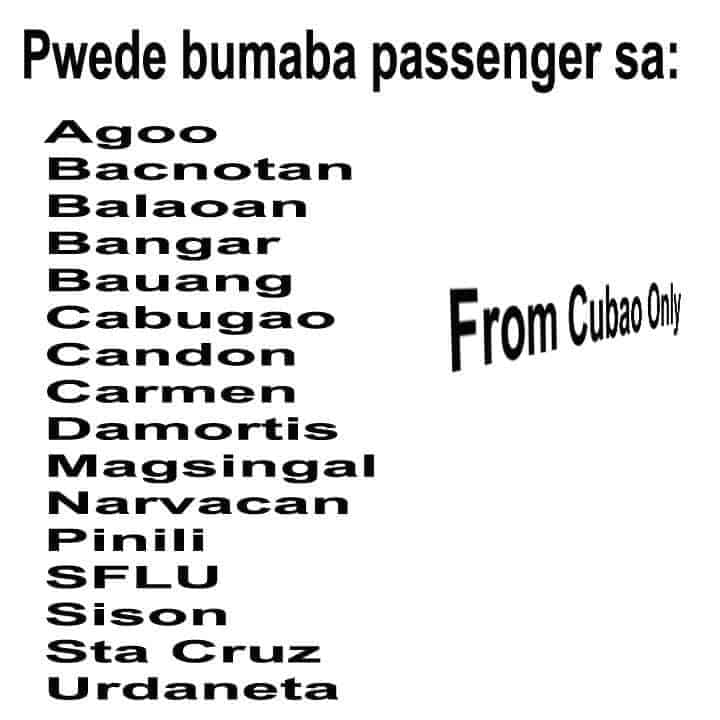 We are not sure whether or not buses from the Pasay Terminal also drop off passengers in La Union. But their Facebook page specifically indicated "FROM CUBAO ONLY."
Below are the timetables and fares for PARTAS Buses that can make a stop in San Fernando, La Union.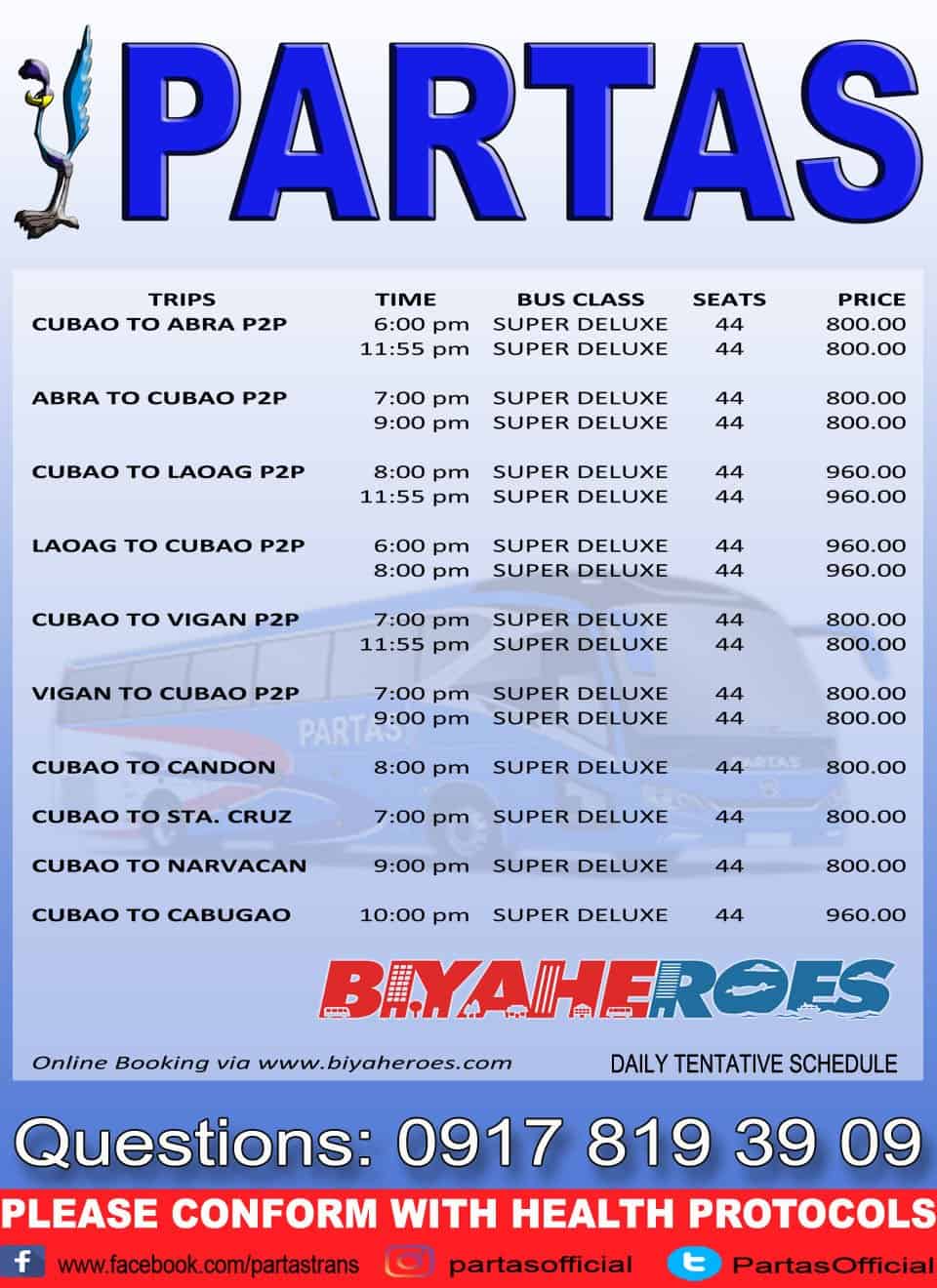 Cubao to Abra P2P
Fare: P800
Cubao to Laoag P2P
Fare: P960
Cubao to Vigan P2P
Fare: P800
Cubao to Candon
Fare: P800
Cubao to Sta. Cruz
Fare: P800
Cubao to Narvacan
Fare: P800
Cubao to Cabugao
Fare: P960
---
As of: 16 May 2022
Viron Transit has not published any updated schedule on their official Facebook page, so we called their terminals by phone. Here's what they shared so far:
Viron's La Union buses terminate at their San Fernando Terminal. If your destination is San Juan, transfer to a jeepney or a tricycle from there.
Alternatively, you may ride a Viron bus bound for Ilocos and Abra, which can drop you off in towns north of San Fernando (including San Juan), but you'll need to pay the full fare for that route.
Sampaloc to San Fernando
Fare: PhP 505
Sampaloc to Vigan
Fare: PhP 700
Sampaloc to Abra
Fare: PhP 750
Cubao to San Fernando
When I called, they confirmed that they do operate trips to San Fernando City from their Cubao Terminal too, scheduled at 10:00 pm.
I wish I had more details to share but that's all I was able to get for now.
You can try calling them through the numbers below or email virontransit@gmail.com.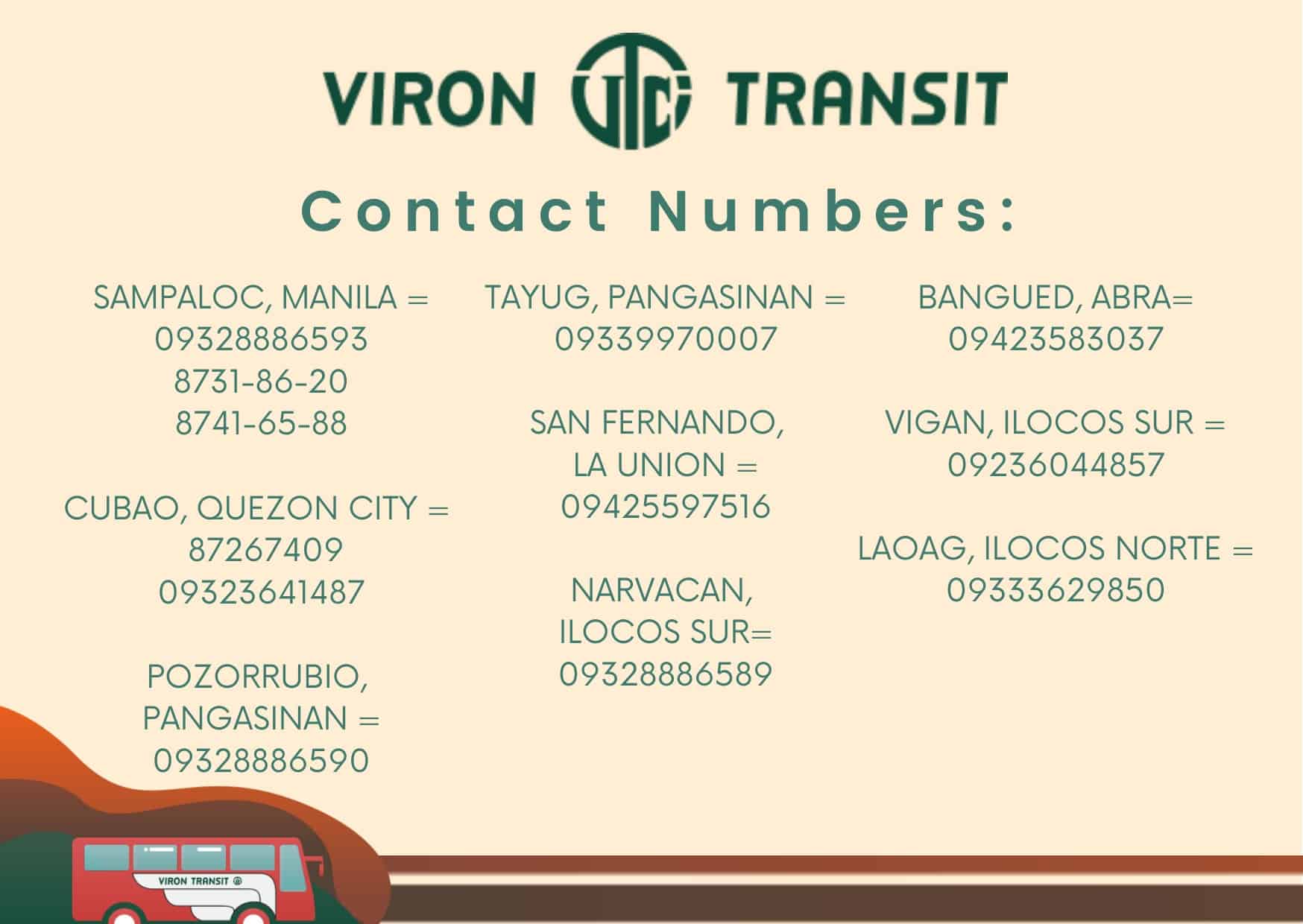 ---
Once you're in San Fernando, the next step is to get to San Juan. Whether your final destination is Urbiztondo Beach or San Juan Town Proper, you have two main options:
BY JEEPNEY. Fare: around P15.
BY TRICYCLE. Fare: P100 (special ride)
From San Fernando City Center, travel time is around 15 minutes to Urbiztondo and 20-25 minutes to San Juan Town Proper (longer if jeepney because of the stops).
---
If you wish to explore most of La Union, the town of San Juan and the city of San Fernando are the best areas for your base. Both are located at the center of the province. From either, you can easily reach most of the attractions listed above.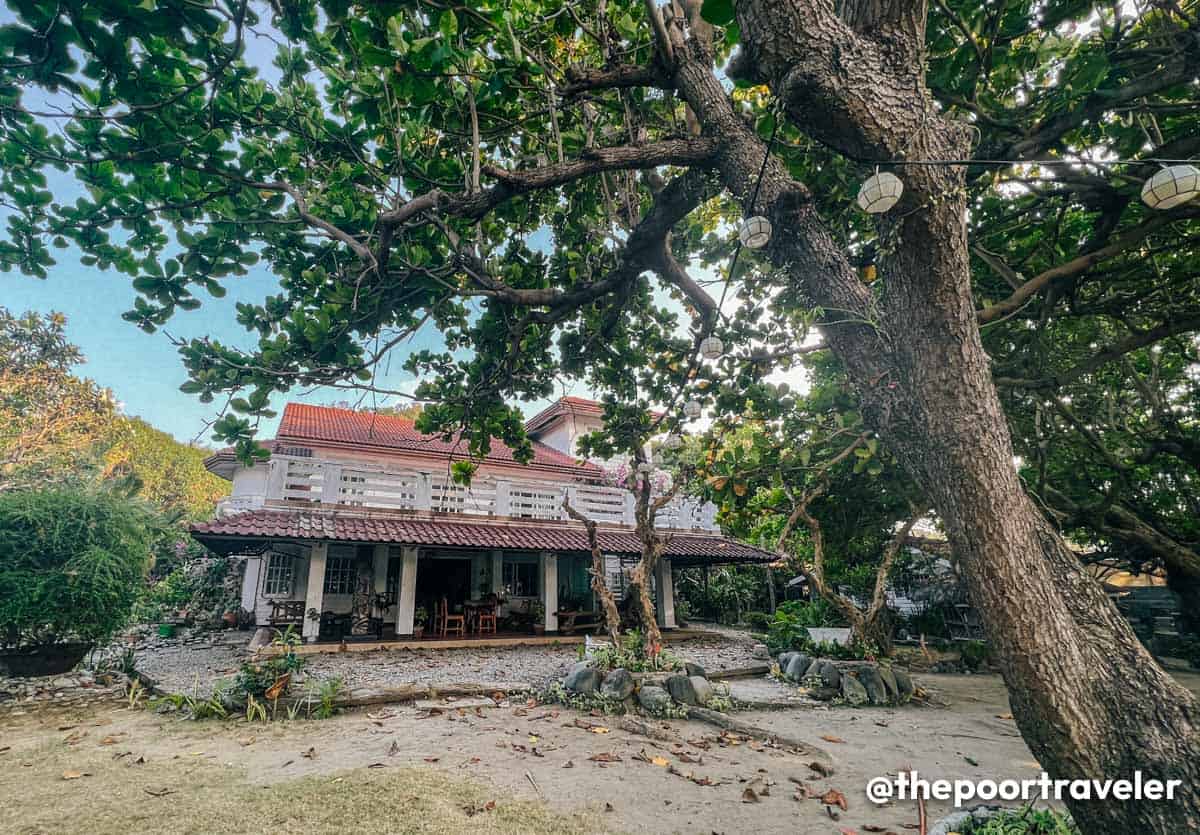 We stayed at Urbiz Garden, a beachfront bed-and-breakfast in Urbiztondo, San Juan. I always stay here because of its location, between the highway and the beach.
But if you'd rather stay at a hotel, hostel or resort, here are some of the top properties that can be booked via Agoda.
---