If you think La Union has nothing else to offer other than surfing, you're gravely mistaken! Elyu has a diverse set of wonders kept in its nooks and crannies. But if you're staying in Urbiztondo in San Juan, one attraction that you shouldn't miss is Tangadan Falls!
La Union has over a dozen waterfalls spread throughout the province — from the mildly sloping Lang-ay Falls in Tubao up to the little-known Occalong Falls in Luna. But perhaps the most popular of these cascades is Tangadan Falls, tucked in the sleepy town of San Gabriel. Punctuating a portion of the Baroro River, this waterfall has two tiers, each with a natural pool at the base, surrounded by limestone cliffs and giant boulders.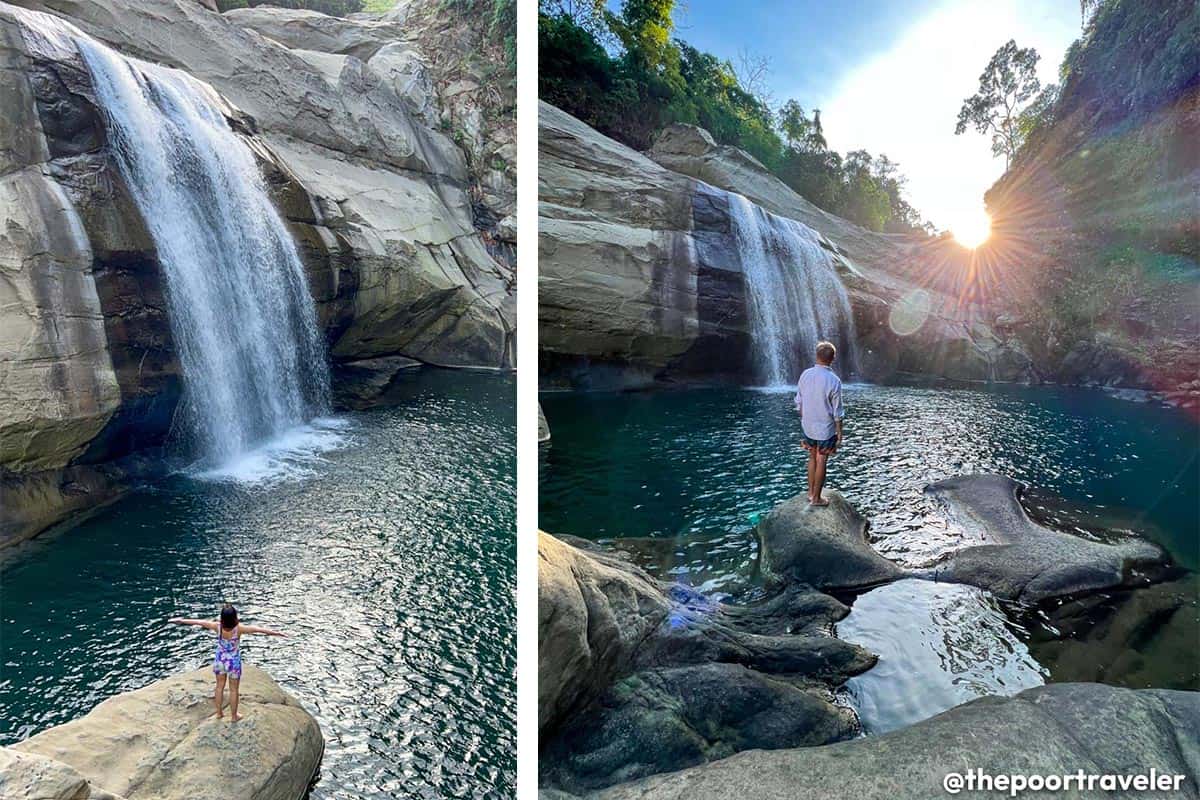 Tangadan Falls is located in Barangay Amontoc in the mountainous area of San Gabriel, La Union. So the first step is to get into La Union. This waterfall is too far for a day trip straight from Manila, so most travelers visit it as part of a greater La Union itinerary. They usually book a hotel or resort in either San Juan (particularly Urbiztondo Beach) or San Fernando City. From here, you can dedicate half a day to this waterfall.
Planning to visit Tangadan Falls soon? Here are some of the things to know before you go.
---
WHAT'S COVERED IN THIS GUIDE?
1. Board a bus to San Fernando.
If you're coming from Metro Manila, the only transit companies that we know carry passengers to La Union directly are PARTAS and VIRON Transport (as of May 2022). Both have terminals in Cubao. You can also find La Union-bound buses at Viron's Sampaloc Terminal.
Board a bus to San Fernando City or San Juan, depending on where your accommodation is located. Most La Union buses terminate in San Fernando City.
Alternatively, if you're staying elsewhere, you may catch a bus bound for Abra or Ilocos instead and alight in San Juan or another town in La Union. (Note that NOT ALL buses allow this, so it's important to ask a staff member before booking a ticket.)
For the schedule, fare and other important reminders, we wrote a dedicated article here: MANILA TO LA UNION BUS TRAVEL INFORMATION! ✅
If you are bringing your own car, just use Google Maps or Waze, then search San Gabriel Municipal Hall.
2. Ride a tricycle or jeepney to San Gabriel Town Proper.
The travel time is about 45 minutes from San Fernando and about 30 minutes from San Juan. Jeepney fare is between P15 and P20 pesos.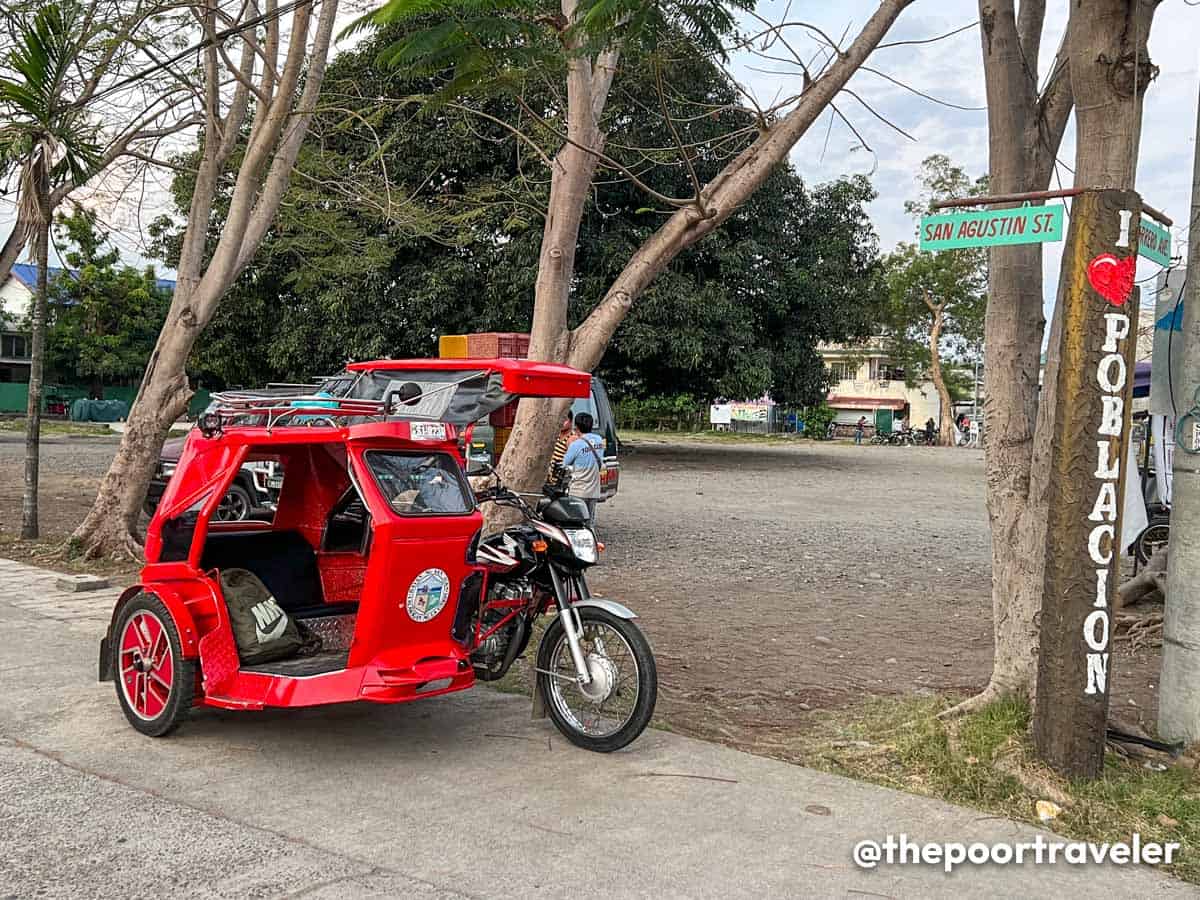 If you're coming from San Fernando, head to Tanqui Transport Terminal to catch a jeepney.
If you're coming from San Juan, go to People's Park, located just across the San Juan Municipal Hall.
A more convenient (but more expensive) option: Hail a tricycle that will take you directly to San Gabriel Municipal Hall. Roundtrip fare starts at P500 if you're solo, or more if you're a group. (We paid P800 for a party of 3.) The driver can wait for you at the town proper and take you back to your hotel or resort after.
If you want to make the most of your day, arrange a combined Tangadan Falls + Northern Tour (which includes a visit to Immuki Island in Bacnotan and stone attractions in Luna). Tours like this range from P1800 to P2000.
3. Pay the entrance fee at the Municipal Treasury Office.
The tricycle will drop you off around San Gabriel Municipal Hall. It's located beside the Police Station at the junction.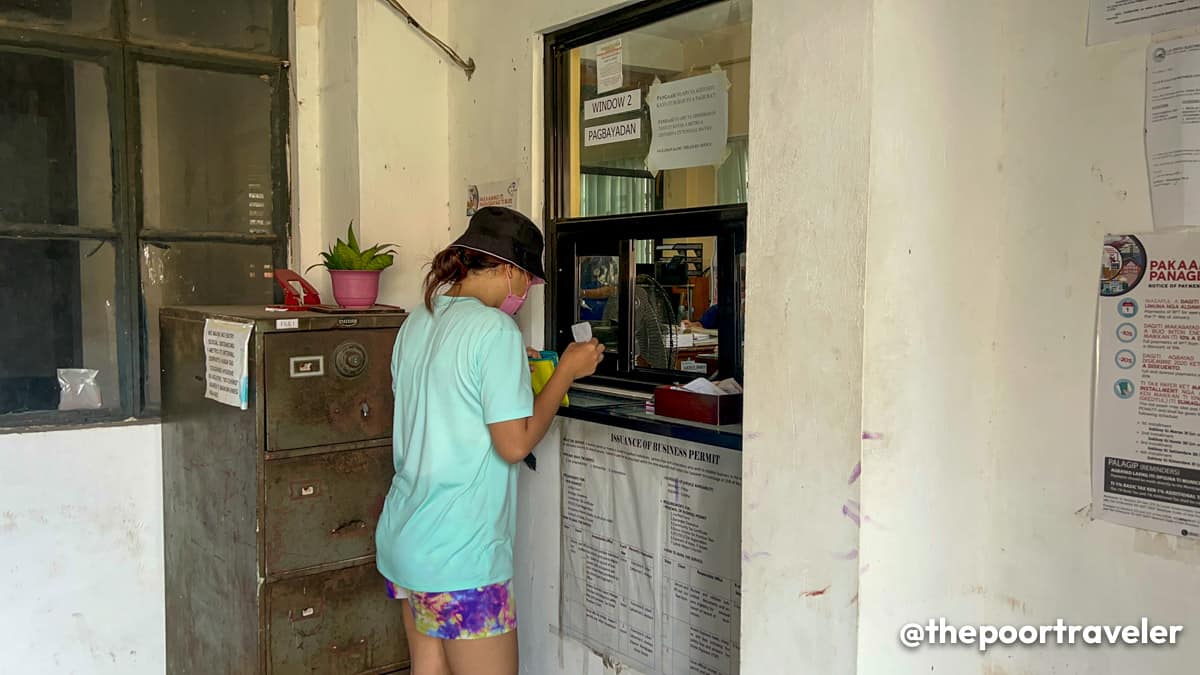 Pay the environmental fee/entrance fee at the Municipal Treasury Office. The fee is P30 per person.
"No Receipt, No Entry" rule is in effect. You may be asked to present the official receipt when at the site.
4. Hire a tour guide.
Yes, it's required. A "No Tour Guide, No Entry" is in effect. You'll find the tour guide station beside the police station.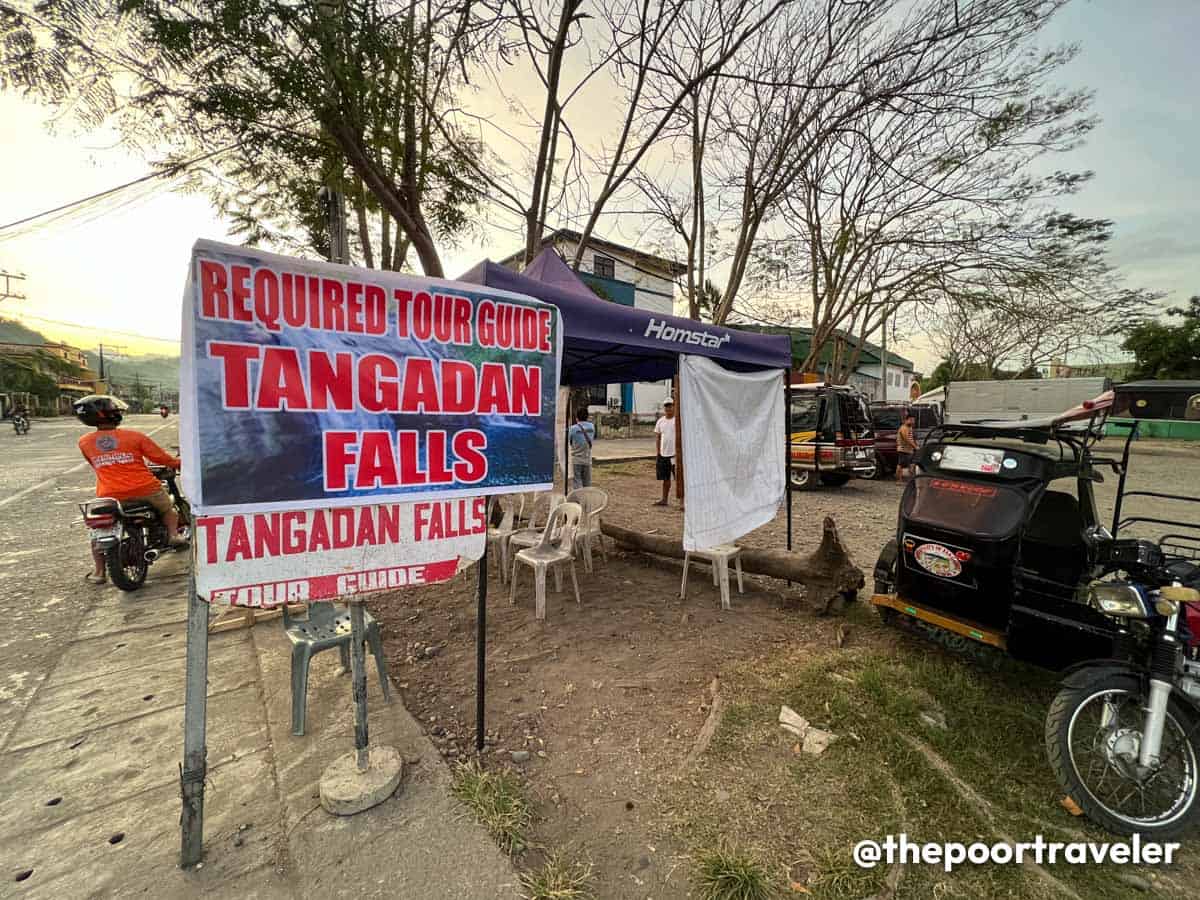 The tour guide fee is P500 per group. We weren't able to catch how many members are allowed per group. But we were a party of three and we were considered just one group.
5. Ride a habal-habal or jeepney to the trailhead.
Choose between a habal-habal (motorcycle) and a jeep.
Habal-habal roundtrip fare is P400 per pax and P600 for two pax. A unit can accommodate up to 2 passengers. If time is an issue or if you're visiting early in the morning, this is the mode of transpo for you.
Jeepney fare is P120-150 per person, depending on the total number of passengers per trip. But it might wait for more passengers before departing. If you are a big group and you are planning to rent a jeepney, it costs about P1,800 — good for up to 15 pax.
The travel time is 20-30 minutes.
6. Trek to the waterfall.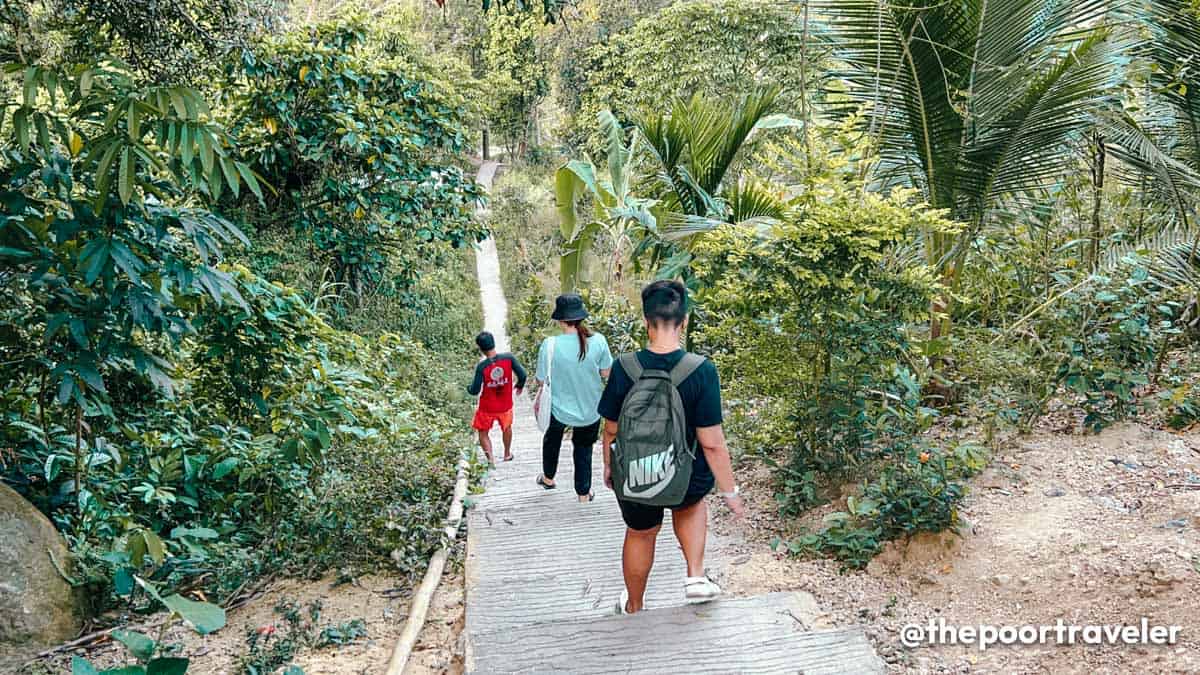 It's a 15-20 minute hike down a mostly concrete staircase to the waterfall. But it still depends on your pace.
NOTE: The road leading to the trailhead is narrow and winding, and some parts are steep. It's quite challenging if you are not familiar with the road.
---
We also have a video version of this travel guide here:
---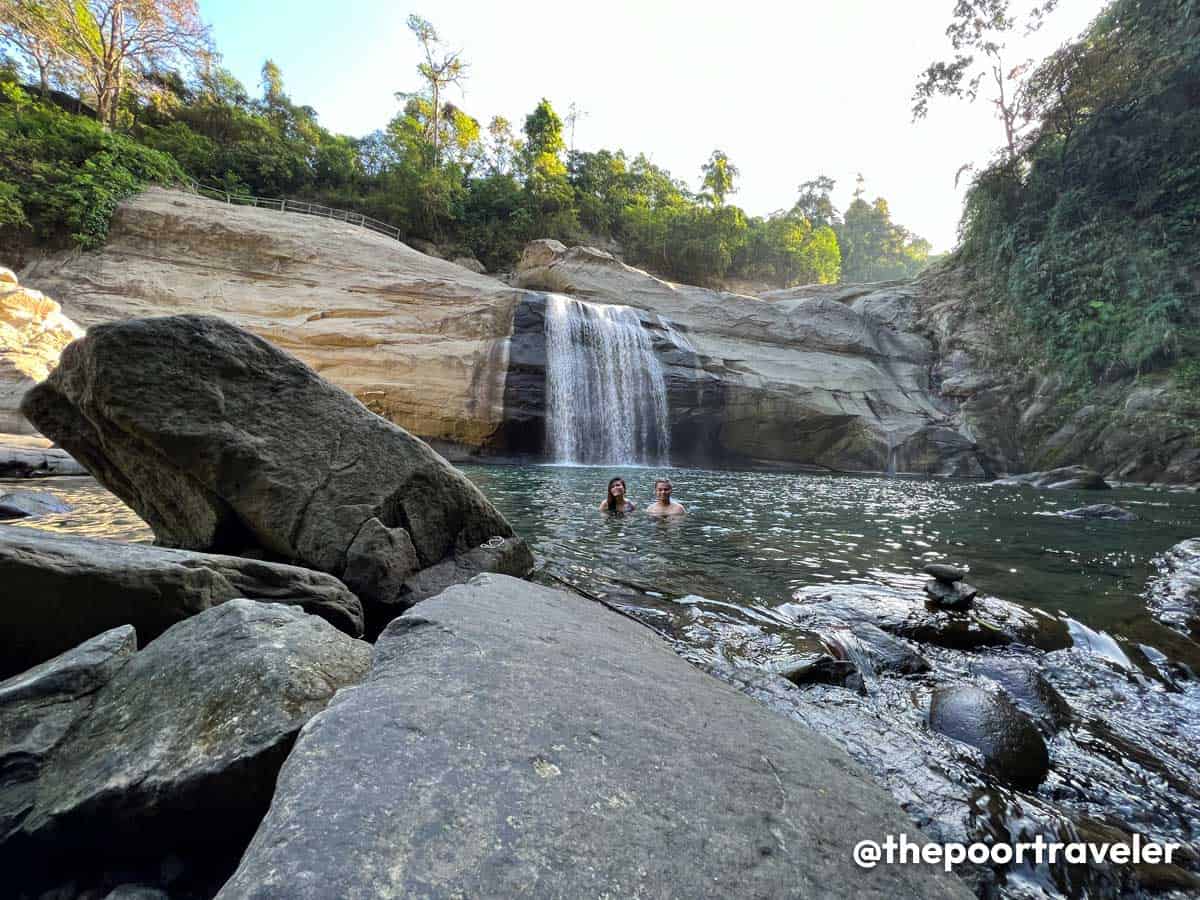 Swimming. Take a dip into the cold freshwater of the Baroro River. If you are not a confident swimmer, you can rent a life vest or just swim in the shallow parts. The mossy rocks are very slippery, so be careful.
Cliff Diving. If you are feeling adventurous, go cliff jumping! Check the drop point if there are swimmers below before taking the plunge. Note that the original cliff jumping point is closed due to safety reasons, but you can still jump from the lower protruding rock near the falls.
Snap away. Take lots of photos. This picturesque natural gem, with the surrounding limestone cliffs, makes for a stunning photo backdrop.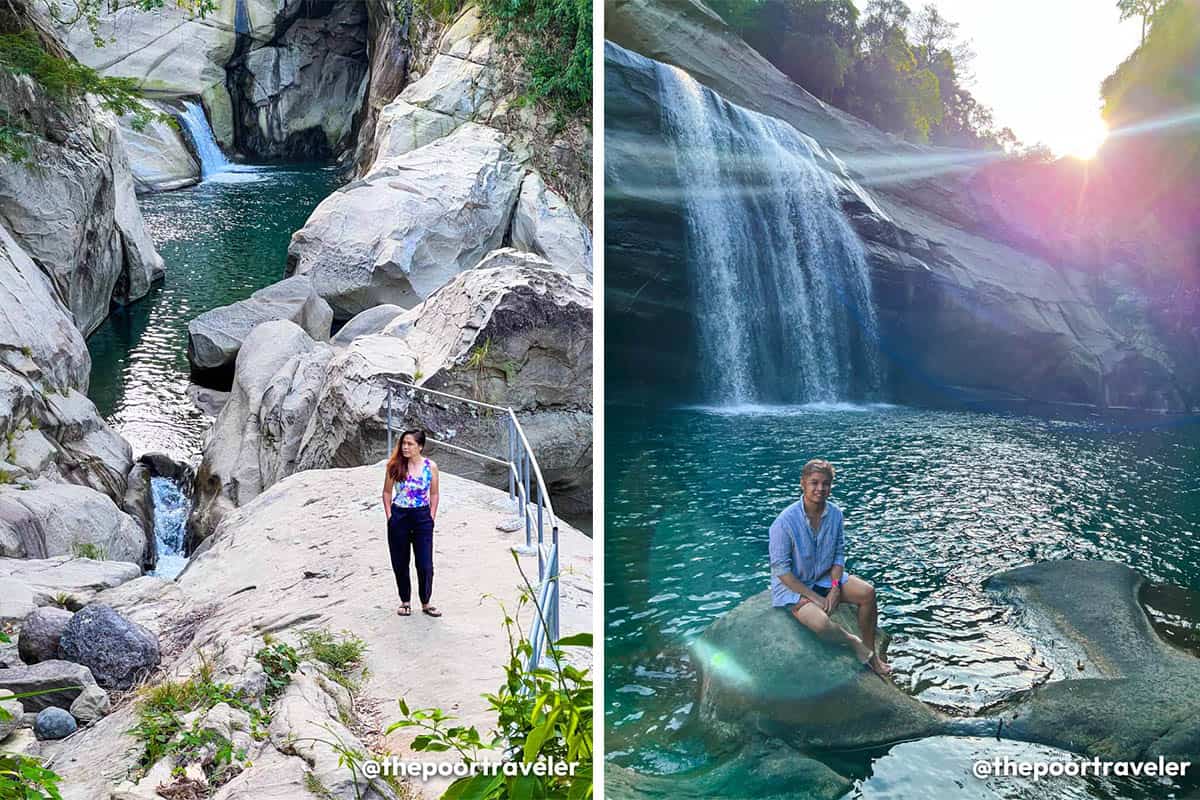 ---
Planning to spend a few days in La Union? San Fernando and San Juan are the best places to book a hotel. They're both centrally located, well connected, and close to most attractions. Here are some of the properties available on Agoda.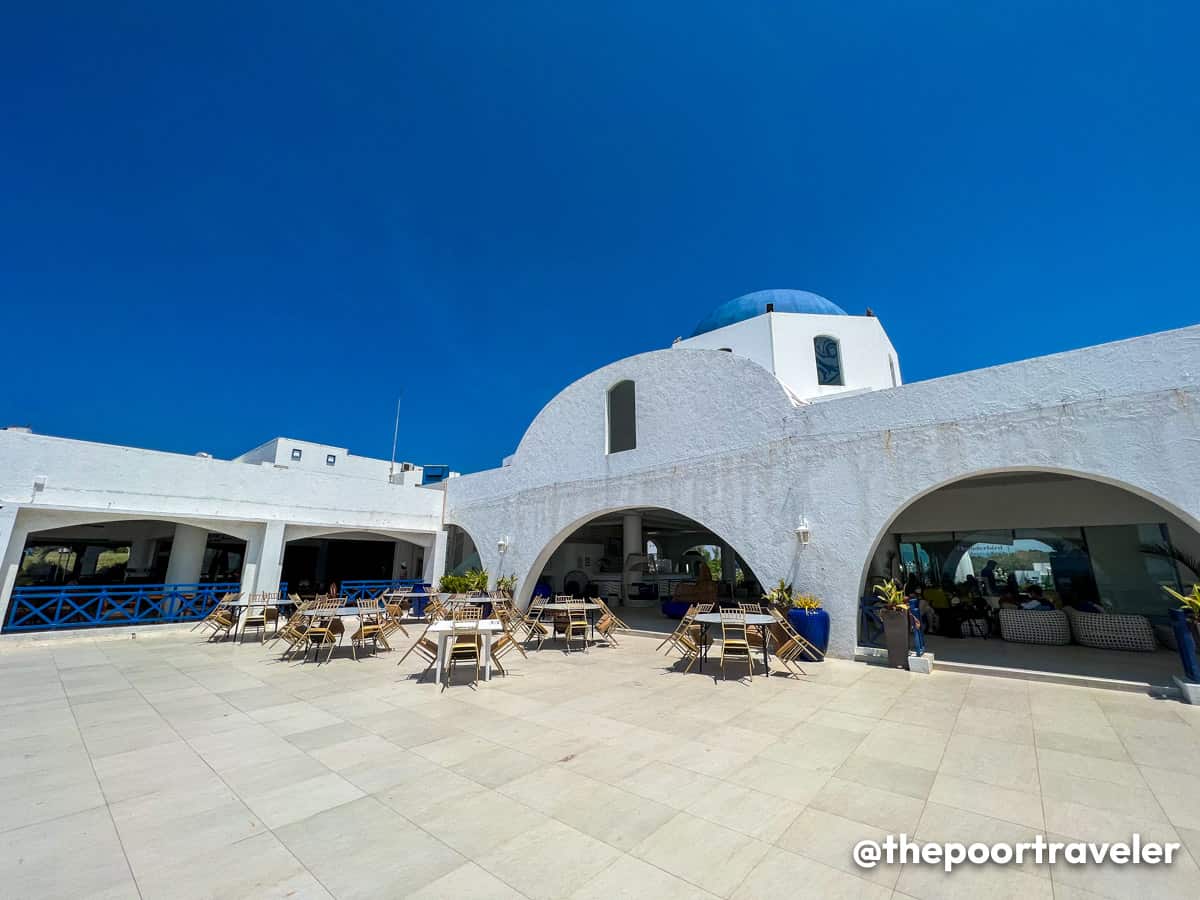 ---
Below is a full-day itinerary that includes a stop in Tangadan Falls. Note that this assumes you're staying in San Juan, like we did. You can use this as part of a bigger La Union itinerary.
Tricycle tour for Tangadan Falls is P500 if solo, P800 if you're a group of 3. If you want to also visit Luna and Immuki Island (after Tangadan Falls), combined tricycle tour is P1800 to P2000.
In our case, we all agreed to visit Tangadan Falls really early to avoid the crowd. We were also a party of 3, splitting some of the costs.
05:30 AM – Tricycle to San Gabriel
06:00 AM – Hire tour guide, P166.67/pax (P500/group)
06:10 AM – Pay Tangadan Falls entrance, P30
06:15 AM – Habal-habal ride, P200/pax (P400/motorcycle)
06:45 AM – Enjoy Tangadan Falls
08:30 AM – Head back
09:00 AM – Settle Tangadan fees (if you still haven't)
09:10 AM – Depart for Immuki Island
09:45 AM – Pay Immuki Island entrance fee, P20
09:55 AM – Rent raft, P83.33/pax (P250/raft)
11:00 AM – Quick shower – P10
11:20 AM – Bahay na Bato, P50
12:20 PM – Bato de Luna, P50 entrance, P150 lunch
01:40 PM – Dessert at Lola Mending's Cafe – P250
02:40 PM – Baluarte Watchtower
03:15 PM – Darigayos Beach & Paraoir Forest quick stop
04:00 PM – Back to resort, rest, freshen up
If you're a group of 3, each traveler should expect to shell out just for this tour:
PhP 1677 – Tangadan Falls + Immuki Island + Luna Tour
PhP 664 – Tangadan Falls Only
---
What are the operating hours?
As of writing, visitors are only allowed within these times:
What are the expenses? How much to budget?
Here's the summary of the expenses that you might expect.
Bus fare: P505 to P800 (depending on bus company and route)
Tricycle fare (San Juan to San Gabriel): P500 for solo, P800 for group of 3
Environmental Fee: P30/head
Tour Guide Fee: P500 (good for up to 5 pax)
Habal-Habal Ride: P400 (Roundtrip)
Life Vest Rental: P50. This is optional only.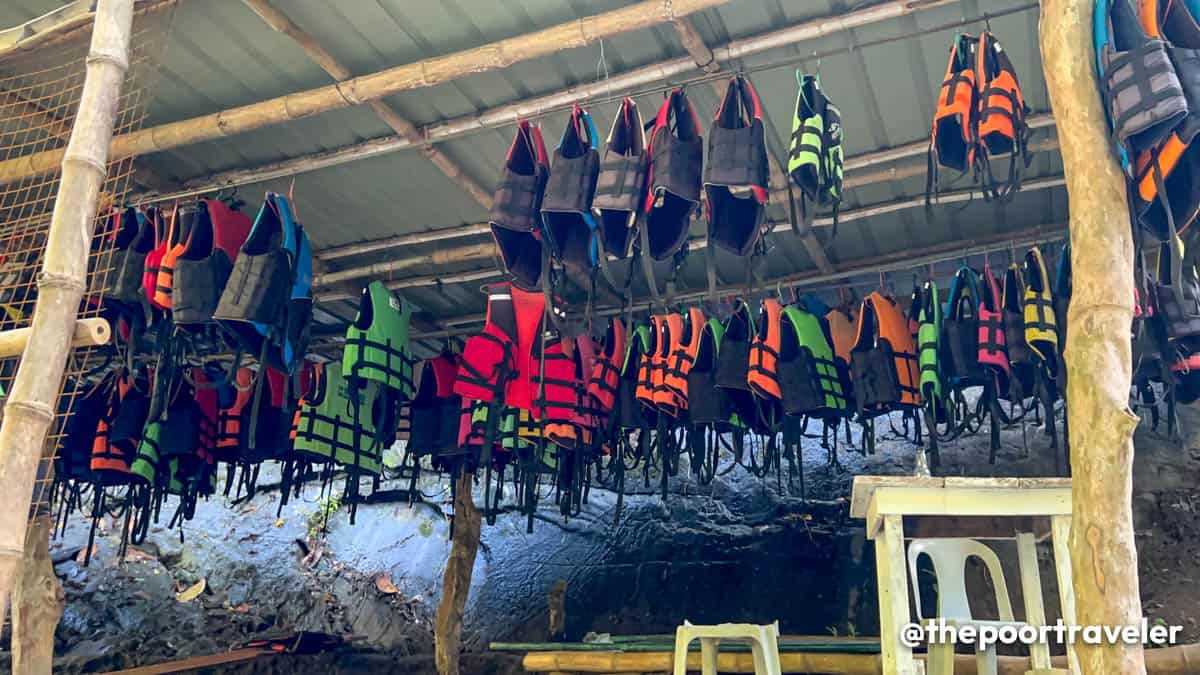 What are the travel requirements for La Union?
You'll need a NAPANAM QR Code, among other requirements. The full list of requirements depends on your vaccination status and the alert level of the area where you're coming from.
To explain it better, we created a separate article with more details here: LA UNION TRAVEL REQUIREMENTS for TOURISTS 2022
When is the best time to go?
The cascades are strong during the rainy season, but some parts of the trail get muddy. It's best to visit two to three days after a rainfall. There's a high chance of seeing twin cascades in the wet season, too. However, check the official announcement of the municipal's tourism office or the Municipal Disaster Risk Reduction and Management Council for closure and warnings before you visit.
If you want to avoid big crowds, visit on a weekday. If you can't help visiting on a weekend or holiday, try to be there early in the morning (like we did).
Are walk-in visitors allowed?
Yes! But if you want to secure your slot, you can arrange for the tour a day or a night before your visit.
Is there a parking lot?
If you are bringing your own car, you may park at the jeepney terminal where the tour guide station is also located. But since it's a public terminal, you need to be there early before the slots are filled.
There is also a parking space at the trailhead. We're just not sure if they allow private cars to drive all the way here.
Do we really need to hire a tour guide?
No tour guide, no entry.
Also, don't forget the official receipt (OR) issued by the Municipal Treasury Office.
Where to eat?
There's a snack and souvenir stall at the trailhead's parking area (where the habal-habal and "monster" jeepneys park).
Is it senior- and kid-friendly?
Kids, maybe.
But perhaps not for seniors and definitely not for those with mobility problems. The trek back to the jump-off point entails ascending trails and a long flight of concrete steps. Although there are rest stops, it might still be challenging for small kids, seniors, and those with mobility issues.
---
Municipal Hall: +63 (72) 687 0125 / 0916 479 6253
San Gabriel Municipal Health Office: +63 (72) 682 0504 / sginfocentral@gmail.com
San Gabriel Police Station: 0928 780 2268
---
La Union Police Provincial Office: +63 (72) 607 5100 / 0977 844 4404
La Union Coast Guard: +63 (72) 607 2877 / 0917 815 2012
Provincial Disaster Risk Reduction and Management Office: 911 / 0945 283 5067
La Union Bureau of Fire Protection: +63 (72) 607 4066 / 0917 186 2711
La Union Medical Center: +63 (72) 607-5938 / 607 5541 to 45
Aleng Pulis Hotline (for gender-based violence): +63 9197777377
Tisya Hustisya (Free Legal Advice for gender-based violence victims): Globe/TM, 09533826936; Smart/TNT/Sun: 09510774412
---